Police car burning in Mukacheve 
On 11 July 2015 a shootout took place in the western Ukrainian city of Mukacheve, Zakarpattya Oblast, involving fighters of the Right Sector military-political movement and security forces of local businessman and MP Mykhailo Lanyo. 11 people were wounded in the conflict. As of July 12, five remain in hospital,
according to Channel 5
, including one in intensive care. Ukraine's Prosecutor General has opened an investigation into a "terrorist act". Meanwhile, the Right Sector refuses to lay down arms and has announced country-wide rallies in support of the "Mukacheve Robin Hoods".
This timeline attempts to track the shootout in the town of Mukacheve in Sub-Carpathian Western Ukraine involving Right Sector nationalist volunteer fighters and the following events as they happened. It is based on information from local and national Ukrainian media and social networks.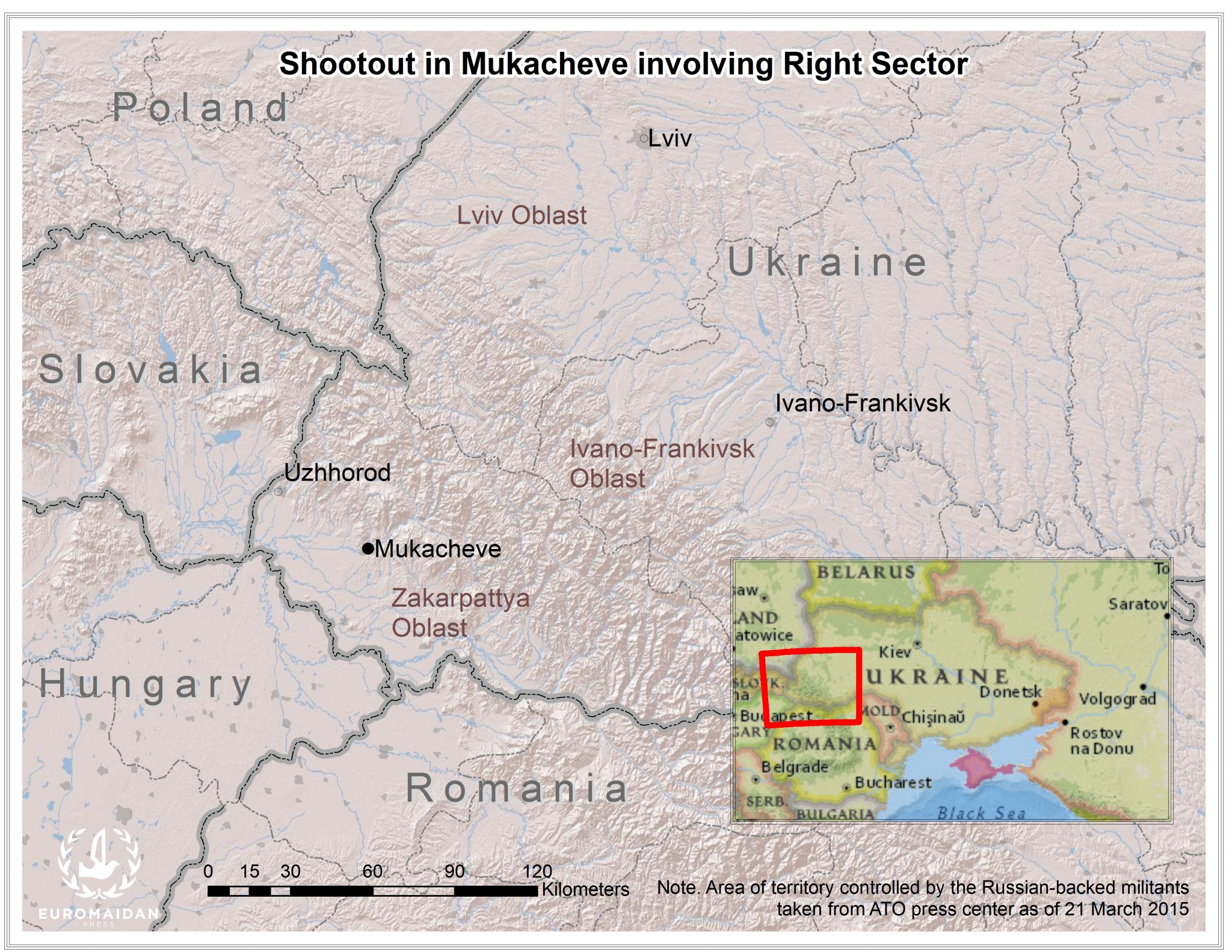 July 11
Right Sector's "Volunteer Ukraine Corps" fighters arrived at  the Antares sports facility in central Mukacheve. The facility belongs to Ukrainian parliament member Mikhaylo Lanyo, said to be involved in smuggling and organized crime.
Mikhaylo Lanyo claims Right Sector members came to him to organize convalescence at his resort facility for fellow fighters recovering from fighting in Eastern Ukraine. Right Sector members claim Lanyo was upset with their anti-smuggling activities and summoned them to deliver threats and demands to stop them. Some locals claimed Right Sector was involved in the smuggling operations and came to Lanyo to settle a "business" conflict.
Right Sector members claimed they carried only hunting weapons, while photos and videos suggest this was not the case. Mikhaylo Lanyo's armed thugs allegedly present at the base aren't visible in any videos or photos.
Whatever the topic of the negotiations was, they apparently broke down. Lanyo and police authorities claimed the Right Sector started the shootout, while the volunteer fighters alleged they were attacked by Lanyo's men and police operatives paid by the parliament member.
In a police video posted by journalist/parliament member Mustafa Nayem, Right Sector fighters can be seen carrying a person who earlier stood at the gates of Antares.
Later an ambulance came to take the man to hospital. The media reported him as the sports club's guard, while Mikhail Lanyo alleged he never knew the man. The man is currently in hospital, having slipped into a coma.
According to Nayem's explanation of the video, a local police head arrived and attempted to negotiate with Right Sector fighters. Later in the video, gunfire can be heard and Right Sector fighters are seen firing warning shots into the air. Right Sector claimed they were attacked by police special forces, which can't be seen in the police video. Right Sector fighters used a smoke grenade and left the scene.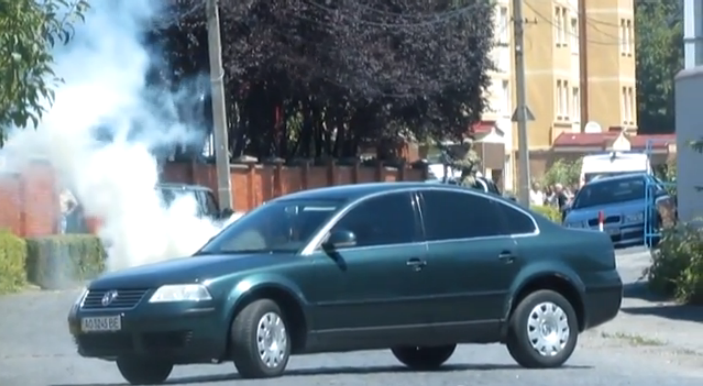 Apparently chased by police, Right Sector figthers exited the town and probably attempted to reach their base in Uzhhorod, when they came across a police cordon.
In a dashcam video, reposted by a pro-Russian YouTube channel, we can see a Right Sector convoy driving and encountering the police cordon.
Right Sector claimed they received demands to surrender, which is corroborated by them talking on a phone in the police video. A shootout ensued, in which 3 police cars were destroyed and several policemen and civilians were wounded, while two Right Sector fighters were killed.
According to law enforcement authorities, Right Sector fighters broke through the cordon and fled into the surrounding woods towards Lavki village.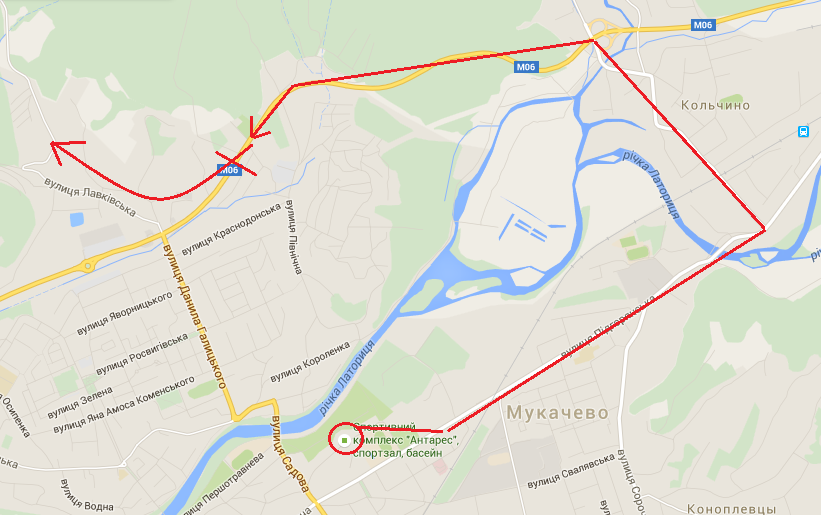 As Right Sector fighters fled the scene, they left their cars and a dead comrade. In the back of their pickup truck, RPGs were recovered.
A rally took place at president Poroshenko's administration in Kyiv in support of Right Sector fighters and demanding to dismiss Interior Minister Avakov, as well as arrest Mukacheve policemen and the MP Lanyo who is allegedly connected to pro-Kremlin politician Viktor Medvedchuk.
July 12
Ukrainian vehicle convoy was spotted driving towards Mukacheve
In the town itself, heavy police presence and tightened security was observed, while people went on with their weekend activities, discussing the events over coffee.
A Reuters video captured two unidentified armed men in civilian clothes guarding the streets next to uniformed policemen. It is unknown whether they are Mykhailo Lanyo's armed gangsters or plainclothes policemen.
Right Sector has been using radical rhetoric, urgint Ukrainian troops not to open fire on RS volunteers (the order hasn't yet been given). Numerous rallies took place across Ukraine in support of the "Transcarpathian Robin Hoods".
The rallies have been peaceful so far, although Right Sector did block a street in Ivano-Frankivsk.
A Right Sector volunteer battalion reportedly left the frontline in Eastern Ukraine to join the protest in Kyiv, declared to continue indefinitely.
Meanwhile in Mukacheve, two of the Right Sector fighters blocked by law enforcement finally surrendered, according to MIA official Anton Herashenko. Right Sector claims those two were seriously wounded and surrendered so that their lives could be saved.
Tags: Mukacheve, News, Right sector, Terrorism