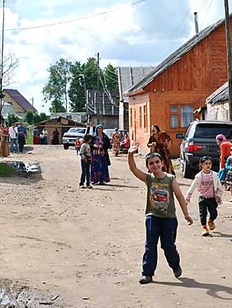 A Roma boy (Image: nazaccent.ru) 
Tragically, the list of the objects of Russian anger is not only growing but increasingly including many of the same groups Hitler targeted in the Third Reich. First, some Russians have attacked LGBTs in the name of defense of traditional values; then, they have made Jews sufficiently uncomfortable that an increasing number are leaving.
Now, there are growing instances of anti-Roma (anti-gypsy) attitudes and actions, including most recently a decision by the police in Tula oblast to monitor places where Roma are concentrated in order to forestall a possible outbreak of inter-ethnic hostility.
That follows an even more disturbing case in Moscow where an ethnic Armenian guard in a store electro-shocked a Roma boy when he thought the seven-year-old had not paid. Media reports say that the boy's family was able to get the local state prosecutor to bring charges but the guard has fled, supposedly out of fear of attack by other Roma.
Initially, Pavel Astakhov, the ombudsman for children, expressed outrage that the boy had been attacked, but "Komsomolskaya Pravda" reported that "it turned out" that the boy was from "a large local Roma family" and that he and his relatives "more than once had been suspected of petty theft," a classic anti-Roma trope.
According to the paper, "the anger of society rapidly changed direction: the majority after that now stood on the side of the guard," and some people were expressing doubts that there had been an electro-shock used at all. The guard's mother has collected 300 signatures in support of her son who has fled to avoid prosecution and what his family says are threats of violence from Roma.
What makes all this so worrisome is the ways in which antagonism even hatred sanctioned and even encouraged by the authorities against some groups, such as the LGBT community in Russia, can easily spread to others such as the Roma which the authorities have not attacked but that they have done little or nothing to deter.
In a country as varied ethnically and otherwise as the Russian Federation is, the danger of anger and hatred jumping like a forest fire from one group to another and igniting a conflagration is all too real; and consequently, the failure of some to attend to attacks on outsider groups like the Roma is thus not only indefensible but dangerous.
---
More on the topic:
Tags: International, Russia