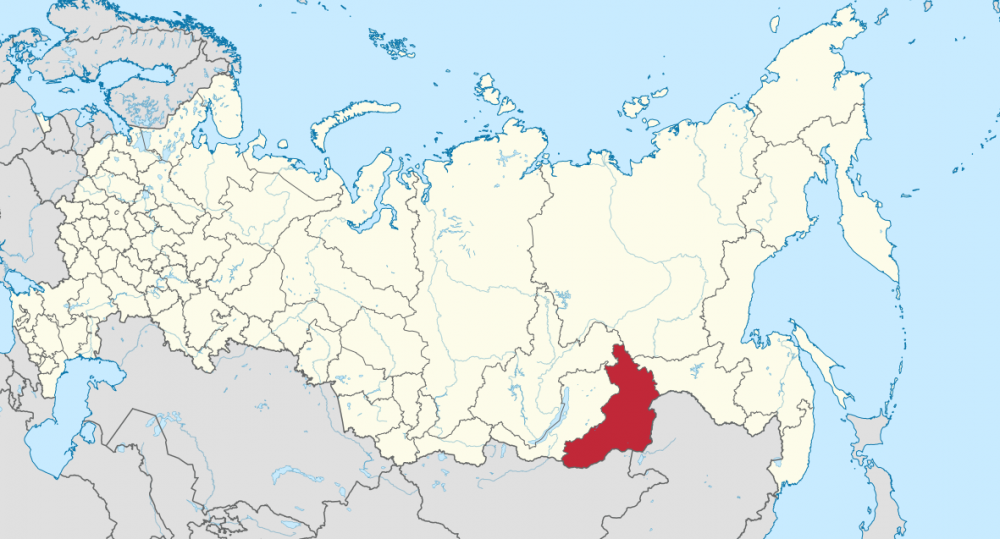 Transbaikal (or Zabaykalsky) kray in Russia. Total area: 432 thousand km2 (167 thousand sq mi). Population (2010 Census): 1.1 million. Population density: 2.57 people/km2 (6.7 people/sq mi). Urban: 66%. Rural: 34%. (Source: Wikipedia) 
Transbaikal officials are working on a deal with China that would allow Chinese firms to lease more than 300,000 hectares (1.2 thousand sq mi) of land in that Russian region, but a Beijing official says that the deal won't go through unless Moscow agrees to a massive influx of Chinese workers because there are no Russians available for work there.
According to "Nezavisimaya gazeta," the Transbaikal kray government in Eastern Siberia is ready to sign a letter of intent that would allow a Chinese company to lease the land for 49 years, but "in Beijing, they consider that such a transfer of land is insufficient" and that Moscow must allow for the entrance of Chinese citizens to work it.
This new Chinese demand was presented by a senior official of the Chinese Institute of International Strategic Research last week in a Chinese newspaper. Moscow has traditionally viewed that institute as expressing the official position of China. (For a Russian translation of the article, see here).
According to the Chinese writer, Beijing believes that Moscow not the Transbaikal authorities is being Russia's new willingness to lease land to China but insists that this "progress" will not be complete until the Russian authorities agree to simplify procedures for Chinese workers to come there in large numbers.
"So far, he wrote, "the countries have signed only an agreement on intentions, and time is needed to conclude a real contract which will have real force." For that to happen, Moscow will have to agree to the "large scale" resettlement of Chinese citizens in the Russian Federation, something that will inevitably disturb many Russians.
As Mikhail Sergeyev, the head of the economics section of "Nezavisimaya gazeta," observes, the Beijing writer "considers the transfer of land in the Transbaikal kray to be only the first swallow after which must follow others" and that such transfers are not "only" about an economic profit.
Beijing has already identified nine territories in Siberia and the Russian Far East which it would like to lease and then introduce a Chinese workforce, Sergeyev writes. And it is clear that economics is far from the most important consideration, something that will be even more of a red flag to Russians.
He quotes Natalya Zubarevich, a specialist on Russia's regions at Moscow's Higher School of Economics, on this point. Much of the land the Chinese want to lease, she says, is hardly good for agricultural exploitation. The fact that Beijing wants to lease so much of it thus raises questions of its intentions.
Sergeyev does not address it, but this Chinese move is certain to provoke not only Russian nationalists in Moscow but also Siberian regionalists who may welcome Chinese investment but are unlikely to be happy about any massive influx of ethnic Chinese which would radically change the ethnic balance in a region from which Russians continue to leave.
Tags: China, Chinese migration into Russia, International, land lease, Putin, Russia, Russian demographics, Siberia, Transbaikal