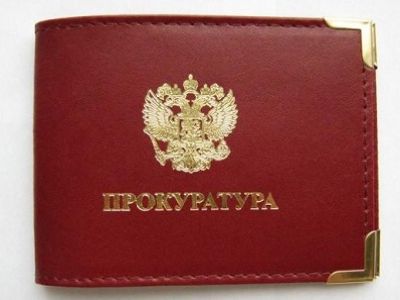 The cover of an ID card of a Russian prosecutor's office official (Image: kasparov.ru) 
Ever more frequently those writing about the Russia of Vladimir Putin have recalled the chilling words of German Pastor Martin Niemoller about the way in which the failure of Germans to protest Nazi repression against one or another group opened the way to the Holocaust.
Now, Niemoller's words "when they came for the Jews, I did not say anything" have been employed by Yegeniya Slavetskaya to describe a situation in which the Russian authorities in Novgorod Veliky actually "came for the Jews" not in some distant time but this past Sunday.
On that day, her acquaintance Valery Berniashvili told her, three representatives of the local prosecutor's office came to Novgorod's Khesed Center where on Sundays some of the city's Jewish community meet to improve their knowledge of Hebrew. Without ceremony, the three began peppering those assembled with questions and threatening to call them in for interrogation.
Civic activists in Russia have become accustomed to such attention from law enforcement authorities, but those "far from politics" like the Jews studying Hebrew aren't. And such actions by officials are both disturbing and frightening, Slavetskaya says – all the more so in this case because until recently law enforcement personnel tried to avoid having anything to do with the Jewish community.
In her Kasparov.ru blog post, Slavetskaya asks all those who "are not indifferent to the state of civic rights and freedoms in Russia" and who are concerned by the rapid degradation of democratic institutions in Russia to disseminate this report" as widely as possible so that everyone will know about this "absolutely abnormal situation."
She appends to her report a citation from an essay by Leonid Ashkinazi on why many Jews and others fear that their country is moving back to Soviet times and thus why some of them are now thinking about emigrating before the situation deteriorates still further.
Ashkinazi writes the following: "Now the situation has begun to change in a serious way. Russia is standing at the edge of becoming the USSR and is showing its readiness to go even further. This will not be a return to the Brezhnev Stagnation," he says, but rather to something earlier and much worse.
Whatever people think about Brezhnev's times, the situation now will be worse "because there are no resources, the material foundations have been exhausted and people albeit from afar envy a normal life, because people know what palaces certain people have built for themselves and from envy to hatred is a single step."
P.S.: And those who doubt that such a leap can happen should carefully read another posting this week on Moscow's "Svobodnaya pressa" portal which argues that Jewish bankers are behind what it describes as Ukraine's war against Russia.
Tags: International, Russia, Russian nationalism