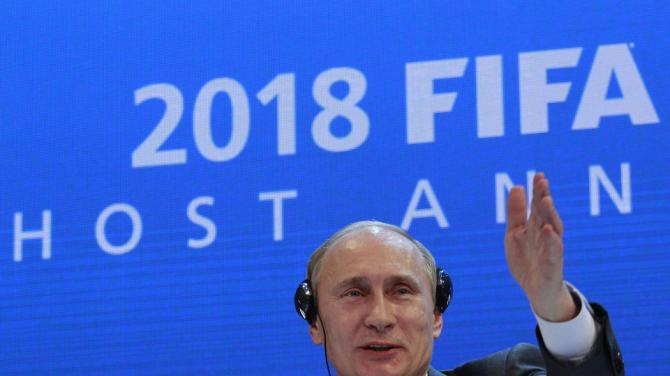 The UK Ukrainian Sports Supporters Club are calling on England fans to boycott the World Cup in Russia. The Supporters Club is concerned about the safety of its members and other Ukrainians in Russia if Ukraine succeeds in qualifying for the World Cup.
The Supporters Club, a voluntary organization which organises tickets and pre-match gatherings for all Ukrainian sporting events in the UK, joins the Ukrainian president, Petro Poroshenko in calling for a boycott of the World Cup in Russia in 2018. The Supporters Club has written to England football supporters clubs, calling on them to support a campaign to strip Russia of the right to host the world cup in 2018 and to boycott the event if it does take place.
The Supporters Club states that a country that has violated international laws and engaged a war against another country should not be extended the privilege of hosting a prestigious event.
Putin has incited racial hate against Ukrainians. UEFA have recognised the risk to Ukrainian supporters and have kept Russian and Ukrainian teams apart in the draw for the Europa league this season.
The Russian war on Ukraine has had a direct impact on Ukrainian football, with Crimean teams no longer playing professional football, and Eastern Ukrainian teams have been displaced, Shakhtar Donetsk now play their matches 1000km from their stadium.
Stepan Luzcka, president of the UK Ukrainian Sports Supporters Club says:
"Russia should not be extended the privilege of hosting the World Cup following its aggression in Ukraine. We are extremely concerned for our supporters if Ukraine qualify and the World Cup goes ahead in a country where racial hatred against Ukraine is incited from the President."
The Supporters Club president has written to England Supporters clubs calling on them to support the boycott – you can download the letter here.
Over the last 12 months, Russian military forces have been present in Ukraine and have engaged in a war against Ukrainian forces and occupied eastern parts of Ukraine's territory. As a result, over 6000 people have died, including innocent civilians and over a million have been displaced, including 300,000 children.
On 17 July 2014, flight MH17 was shot down over Ukrainian territory. Mounting evidence has shown that this flight was shot down by a Russian controlled BUK missile. 10 British citizens were amongst the 300 innocent passengers murdered in this act.
Tags: 2018 FIFA World Cup, FIFA, News, Russia