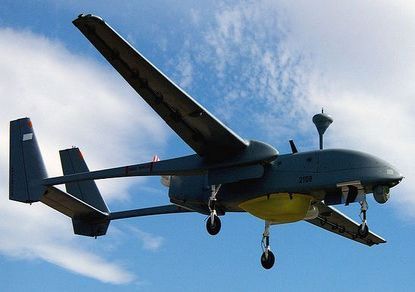 Ukrainian military claimed it shot down a Russian-owned, Israeli made UAV in the skies over Donbas in East Ukraine. The UAV was produced by Israel Aerospace Industries Company and was part of $400 million 2010 deal to sell spy drones to Russia as was previously reported by Haaretz.
Russia was looking to boost its UAV arsenal following 2008 war with neighboring Georgia after Russian army was exposed for having largely obsolete spying equipment. And now UAV's which Israel sold to Russia have found their way to Ukraine where they're used in the Russian aggression against the yet another Russian  neighbor.
The drone was shot down on May 7, west of Donetsk, in the area of ongoing Counter-Terrorist Operation (ATO) in Eastern Ukraine.  The wreckage of the Russian drone was transferred for more detailed analysis to Аэроразведка Украины (Air-reconnaissance of Ukraine). Plates with Israel Aerospace Industries' inscriptions were discovered on the components of the downed drone.
Nathan Hazin, an Israeli and one of the commanders of Ukrainian Air-reconnaissance Unit, is engaged since the summer of 2014 with Ukrainian UAV operations in Eastern Ukraine. Hazin was an active participant  during the Maidan protests against former Ukrainian president Yanukovych in Kyiv of 2014,  and a commander of the "Jewish Hundred" unit.
Since Hazin is an IDF (Israel Defense Force) trained specialist he quickly recognized the aircraft. "Decrypts of the downed drone's  native content were made and I noticed a 4th generation compass on the drone's board, whereas the eighth generation is currently used (in Israel). Therefore, an old junk was sold to Russians. Forpost is an old Israeli reconnaissance apparatus which Russians bought approximately five years ago. Israel sold Russians an old project's components and Russians were putting them together as well as producing UAV's themselves", Hazin explained.
According to Hazin, it's not the first time Ukrainian military has shot down Israeli-made and Russian-owned drones. Experts say these drones are also equipped with cameras and inertial orientation systems which were also produced in Israel.  "Drones are launched by military professionals and not militias. Certainly Israel sold these UAV's to the authorities of Russian Federation and not to the separatists of Donetsk People's Republic. Therefore, even the appearance of these drones in the Ukrainian skies is a proof of Russian direct military intervention in the conflict", Hazin says.
After serving in the Israel Defense Force (IDF) Hazin believes the current  situation is quite strange since "Israel declared a neutrality in this conflict and refused to sell drones and other military equipment to Ukraine, but supplied old UAV technology to Russia", a technology that ultimately made its way to Eastern Ukraine and is used against the Ukrainian Army. Moreover, Hazin notes that Russia in turn "supplies the most advanced Russian weapons to their Arab allies which are used against Israel"
Images source: http://9tv.co.il/news/2015/05/08/203571.html
Tags: Israel, News, Russia, Russian aggression, UAV