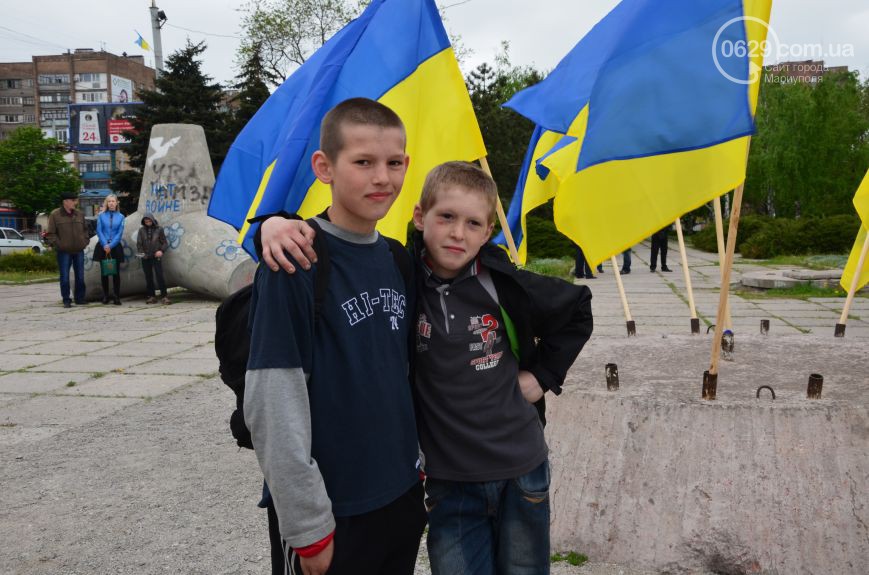 Two Mariupol boys next to the rally to stop demilitarization of (withdrawal of troops from) the village of Shyrokyne, the final point of defense against Russian occupation forces taking their city (Image: 0629.com.ua) 
This photo was taken in the back of a large citizen rally in Mariupol. Please take a thorough look at the boys' sallow and thin faces. For a year these two have been living next to a frontline with the Russian occupation force. Residential areas of the city sustained a bombardment by Russian artillery and dozens of civilians were killed. Despite the ceasefire and large-caliber artillery withdrawal agreed to in the Minsk II Accords, the Russian force continues their shellings and advancing to Mariupol. Only 6 miles (10 km) separate them from the city now. Lacking the modern weapons that could stop the advancing Putin forces, the Ukrainian federal government has proposed to demilitarize the frontline, for both sides to withdraw their forces from the village of Shyrokyne that has been the flashpoint of combat. Nobody is fooled by this desperate attempt at a diplomatic solution to preclude another loss of territory and humanitarian crisis in another large Ukrainian city.  Residents of Mariupol have been close enough to the war to know that Russia has yet to abide by the prior diplomatic commitments it made in Ukraine. They believe that Putin's promises and commitments are worth nothing. They believe withdrawing Ukrainian defenders will just make it easier for the Russians to occupy the city. That is why they went on a rally to stop the proposed "demilitarization" of the frontline defending them.
While the adults are struggling with their adult problems, these boys are trying to be boys. Their sallow and thin faces are marked with a bit of innate mischief and a desire for adventure. Their strong friendship is obvious, just like between the original Tom Sawyer and Huckleberry Finn… And we pray to God or the Universe that they and all people of Mariupol survive Putin's aggression.
---
More on Mariupol:
Tags: Donbas war (2014-present), Image of the Day, Mariupol, photo, photography, Ukrainian children at war