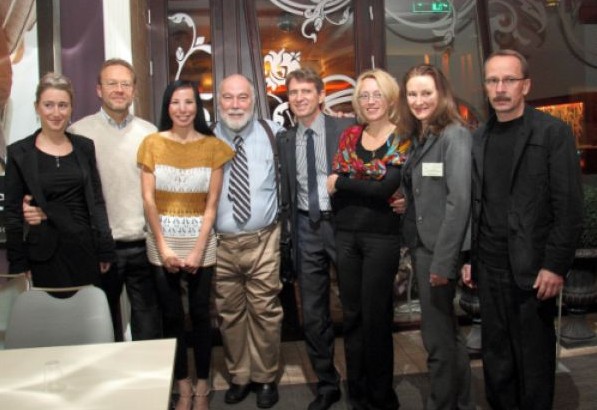 The medical clinic Genom, now relocated to Kyiv from Donetsk, at a conference of medical geneticists in 2012 
The Gossip bar operates out of a small basement of a building on Shevchenko Boulevard in central Kyiv. At first glance, it is a typical metropolitan establishment serving burgers and hookahs.
However there is something that makes this bar unique and different from the rest: the interior of Gossip is an exact replica of a bar in Donetsk, a bar which no longer exists. Its owner, a refugee, was forced to relocate himself and his business from occupied territory in East Ukraine.
Yevhen Vasili and his family made their decisive move from Donetsk to Kyiv at the end of October of last year. It became unbearable to remain in the environment that was created by the so-called "DNR" (Donetsk People's Republic).
"This wasn't the life or future I imagined; we could not live there any longer," Vasili said.
The bar's owner also had a house in Donetsk, but during the battle for Donetsk Airport, it had been completely destroyed, as was his entire village of Oktyabrsky.
He had nowhere to return to. And almost all of his friends and acquaintances had escaped to the safety of Ukrainian territory. Still, Vasili admits, many others remain in Donetsk, despite supporting Ukraine and being Ukrainian patriots. For them, leaving is akin to stepping off the edge of a cliff.
"I constantly tell my friends that there is nothing to be afraid of, and it's something that you just have to go through, and it's tough," the businessman shares.
Shortly before the tragic events in Donetsk, Vasili was planning to expand his business and open a chain of bars. Just a couple of months before he started investment in his new project, people wearing St.George's ribbons and Russian flags started appearing in the streets of Donetsk. The Gossip bar had to close its doors shortly thereafter.
"We tried to create a comfortable atmosphere where people can get together ", Vasili explains about his bar. "It's a place where people interact. We are not planning to change this concept in Kyiv and we want to recreate the same atmosphere we had in Donetsk. Of course, we have to adapt to current conditions, since the interests and needs of the people are different here in Kyiv."
The majority of Gossip's staff are refugees from Donetsk. Several people moved to Kyiv, together with the owner of the bar, and the rest were hired when Kyiv's location was opened.
"We have a clear message: we want to hire people who were forced to leave Donbas region." Yevhen says. "No, we don't want to create an imbalance by favoring people from Donetsk. It's just that refugees right now are the most socially vulnerable segment of the population, and they struggle more than others to find work. And if we can help them to settle in and get their lives back on track, it will be our small positive contribution to the values to which we all aspire."
Yevhen often meets acquaintances from his old home region at his bar. "One day a man walked into the bar whom I would see only once in a blue moon in Donetsk, but here, it turns out we're both renting an apartment in the same building," Yevhen laughs.
The Bar has already become a kind of sanctuary where people who were forced to leave their homes can experience a familiar environment. "I want to remember Donetsk as it was a year and a half ago," says Yevhen. "It was a city that was growing quicker than many others Ukrainian cities and where I envisioned my future."
I witnessed how step by step we were working on making Donetsk an ideal place to live, every one of us tried to make a contribution to the development of our city. We built bicycle parking lots, cared for flowerbeds. I was surrounded by people who wanted to make Donetsk a better place to live.
But right now, Donetsk is a city that I feel pity for. We don't have warm memories about Donetsk anymore and it's probably natural to feel this, especially considering all that my family went through since the war began. There is no turning back; what was my home feels like an alien place now. And no one can bring it back.
We are starting from scratch, brick by brick we are building our new home.
---
Dariya Barabanshchikova, one-time manager and part-time cook of one of Donetsk's most famous and oldest cafes is also starting from scratch. She is afraid to say the name of the café because her parents own the establishment and remain in the occupied territory.
This café has been around for 32 years, since Soviet days. "If not for this café, I would probably not be around today," Daria says. "When it first opened, my dad, having just finished a bartending course, worked as the bartender, and my mother got a job there as a cook. That's where they met. A few years later they got married and I was born. When I was only six months old, my mom brought me there in her arms. That was my first visit. Eventually, the café became our family business.
For many in Donetsk, the café became a place for people to celebrate their most important family events.
Patrons who would go there as university students later celebrated their weddings and the birth of their children. And then they would celebrate their children's weddings and birth of their grandchildren," Barabanshchikova remembers. "For me, this place always felt like home."
In early summer the cafe had to be closed, because armed people were roaming the city's streets and they didn't want to put the personnel's lives at risk or in harm's way. As for Dariya, she left for the Ukrainian capital Kyiv to start a new life so that she could help her family left behind in Donetsk with no means of support.
When she was leaving Donetsk, she gave herself a trial period of one week. She did not purchase a return ticket.
Two days later she was offered a job and soon with the support of her friends she created a mobile kitchen that catered simple and healthy food for various social and cultural events in Kyiv.  Currently, Dariya is preparing legal documents to open her own baking and catering business.
She hasn't made any plans to return to Donetsk, and like many refugees who were forced to leave their homes, she does not want to look too far into the future. "After I moved to Kyiv, I stopped putting restrictions on myself anymore in terms of relocating," Barabanshchikova says. "If you were able to re-locate once, even if it was difficult and painful, then the next time it becomes much easier to settle in a new place comfortably."
Dariya talks of a new trend developing among her friends who left their homes in the occupied territories – they do not want to settle down just anywhere. Dariya herself is thinking about buying a mobile home and traveling.
---
Before the war, Dmytro Paladov's firm "Technology networks" specialized in selling communication systems, cables, and equipment for Internet and television providers, serving customers in Donetsk and Luhansk oblasts as well as in Crimea. Now virtually all his previously developed business leads and connections have been destroyed.
Paladov, one of the activists in his local Euromaidan movement in Donetsk, and often came to participate in Kyiv's Euromaidan. When the revolution started, he happened to be studying at the Kyiv-Mohyla business school. That's how he was able to keep up with all the happenings in the capital.
"Our company worked in Donetsk without any problems until the late spring of last year when the shootings started,"  remembers Paladov. "But we were luckier than other entrepreneurs because we didn't have signs in the front of our store and that's why we were not touched."
Last July when a column of "DNR" soldiers, led by Igor Strelkov [former colonel of the Russian FSB] entered the city, he knew it was time to leave.
"I decided to move everything to Mariupol because at that time it seemed that Mariupol was well-controlled by Ukrainian forces. I was even hoping that in a month or two, the Ukrainian army would liberate Donetsk and we could quickly return home."
"We left Donetsk like some kind of guerrilla fighters," remembers Paladov. "Our guys packed all our equipment in such a way that it would not be found at the 'DNR's' checkpoints. In order not to raise suspicions, we created hidden compartments and hid the most expensive equipment inside them while placing cheap wires up front as decoys."
But in Mariupol it proved to be dangerous as well: in August, the city came under Grad mortar attacks and Novoazovsk was occupied by "DNR" soldiers. It was a signal to us that it was time to leave. Our company then started to move to Kyiv.
"We had to completely change our retail market strategy," Paladov explains. "From Mariupol we looked on the rest of Ukraine, to areas we didn't consider before because of logistics."
"There is no turning back: we cannot supply equipment to Donbas and Crimea anymore. Even though the demand is still there. Our old partner-providers often call us from Donetsk and tell us about issues that they're having: a cable got ripped or an entire equipment hub was burned. They've became victims of circumstances since they cannot leave the area because they have to provide people with access to the Internet and television."
A businessman who has lived his entire life in Donetsk, Dmitro Paladov remembers it as a small provincial town from which you can take a weekend road trip to the Sea of Azov or to nearby woods. And yet he remembers how one time last summer he saw a person tied to a lamp post simply because he was carrying some symbols of Ukraine.
"Among my acquaintances almost no one supports 'DNR'," he says confidently. "And almost all medium-sized entrepreneurs left the area as well."
Paladov is not planning to return to Donetsk even after the war.
"It's going to be a region hit by depression for a very long time," he said. "People who know how to create a modern and vibrant business environment do not see any prospects there. The new critical mass of innovators needs to happen, and it's going to take decades to return Donetsk to its former position."
During the time of conflict virtually all medium and small business disappeared from the territory of Donetsk Oblast that was engulfed in hostilities.
Various businesses disappeared which were used by residents, such as cafes, groceries, bookstores, hardware stores, beauty salons and pharmaceutical companies. Even some medical clinics had to relocate.
In the late autumn Genom, the oldest medical-biological center in Ukraine performing diagnosis of congenital and hereditary diseases and specializing in treatment of pregnant women, had to be evacuated. This center was established in the 1990's and became one of most prestigious centers in Ukraine and Europe
---
"From the very beginning of Euromaidan, stuff members of the medical center were not afraid to voice their civic position and participated in meetings," Oleksandr Krasnov, Director of the Genom center, explains. "We have openly stated that we will not work with bandits and terrorists and only supported pro-Ukrainian activists."
Initially, when "DNR's" representatives only participated in dispossession of local businesses, nobody paid attention to the clinic. But in the summer, when Donetsk became a center of military activities and it was very unsafe to remain here, then Genom's leadership gradually began to ship out the equipment and staff members began to re-locate.
"At that time carriers were still able to deliver our equipment from Donetsk to Kyiv," Krasnov remembers. "One time, a carrier drove to our center's courtyard to load two of our most expensive diagnostic equipment into moving trucks, when suddenly they were surrounded by "DNR" members who had automatic weapons and took our equipment away and then demanded a ransom for it.
Soon almost the entire staff of Genom relocated. There are no genetics specialists left in Donetsk.
Now, the clinic is settled in Kyiv and the leadership has taken up a new social mission: to hire refugees mainly from Donbas region and to serve the wives of soldiers participating in the Anti-Terrorist Operation free of charge.
The building of the clinic in Donetsk is now occupied by "DNR" representatives. The "Republican center Genom" plate emblazons the main entrance to our former clinic and the new employees are deceiving patients and telling them that "it's the same center as before."
"People in our old clinic in Donetsk fake patient's diagnosis, because they simply do not have a proper and necessary equipment," Genom's Director explains. "The level of moral degradation of people who left there is impossible to describe."
Image Source:  http://www.pravda.com.ua
Tags: Donbas war (2014-present), Featured, Refugees, Russian aggression, Ukraine, Ukrainian IDPs