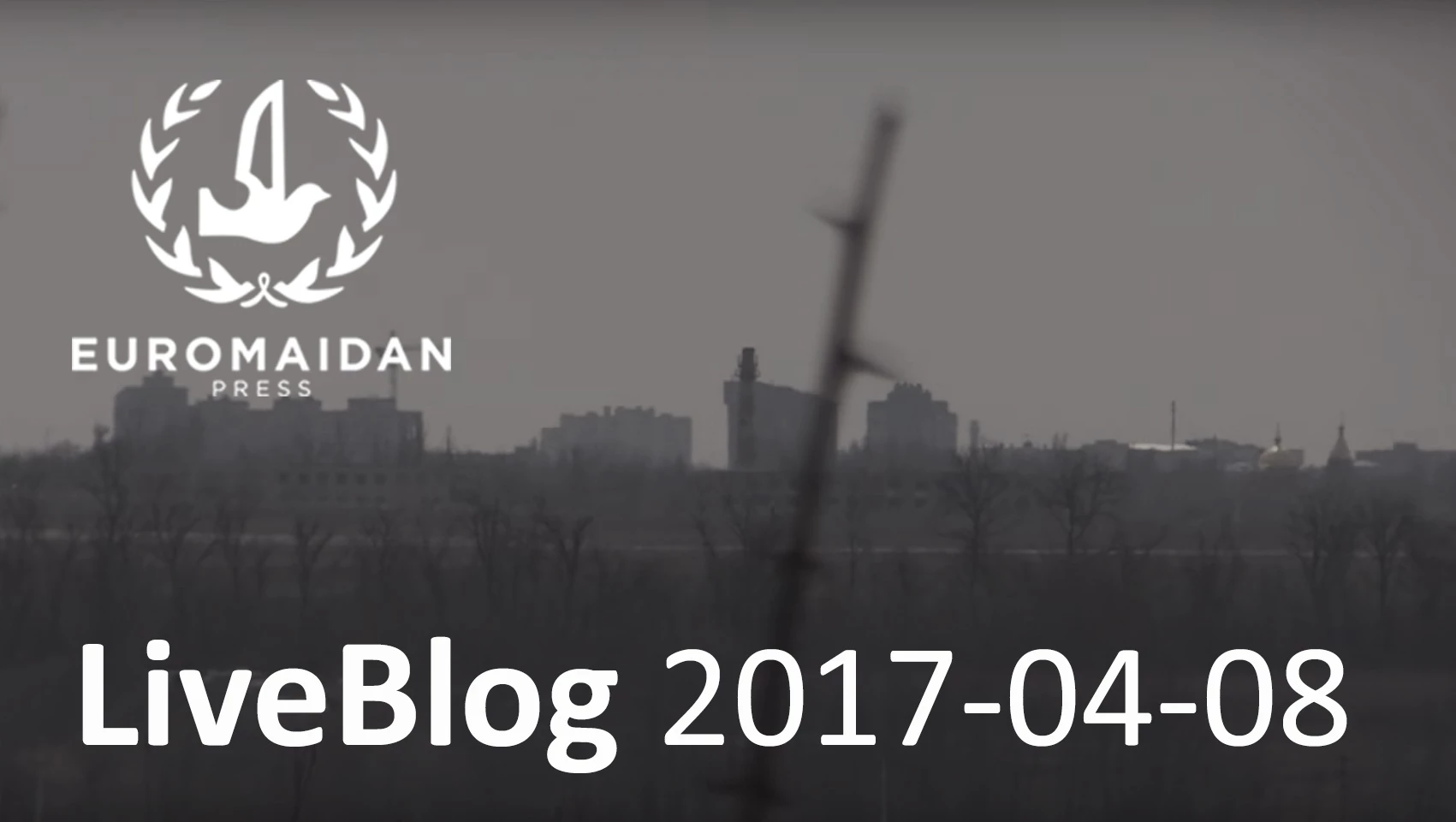 "Easter ceasefire" continues in the Donbas since April 1 being violated every day. However, mostly mortars are used now instead of heavy artillery. 5 Ukrainian soldiers were wounded in 43 attacks on April 7. Ukraine, Germany, France urged Russia to unblock the process of liberation of hostages in the Donbas. Over 200000 children in East Ukraine need urgent care to overcome trauma of conflict, UNICEF says. The LiveBlog of April 7 can be found here: 7 wounded in 2 days. OSCE UAV attacked. Thousands herded to "mobilization assembly" near Donetsk #DonbasReports
The "Easter ceasefire" statistics as of April 8: 2 killed in action, 27 wounded. 291 attacks in 7 days
No fatalities, 5 Ukrainian soldiers wounded in 43 attacks on April 7.
Ukraine announces large-scale air defense drills this year
Over 200000 children in East Ukraine need urgent care to overcome trauma of conflict – UNICEF
Ukraine, Germany, France urge Russia to unblock liberation Of hostages in Donbas
Almost quiet night, morning, afternoon in the Donbas (April 8, 00:00-17:00) – local residents
Ukrtelecom telephone company lost control of its Luhansk branch
---
4 wounded in 59 attacks on April 8
The ATO Headquarters reported 59 attacks on April 8, four soldiers were wounded.
---
Evening battles south and north of Donetsk (April 8 18:00-23:59)
Local residents reported inactive evening battles near Donetsk:
in the area of Novotroitske and occupied Dokuchaevsk (south of Donetsk)
in the area of Avdiivka and occupied Yasynuvata, north, northeast of Donetsk
18:15 Donetsk: a covered truck went along Universytetska crossing Myru northwards, #15 in circle, # plate: DK3642
18:30 Marinka: For about an hour we can hear sparse booms…
19:19 Taramchuk area: Dokuchaevsk–Novotroitske direction is a bit noisy
19:30 Marinka: For a long time, HMG is shooting, and booms at periods 21:02 ceased a bit
19:45 Olenivka: They started to make some noise from 3 sides
19:47 Donetsk Petrovskyi: #mine12: assault-rifle bursts, rare booms. Not critically 20:03 Trudovski are shooting, I don't get where
19:52 Donetsk Proletarskyi district: Distant booms not frequent for now in the northwest direction
20:15 Donetsk: YaBP – a "battle duel", heavy [explosions] by times
21:22 Taramchuk area: Berezove–Dokuchaevsk–Novotroitske direction: pretty active [battle]
22:20 Donetsk Schetinina: Dull single salvos from Yasynuvata direction
22:21 Donetsk: Seldom booms far away in the west-southwest
23:10 Novhorodske: For at least an hour it rumbles in Avdiivka direction
23:32 Dokuchaevsk: It seemingly falls withing the city limits
---
ATO HQ reports 18 attacks as of 18:00 today
As of 18:00 today, the ATO Headquarters has reported 18 attacks with no casualties mentioned in the statement.
120mm and 82mm mortars were reportedly used to attack Ukrainian strongholds near Vodyane (east of Mariupol) and Verkhnyotoretske (north of Avdiivka). Other locations where Ukrainian positions were under attack today are Marinka, Novohryhorivka, Hnutove, Shyrokyne in Mariupol sector and Avdiivka, Kamyanka, Zaytseve, Pisky, Troitske in Donetsk sector.
The ATO HQ did not mention any military activity in Luhansk sector.
---
OSCE confirms civilian casualties in Avdiivka, Marinka and occupied Novoazovsk
The OSCE Special Monitoring Mission to Ukraine reported civilian casualties in the ATO zone in the Eastern Ukraine.
April 2, Marinka (23km southwest of Donetsk):

A 15-year-old boy suffered injuries to his right leg caused by a projectile while he had been cycling.

April 3, occupied Pikuzy (formerly Kominternove, 23km northeast of Mariupol):

A mercenary from Russia who "had become a resident of Pikuzy in 2014" died "after an explosion had occurred outside his home", according to his mother-in-law cited in the report. However, he could be at the frontline several kilometers away.

April 5, Avdiivka (17km northwest of Donetsk):

A middle-aged man got shrapnel wounds to his right shoulder while he was in the vegetable garden of his residence.

April 5, occupied Novoazovsk (40km east of Mariupol):

"Medical staff of Novoazovsk hospital told the SMM that on 5 April a hand grenade had exploded injuring a group of ten people (seven women and three men 20-68 years old) while they had been clearing the sides of the main road on the outskirts of Novoazovsk from leaves and bushes. The medical personnel said that one woman had died before reaching the hospital and had been taken to the morgue, while the other nine people had sustained injuries of varying degrees mostly due to shrapnel and concussions. In the morning of 6 April, the medical personnel added, two of the victims were sent to a hospital in Donetsk to undergo more complex surgeries," the SMM report reads.
Yesterday Principal Deputy Chief Monitor of the OSCE SMM Alexander Hug said, "Last week we confirmed death of 6 civilians".
---
Ukrtelecom telephone company lost control of its Luhansk branch
On April 7, Ukrtelecom JSC, de facto Ukraine's monopolist telephone company, has published a statement on its website saying it lose its Luhansk and Donetsk assets:
"Telephone and Internet access services are not provided in the uncontrolled territory of Donetsk and Luhansk oblasts owing to loss of control of the telecommunication network," the statement reads.
The company stopped services in the occupied areas of Donetsk Oblast starting from 1 March because of "interference with its network and armed takeover of its office", Ukrtelecom's Donetsk branch was one of 46 Ukrainian companies and organizations seized from Ukraine by Russia's puppet republics on March 1. Ukrtelecom controlled its Luhansk branch one month more. The map shows Ukrtelecom's communication status as of March 9, no signal in the occupied territory of Donetsk Oblast only:
The latest update of April 6 shows Ukrtelecom's communication downtime in the entire occupied territory:
---
Almost quiet night, morning, afternoon in the Donbas (April 8, 00:00-17:00) – local residents
Local residents of the Donbas posted fewer social network reports on military activity today since midnight until now.
Yasynuvata, an occupied town north of Donetsk facing free Avdiivka, could hear inactive battle last night and this morning:
06:56 Yasynuvata: They fought outside of the town at night. As of now one can hear rare booms somewhere

Grads spotted yesterday in Khrustalnyi moving towards an artillery range started to work:
10:30 Khrustalnyi [rear occcupied town in the south of Luhansk rgn]: About 10:15 distant MLRS [launches] are heard from Novopavlivka range

Russian forces feel securer now:
10:39 Makiivka: Over 2 days I can see that they started to carry [RU] on Etalon/Bohdan buses instead of Ural-Kamaz trucks, in vests, with AK [assault rifles]

Occupied Yenakiieve, a city southeast of Horlivka, can hear drills too:
11:34 Yenakiieve: The range rumbles since morning

Either live-fire excersises or infighting within Donetsk in the area of the military unit at Schorsa street:
12:03 Donetsk: "Thunder or DNR's woke up?" 12:09 Small arms started ratttling, 2 explosions in mil unit at #Schorsa & battle with SA
12:03 Donetsk: It's training shooting so far, light calibres, wtf?
12:05 Donetsk: Another launch in the foreground of short [bursts of] light calibres. Sounds like a street battle. Catching a DRG [=raider group]?
15:10 Donetsk: Since morning, small arms are making noise in Gladkovka or at Schorsa. Bastards could make noise with livefire from slagheap
Luhansk branch of Ukrtelecom company was reportedly grabbed by occupation authorities yesterday like its Donetsk branch on March 1.

13:51 Alchevsk: No Ukrtelecom's internet and communication, you can phone only inside the city
Minor military activity northwest of Donetsk towards evening:
14:10 Makiivka Gvardeyka: Periodically, rolls in YaBP direction and further north
---
Ukraine, Germany, France urge Russia to unblock liberation Of hostages in Donbas
On April 6, 2017, the meeting in the Normandy format at the level of diplomatic advisors of leaders of Ukraine, Germany, France and Russia took place in Minsk. The Ukrainian, German and French parties decried violation of ceasefire regime, introduced on April 1, 2017 pursuant to the decision of the Trilateral Contact Group (Ukraine, Russia, OSCE) of March 29, 2017, by Russia-backed militants.
Ukraine, Germany and France called on Russia to unblock the process of liberation of hostages in the Donbas, particularly on the eve of Easter. It was once again emphasized that the liberation of hostages requires immediate solution. The Ukrainian party emphasized that the latest steps of Russia and Russia-backed militants in Donbas, particularly de facto expropriation of Ukrainian enterprises and recognition of illegal documents contradict the Minsk agreements and endanger the whole settlement process.
---
Over 200000 children in East Ukraine need urgent care to overcome trauma of conflict – UNICEF
More than 200,000 children, or one in four, in the two regions most severely affected by the ongoing conflict in eastern Ukraine require urgent and sustained psychosocial support to address their traumatic experiences, the United Nations Children's Fund (UNICEF) said on April 7.
"The world has forgotten about this invisible crisis in eastern Ukraine, but hundreds of thousands of children are paying a heavy price, one that could last a lifetime without adequate support," said UNICEF Ukraine Representative Giovanna Barberis in a news release, stressing the urgent need for funding to reach these traumatized children who live in Donetsk and Luhansk oblasts, within 15 km of each side of the 'contact-line' dividing government-controlled and occupied areas where the fighting is most intense.
Parents, teachers, school directors and psychologists continue to report striking behavior changes in children as young as three years old. Symptoms include severe anxiety, bed-wetting, nightmares, aggressive behavior and withdrawing from families and communities.
---
Ukraine announces large-scale air defense drills
This year, large-scale exercises of Ukraine's air defense units have been scheduled, according to the General Staff of the Armed Forces of Ukraine.
According to Major-General Dmytro Karpenko, Chief of the Air Defense Missile Forces, this year, priority will be given to live fire exercises.
"More specifically, we plan to hold an even more ambitious event than last year. I am talking about live fire drills for the Buk-M1 combined air defense missile regiment and S-300P air defense missile divisions. S300P divisions will be spearheaded in the exercise area, with their regular weaponry and military equipment. Of course, the environment will be more realistic, which is the main task," Karpenko said.
---
ATO HQ: 43 attacks recorded amid "ceasefire", 5 soldiers wounded
The ATO Headquarters reports 43 attacks on Ukrainian positions on March 7, "Russian-occupation forces despite of the agreements on ceasefire reached by the Trilateral Contact Group do not adhere to truce regime", the ATO HQ daily communiqué reads. 5 soldiers have been wounded.
Most of the attacks are recorded in Mariupol sector.
120mm mortars, grenade launchers, heavy machine guns, BMP armament were used to attack #Novohryhorivka.
Positions near Krasnohorivka were attacked using 82mm mortars, grenade launchers of various types, heavy machine guns, sniper rifles, small arms.
Strongholds in Marinka area were disturbed by the fire of 82mm mortars and small arms.
Anti-tank grenade launchers and heavy machine guns were used to attack Ukrainian positions near Vodyane, Shyrokyne, Berezove.
Heavy machine guns fired on Chermalyk positions.
BMP and snipers attacked Novotroitske.
Donetsk sector
Luhansk sector
Tags: Ceasefire, Donbas war (2014-present), Giovanna Barberis, liveblog, News, Russo-Ukrainian War (2014-present)