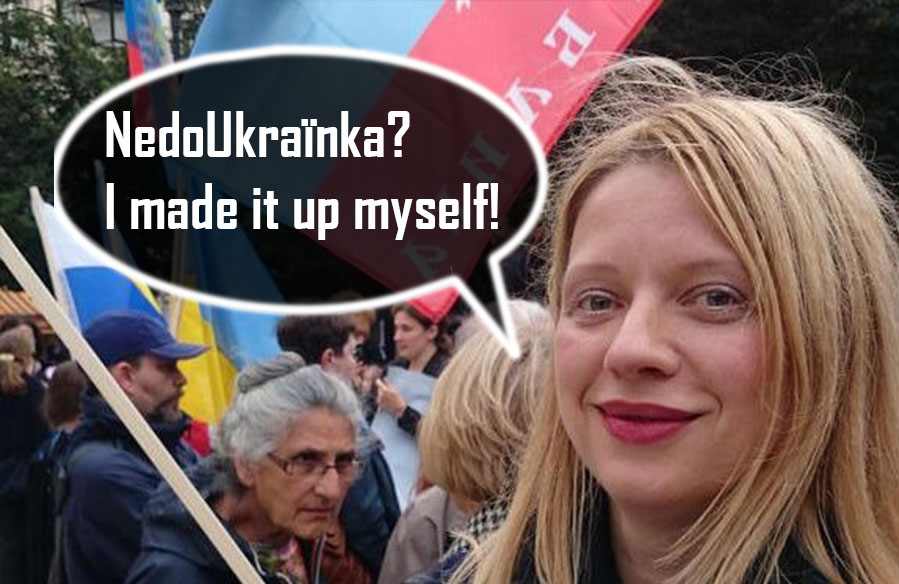 On October 2, 2014 Valentina Lisitsa defiantly announced to the Twitter world she would now rename herself "NedoUkraїnka", and proceeded to wear the new name like a badge of honor. (Ms. Lisitsa is the concert pianist who was banned from performing with the Toronto Symphony Orchestra in April, 2015.)
On her April 6, 2015 Facebook post, in her self-named "confession", Valentina Lisitsa explains:
"So, I took to Twitter ( how many of you know I have a Twitter account? LOL) under a name "NedoUkraïnka" – a word roughly meaning "Sub-Ukrainian", a stab at Ukrainian Prime Minister who called Russian-speaking Southern and Eastern Ukrainians "SUBHUMANS"! Yes, I kid you not. In an official written document. I am a subhuman, my husband, my mom….I mastered Ukrainian language perfectly, far better than a so-called "president" of Ukraine."
Ms. Lisitsa knows full well what Ukrainian Prime Minister Arseniy Yatsenyuk actually said was strikingly different. Here is the original quote (remember, Lisitsa "kids you not") from his official web site :
«Вони загинули, бо стали на захист чоловіків і жінок, дітей і літніх людей, які опинилися перед загрозою винищення інтервентами і оплаченими ними нелюдами»
"They died, because they defended the men and women, children and elderly who found themselves under the threat of extermination by the invaders and their heartless ("нелюдами") mercenaries." (referring to foreign Russian forces who invaded Ukraine)
The last word in Mr. Yatsenyuk's sentence, "нелюдами", means a person so savage, so cruel, ruthless and heartless that he is lacking in the specifically human qualities of empathy and mercy. (Examples of this precise meaning abound in classical Ukrainian literature.)
1. Firstly, Mr. Yatsenyuk never said "Russian-speaking Southern and Eastern Ukrainians". Ms. Lisitsa disguised her own new added words as the words of Mr. Yatsenyuk. What he actually said was "invaders and mercenaries". Ms. Lisitsa's tampering and additions are meant to portray Ukraine as a persecutor of "Russian-speakers". (This is absurd. One need only sample the countless YouTube videos of Russian-speakers at Maidan and fighting with ATO to defend their homeland.)
2. Since Ms. Lisitsa makes a point of priding herself on her "perfect" understanding of Ukrainian, she must know very well what "нелюдами" means. A Russian translation used the Russian word "извергами", which would only mean "monster". Nothing is meant or implied about inferiority and sub-humanity. But Ms. Lisitsa specifically chose to run with the word "Sub-human" to associate Ukrainians with the Nazi phrase "Untermensch"(inferior people, sub-humans).
3. Ms. Lisitsa chooses to persist in exploiting this false translation up to the present day, most recently in her "rambling 1000-word confession post". It is troubling that Ms. Lisitsa's Tweets from October 6, 2014 reveal she knew a translating error had been immediately rectified. She definitely knew the original Ukrainian text and the Russian translations. Perhaps she got the "sub-human" idea from the Russian Komsomolskaya Pravda  which was still running with an equivalent false Russian translation on June 16, 2014. It doesn't matter.
What is most important is that on June 6, 2014 she also Tweeted her agenda for continuing to propagate her false information: "…"subhumans" [was] intended for appreciative Ukro Diaspora consumption. They lapped it up with gusto, remembering good ol'times".
Clearly, all this is yet another attempt on her part to smear Ukraine with Nazi colors of intolerance…
Why did Valentina Lisitsa knowingly mistranslate the original Ukrainian text?
Why did Valentina Lisitsa insert her words into the original quote?
Why does Valentina Lisitsa continue to mislead her fans with what she knows is false information?
Tags: Toronto Symphony Orchestra, Ukraine, Valentina Lisitsa, ValLisitsa Twitter