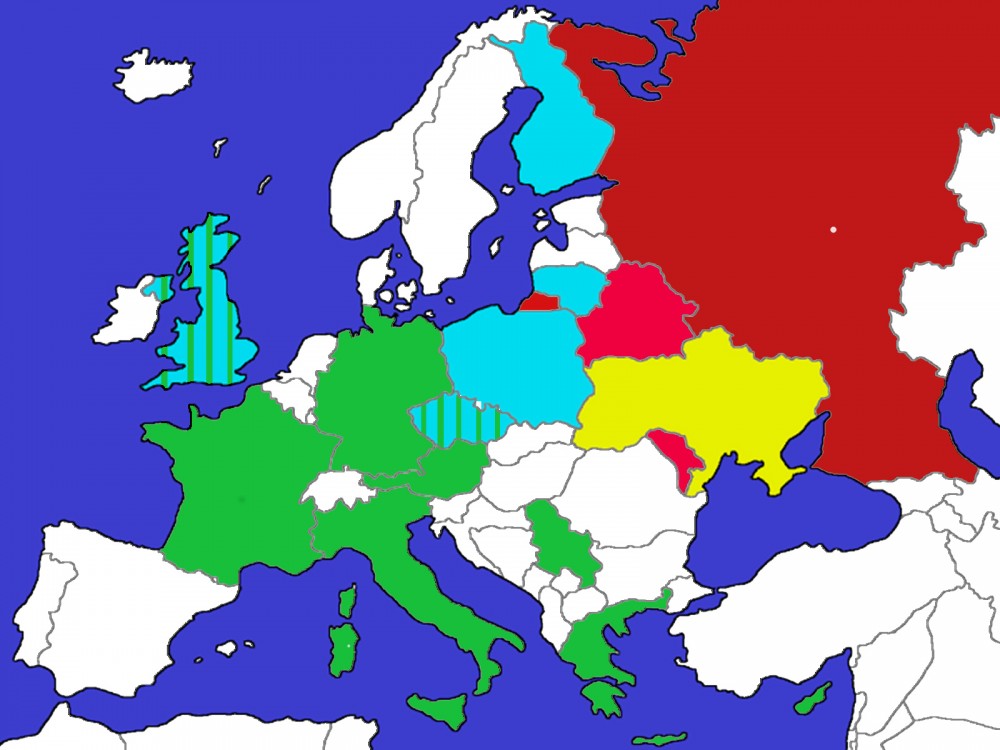 Who has delivered weapons to Russia?
France, Italy and Germany. These are countries that call for a "peaceful" solution or a "normalization of the relationship" with Russia. These are also countries that have a long history of military-technical cooperation with Russia. It is well-known is that the French still have not cancelled their Mistral helicopter carriers sales deal (which Russia is glad to use in order to put pressure on France). Only at the beginning of December 2014, the French defense company Thales suspended a deal to build reconnaissance satellites for Russia thanks to US pressure. It formerly had participated in upgrading Russian Su-27 warplanes, worked with Russia on Ka-52 helicopters, MiG-AT training aircraft, Su-30 fighter aircraft, and T-90 tanks (the T-90's have been spotted being operated by Russian troops in Ukraine in 2014).
German Rheinmetall built a high-tech military training facility for the Russian military/special services. The deal was only stopped after much discussion at the end of August 2014 by a German court. Daily Beast quoted US officials that there was still some German training given to the GRU Spetsnaz – the Russian military intelligence which played a crucial role occupying various parts of Ukraine. But NATO also participated in Russian military trainings. For example, NATO and Russia held common "defense missile exercises" in Germany in 2012. According to German legislation, some pistols, revolvers, shotguns, rifles, and ammunition are so-called "sport weapons" and can be exported without the usual restrictions, and are also excluded from the EU embargo. But there was worse: On 24 February 2015, the European Commission announced it approved the creation of a joint venture by Germany's Daimler AG and the Russian military equipment enterprise Kamaz. EU policies prohibited selling weapons to Russia, but allowed them to be produced by EU firms working as joint venture in Russia. A possible delivery of diesel generators to Ukraine had been attacked (by the German social-democratic party SPD) as "military support."
A report (p. 19f.) listed Germany and France as the biggest exporters between 2007 and 2011. Necessary to know that German defense firms' outputs of "non-lethal" goods (military transport/logistics, surveillance and protective equipment) were five times as much as weapons and ammunition.
Italy, for its part, has been considered "a primary vector" of international activity of the Russian defense ministry. The country, among others, provided Russia with armored vehicles. Russia tried to re-establish technical-military cooperation with Italy in February 2015.
Britain had been also a larger exporter, and had canceled 34 of 285 licences in early summer 2014. Its exports included equipment for launching and controlling missiles, components for military helicopters, small arms ammunition, sniper rifles, body armor, and military communications equipment. British media later did not report how many of the remaining licenses were suspended after the EU arms embargo on Russia came into force in August 2014.
Austria and the Czech Republic were minor players in exporting weapons to Russia compared to the above mentioned. The Czech Republic was still exporting German and US fire arms in February 2015 excluded from the EU common military list, possibly enabling Russian provocations. The Czech Republic was one of the few countries serving both sides: they had sent winter gear, and a military logistics officer was based in Kyiv in order to help the Ukrainian army. But still there were no weapons.
It is interesting to see that the EU common military list – updated in context of the arms embargo on Russia in summer 2014 – has many exceptions, and the EU embargo excludes contracts that came into force before 1 August 2014 (art 4(2)). It is hard to understand why the embargo has not been extended after the Russian January/February-offensive.
Who delivered weapons to Ukraine?
Britain delivered 20 out-of-service Saxon armored vehicles in mid-February 2015 (without weapons, 55 were to arrive later), and Lithuania exported "elements of military weaponry" to Ukraine. Poland in September 2014 had declared it would sell weapons to Ukraine which it repeated several times, also at the end of January 2015 (it was unclear if there was concrete business behind those public statements). Finland declared at the end of February to deliver 1,000 LRF-200 laser rangefinders. Russian state media reacted aggressively.
The UK  and Poland were going to send military instructors (up to 75 and some dozen respectively), but those are not on the most wanted list of the Ukrainian army and will not have a decisive impact, even if western media might think otherwise.
Something does not add up
There continues to be a stark difference between the amount of weapons that western countries delivered either to Ukraine or to Russia.
The role of Germany and France in supplying weapons, similar to their role in the  Minsk I and Minsk II peace agreements, plays into Russia's hands. Additionally, Russian media and politicians aggressively attack countries that are willing to support Ukraine. In comparison, the reaction of western media and politicians to Russian military cooperation with western European states is negligible.
Such an environment enables Daimler to do business in Russia. But it also allows Russia to invite the Greek defense minister to visit Russia, and to sign an agreement with Greek Cyprus to host Russian aviation and naval forces. It enables Serbia to continue its history of hosting Russian troops (some of the protagonists of the 1990s Balkan wars resurfaced in Ukraine), for example in November 2014 it held joint military exercises with Russian airborne troops.
Bosnian Serb politicians have also prevented a weapons deal between Bosnia and Ukraine.
Let's see what comes next.
Tags: EU, International, Military analysis, Ukrainian Army