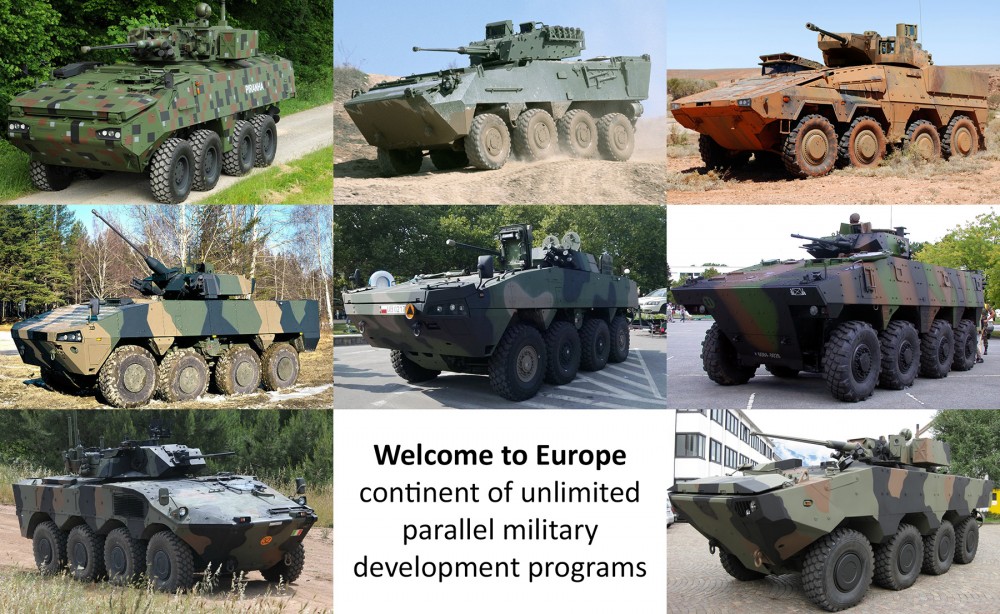 by Thomas C. Theiner
A few days ago the President of the European Commission Jean-Claude Juncker floated the idea of creating a European Union Army. I love the idea. I fully support and have supported the creation of a European Army since my military service over a decade ago, but creating an EU Army is as realistic as having Nicolaus Copernicus walk on the surface of the sun… The former is already dead and the latter impossible. The same applies to the idea of an EU Army: it's already dead because of the contemptible national egoism of i.e. the UK, the UK and the UK and it's impossible because of the massively divergent national interests of the 28 existing EU members.
However in the realm of the EU's defense policy things must change. Change radically and rapidly if the EU doesn't want to find itself overrun by fascist Russia from the East and fascist Islamic radicals from the South. A common European Army, tasked with the defense of the EU and its interests even outside of EU territory cannot be achieved, neither in the short- nor long-term, therefore I will not discuss this idea any further and focus instead of what can be done and needs to be done to improve military capabilities.
Currently EU member nations field 122 active combat brigades- twice as many as the US Army, which fields 32 active and 28 National Guard combat brigades. However where the US Army has a unified brigade structure, with all its brigades structured identically and all brigades easily deployable overseas, EU members field 84 different brigade structures. Many nations' brigades lack reconnaissance units, others have no artillery, and often logistic units are missing, as are combat engineers. In many cases combat support units would only be assigned if deemed necessary, Furthermore battalion sizes and capabilities vary widely, while equipment is almost never compatible, hampering logistics and maintenance. Most brigades aren't deployable and very few are fully manned and equipped.
The same problem applies to European air forces; even when flying the exact same plane, ammunition used, maintenance procedures, unit structures, sizes and capabilities vary widely. A commander given units from various European nations will spend the first days of a mission trying to understand what the assigned units are actually capable of doing and mission- logistics are always a nightmare as each European nation has different logistic and maintenance needs and procedures.
That this need not be can be seen by looking at the US Army: each brigade fields a headquarters company, three combat maneuver battalions, a reconnaissance battalion with three reconnaissance companies, an artillery battalion with three artillery batteries, an engineer battalion with two engineer, an intelligence and a signals company, and a brigade support battalion, which provides all the necessary logistic support for the brigade to function and fight. Thanks to this unified structure each commander knows instantly what capabilities his assigned brigade has and who is responsible for what in the brigades' structure. Furthermore this structure allows all brigades to be broken down into three identical tactical combat groups, which can be deployed separately. This uniformity of brigade structures reduces the types of US Army brigades to just three: infantry (including airborne and air assault infantry), wheeled armored and tracked armored. All brigades of the same type field exactly same type of equipment, the same number of equipment and same number of troops.
The EU urgently needs to enact a similar reduction in its types of brigades. From over 80 different types down to three types: infantry, wheeled armored, tracked armored. To do so Europe should create joint training and doctrine commands, which would focus exclusively on organizing and training subordinate units:
Currently EU nations field 9 mountain infantry brigades in 7 different variations. While Italy's two Alpini brigades are already structured like US Army brigades, the French Chasseurs Alpins brigade lacks organic reconnaissance and logistic battalions, while Germany's Gebirgsjäger brigade lacks an artillery battalion. Austria's Gebirgsjäger and Spain's Cazadores de Montaña brigades lack reconnaissance, artillery and logistic units; while Romania's two Vânători de Munte brigades lack reconnaissance and engineer units, but field a superfluous air-defense battalion, as does Poland's Strzelcy Podhalańscy brigade, which also fields a tank battalion, but lacks a reconnaissance unit. The six existing Mountain Artillery units field four types of howitzers in three different calibers. All this should be standardized by a European Mountain Infantry Command into 9 identical brigades.
8 airborne brigades, 5 air assault brigades and 13 light infantry brigades are currently fielded by EU members with 21 different structures. Only Italy's Folgore Airborne Brigade and Spain's Galicia Air Assault Brigade contain all necessary units and capabilities to deploy the brigade as a whole, while all other airborne brigades lack either artillery, engineers, logistics or reconnaissance capabilities. Additionally Austria, Bulgaria, the Czech Republic, Greece, Hungary, Romania and Sweden field eight airborne infantry battalions with varying structures. All European airborne units should come under a European Airborne Infantry Command and merged to form 9 full strength, multinational brigades that are unified in their structure, doctrine and training. The same applies to air assault and infantry brigades, which should be merged with the 29 currently unassigned light infantry battalions scattered among European armies to form 18 light infantry brigades under a single European Infantry Command.
European nations field 6 marine infantry brigades in six different structures, with only Great Britain's 3rd Commando Brigade (lacking reconnaissance), Greece's 32nd Marine Brigade (lacking reconnaissance and engineers) and Spain's Marine Infantry Brigade (lacking engineers) capable of being deployed for combat operations. Expanding Italy's, Portugal's and the Netherlands' marine brigades, adding marine units scattered among European navies and armies, and adding Poland's 7th Coastal Defense Brigade and France's  9th Light Armored Marine Brigade (despite the name a conventional land-warfare brigade) would lead to the creation of European Marine Infantry Command with 9 fully manned and equipped marine brigades.
Furthermore EU members field 24 wheeled armored brigades in 17 variants and equipped with 14 different wheeled armored personnel carriers. Adding wheeled armored battalions from other units, the EU could easily field 27 wheeled armored brigades with a unified structure under a European Command dedicated to this type of unit.
The bulk of EU brigades are tracked armored combat brigades of which 57 exist in 33 different variants. Cutting these down to 45 unified armored brigades would bring all brigades to full strength and still give Europe the second largest armored force globally.
Additionally all national logistic and support units should be standardized according to a common European logistic doctrine to ensure all units deployed within the EU can be supplied, maintained and supported efficiently by the host nation.
Last but not least army aviation units and air force wings would need to be reorganized with a common structure, or at least units flying the same type of plane or helicopter should be organized the same all over the European Union.
Standardizing brigades and combining them under supranational commands does not equal the creation of an EU-Army as all units would still be under their nation's national operational control. No brigade or battalion could be deployed without consent of its national government. The above envisioned commands would only function as training and doctrine commands for their specialty and ensure all units to be organized, trained and equipped to the same standard. Furthermore these commands would not interfere with NATO's operational control of combat units in case article 5 would be invoked by a NATO member.
Such standardization would be a quantum leap in military capabilities for the EU, allowing it to deploy multinational units with ease and giving a credible deterrent against Russian aggression. To better visualize the benefits of such standardization I will provide two examples:
France, Italy and Spain decide to deploy their forces to a North-African country at risk of being overrun by Islamist radicals. France as the lead nation provides a division command and a wheeled armored brigade, as do Italy and Spain, giving the division's commander three identical brigades and thus instantly a clear understanding what forces he has at his disposal. Now if for example Portugal and Poland would like to join this force, Portugal could send a reconnaissance company from its wheeled armored brigade, which could seamlessly integrate into Spain's or Italy's or France's reconnaissance battalion. If Poland wishes to send a tactical battalion group of infantry, artillery, engineers and reconnaissance, then Poland could draw these units from one of its wheeled armored brigades and they would fit easily into i.e. Italy's deployed wheeled armored brigade's battalions.
To deter Russia European nations should send tracked armored brigades on a six month rotation to the Baltic States. If those brigades are not standardized each nation will have to deploy its own logistic service to supply and maintain its brigade. However if brigades and logistic services and procedures are standardized, then the Baltic nations logistic units can supply and maintain the deployed brigades without further need for men and equipment from the brigade's home nation.
Naturally the latter would be made much easier if European brigades of the same type would be equipped with the same equipment. Annoyingly most European nations refuse to unify their military procurement in an attempt to safeguard their nation's military industry. This is foolish, wasteful and damages European defense capabilities massively.
Italy, France, Germany and Great Britain each developed their own main battle tank, with only Germany's Leopard 2 finding European buyers beyond its home market and thus being the only tank, which is continuously further developed. Italy, Austria/Spain, Germany and Sweden spend over a billion € to develop their own tracked infantry fighting vehicles. The same wastefulness continues with wheeled artillery systems where France and Sweden compete with the CAESAR and ARCHER systems, tracked artillery systems, where Poland just developed the AHS Krab by combing a Korean chassis with a British turret, even though Germany has spent hundreds of millions to develop the superior PzH2000. A total of seven different wheeled infantry fighting vehicles are currently being produced in Europe, three types of attack helicopter, four different fighter jets, etc. etc.
Each of these programs costs hundreds of millions and often duplicates research undertaken in allied nation. Standardizing European militaries would force national governments to cut down on the insane amount of parallel development and procurement programs. Just one current example for this wastefulness and how it ought to be improved: Europe urgently needs to develop a new main battle tank and right now six nations spend money on developing their own tank variant, thus slowing down development,  increasing costs and reducing the numbers of tanks to be acquired. If all six nations (and others interested to acquire a modern tank) were to pool their resources, development of a new main battle tank would be sped up immensely, costs for the development would shrink and higher production numbers would reduce the costs per tank. Additionally training, maintenance and combat effectiveness of European units would improve if there was just one tank to service instead of the six different tank types now.
After standardization of brigade structures, air wings and support units, and even with a unified military procurement EU nations could still stick to their cherished pampering and control of national defense industries, as each nation involved in the development of an armament system would have the right to produce and sell it globally at will, without the other nations being given a veto. Thus i.e. France and Great Britain could still sell commonly developed weapon systems to Arabian dictators, without Germany or Sweden having a say.
Such unified procurement is most urgently needed for Europe's navies, as i.e. Sweden and Spain currently waste money on developing new submarines, while Germany is already producing the world's most advanced submarine. Europe's duplicate spending is worst when it comes to frigates and destroyers: Spain's Álvaro de Bazán-class, Italy's and France's FREMM-class, the Netherlands De Zeven Provinciën-class, Denmark's Iver Huitfeldt-class, Germany's Sachsen-class frigate and Norway's Fridtjof Nansen-class frigates are all similar in capabilities, but it took six separate development programs costing billions for ultimately 41 frigates (21 of which are FREMM frigates) and undeterred by the existence of six modern frigate designs Great Britain is currently spending over £ 32 million a year to design yet another frigate class.
Unifying European defense procurement is near impossible in the current situation, where national egoisms and subsidization of national defense industries supersede the common European good. However convincing EU members to allow multinational commands to standardize and train their units is a much more feasible project, as it does neither infringe on national operational control nor does it increase costs. In fact such a supra-national training organization would reduce costs as the EU's 28 members could cut back on their own bloated training and doctrine commands, freeing up men and funds for more urgent tasks. Neither do all EU members have to sign up to such standardization: 10 or 15 nations could commence with others joining later; or nations could opt for not assigning all their units to such standardization.
However there is a way to get all EU nations to instantly agree not only to standardize all their units, but also to pool development and procurement: and that way is money. NATO urges its members to spend at least 2% of GDP on defense, but only Estonia does so, and as Euro members struggle with the 3% deficit limit imposed on them by the Maastricht treaty, none of them can raise defense spending. The way to get EU members to join a common defense policy, including joint procurement, would be to allow nations, which spend at least 2.25% of GDP on defense to exclude the amount spent on development, research and procurement from the 3% deficit limit. Therefore a nation spending 2.25% of GDP on defense, of which 1% dedicated to procurement and development, would be allowed to run a national deficit of 4% for that year.
Such a change in the Maastricht criteria would lead to a much higher defense spending in Europe, which would greatly improve the overall security of the continent. As bonus spending on defense procurement and research would create jobs in high-tech industries and stimulate the economy. Development, research and procurement would be overseen and managed by the already existing European Defense Agency, which would also ensure that each nation receives the same amount of funds provided to the agency back in the form of defense procurement and research contracts.
If all EU nations agreed to such a plan the combined European defense spending would rise to € 322 billion or 60% above the current spending level. With standardization of units, common European development and procurement the possibility to create a common European Union Army would suddenly be very real. However as long as no political entity at the European level exists, which would decide about the deployment of such an army, without interference from national parliaments, I am against creating a European Union Army. As long as 28 parliaments would share in the command and control of a European Union Army, such an army cannot function. 28 national parliaments will never be able to agree on operational plans, rules of engagement, strategic goals, etc. thus hampering an exceptionally well trained, lavishly equipped and highly respected army. Or in short stallions would be led by donkeys, and therefore I am for standardization now, but against Mr. Juncker's ill-thought out plans for a European Union Army.
Tags: EU, European Union, Jean-Claude Juncker, Military analysis