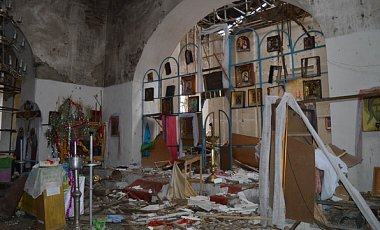 Russian militants firing Grad rockets destroyed a school and badly damaged a historic Orthodox church in the village of Troyitske, reports Henaddiy Moskal, the governor of the Luhansk Oblast State Administration, on his website.
According to the governor, the village of Troyitske in the Popasna district has been under constant fire during the battles for Debaltseve. It has suffered from almost continuous shelling and several assaults by Russian separatist forces accompanied by Russian tanks and regular army units.
"Most residents have left for safer areas. Right now some 300 people are living in Troyitske (during peacetime there were more than 1,000). Power lines have been torn, towers are down, retail outlets are closed, and there is no bus service. Food products are brought in only by humanitarian transports," the statement says.
"Since early February, Troyitske has been mercilessly pummeled by a barrage of Grad rockets and artillery. There are a number of demolished apartment buildings and there are victims among the civilian population," Moskal says. "In addition, the terrorist have damaged the stone Orthodox church that was built in 1840. Around the church are craters from the shelling. Several shells hit the church, broke through the roof and exploded inside. The altar is completely destroyed, the icons are covered with fragments, holy books are lying on the ground. This is one of the largest Orthodox cathedrals in Luhansk Oblast, which has survived two wars — the civil war and the Second World War as well as the Soviet regime. It was destroyed by those who call themselves the defenders of the 'Orthodox world.'"
According to Moskal, there was no reason to fire on the church and the school. There were no Ukrainian troops deployed here, and the nearest base was tree kilometers away.