One of the largest Orthodox churches in Ukraine's Luhansk Oblast was destroyed by heavy shelling by the Russian army and its proxy terrorist forces.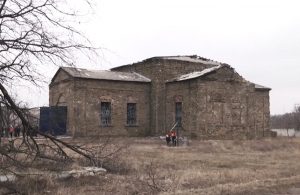 Village Troitske in Luhansk Oblast in Ukraine's Donbas was on the frontline during the fighting for Debaltseve, so it suffered from practically non-stop shelling and witnessed several tanks assaults by terrorists and the Russian regular army. Most village residents have left their homes to safer areas, there are only about 300 people in Troitske now, compared to over 1000 before the war. The power lines are broken down, electricity poles toppled, stores are closed, public transportation is absent. Food to Troitske is being delivered with humanitarian aid cargo. One of this deliveries (20 tons of food) was accompanied by Hennadiy Moskal, head of Luhansk regional state administration.
(Video by Hromadske TV, English subtitles by Free Donbas)
 "Since the beginning of February, Troitkse was shelled by Grads and artillery mercilessly, there are many destroyed residential houses, there are casualties among civilians," says Hennadiy Moskal.
"Moreover, the terrorists severely damaged a stone orthodox church that was constructed in 1840. There are numerous shell craters around the church, some shells landed directly into the building, piercing the roof, and exploded inside. The altar is completely destroyed, icons were cut with shrapnel, holy books are lying on the ground… It is one of the biggest orthodox churches in Luhansk Oblast, which survived two wars – a civil war and World War II, and also Soviet rule. Neither German occupants nor communist atheists managed to destroy it. It was destroyed by those who call themselves protectors of the 'orthodox world'. There was no sense of shelling church and school. Ukrainian troops were not stationed here. The nearest army location is 3 km away, on the outskirts of Troitske."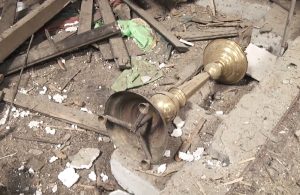 In total, 8 Ukrainian orthodox churches were damaged by Russians in Luhansk region, reports Religious Information Service of Ukraine.