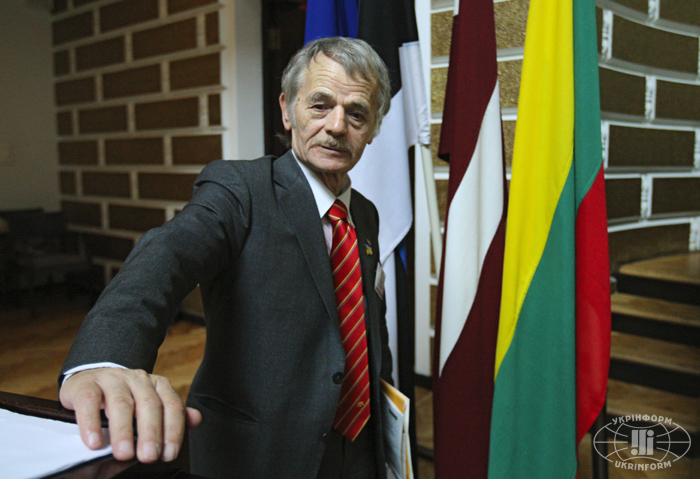 The Ukrainian pilot Nadiya Savchenko has been on a hunger strike for almost 60 days in a Russian prison. She has stated that she will not stop this act of protest until she is freed. Doctors are sounding the alarm because irreversible bodily  processes may begin at any time.
Meanwhile,  many politicians are calling on Savchenko to end her hunger strike. They include the record holder of such protests, the human rights activist and Crimean Tatar leader Mustafa Dzhemilev.
Dzhemilev spoke about his own experience with hunger strikes and his advice for Nadiya Savchenko in a recent interview with Ukrinform.
Mr. Dzhemilev, at one time you were on a hunger strike for 303 days to protest your illegal arrest. Savchenko has also chosen this form of protest, yet you believe she should end her hunger strike. Why?
In 1975 I was on a hunger strike because I was accused of carrying out anti-Soviet propaganda among prisoners. I refused food at that time but I was force-fed through a tube. Savchenko, as far as I know, only receives injections of amino acids and glucose.
Is it worse for the body?
Without a doubt, because glucose only supports vitality. In Nadia's body almost nothing is functioning now. Force-feeding is humiliating and painful, since guards come, grab you by the arms and feed you through a hose. However, under those conditions, the body still functions. However, Savchenko is surviving only by force of will and soon the irreversible processes may begin. This is why the hunger strike must end. Moreover, I think the Savchenko has already raised public  awareness, and if she begins to eat this will not mean that she has surrendered. There is another aspect  — Savchenko must avoid the syndrome that I had to endure during my hunger strike.
What syndrome?
I was afraid I would not have enough strength and that I would have to end my hunger strike. At that time I took that as a personal humiliation and always kept a razor at hand. I thought that if I ever felt that I could no longer continue I would at least  have enough strength to cut my veins. When they found and removed my razor during a search I experienced it as a great tragedy.
So do you believe that Nadiya's hunger strike has already achieved its goal?
The purpose of a hunger strike in prison is to raise public awareness of the problem. I succeeded in doing that. In this way I drew attention to the Crimean Tatars. All major radio news stations would begin their news reporting with information that today is the 45th or the 70th days of Dzhemilev's hunger strike. At the same time, they also reported on the problems of Crimea and Crimean Tatars — in other words the reasons for my hunger strike.
Nadiya has already achieved what could be achieved. I believe that she should stop because Russia is the aggressor; it is not a country ruled by humane principles. In the Donetsk and Luhansk oblasts they are scattering children's toys filled with explosives. These are people who have crossed permissible limits.
She must save her life in order to be freed and to fight Russia in other ways. We hope that imprisonment will not last long. We will have prisoner exchanges; we will continue demanding her release.
And what forced you to stop your hunger strike?
I stopped my hunger strike at the request of Academician Andrei Sakharov. He sent me a postcard where he said: "I did everything I could and now please stop your hunger strike because your death will only please your enemies." Since this man had done so much for me, since he kept telling the whole world about the problems of the Crimean Tatar people, I could not not listen to him. It is because of him that I am alive.
Right now I am worried about Savchenko, but I assure you that we will demand her release. Her main duty  is to save her life.
Note: Mustafa Dzhemilev is a recognized leader of the Crimean Tatar National Movement, a former Soviet dissident and human rights activist, and a member of the Ukrainian Verkhovna Rada (Parliament) since 1998. He served six jail sentences in Soviet prison camps from 1966 to 1986. In 1975, after being convicted of anti-Soviet propaganda,  he embarked on a 303-day hunger strike, the longest in the history of the Soviet human rights movement.  He survived due to force-feeding and finally agreed to end the hunger strike as the request of Nobel Peace Prize winner and human rights activist Andrei Sakharov.
Tags: hunger strike, Mustafa Dzhemilev, News, Russia, Savchenko