The Ukrainian pilot Nadiya Savchenko has already caused embarrassment for Vladimir Putin through her long hunger strike and would do even more if she ended it. This is the view that Elena Vasilyeva, founder of the Cargo-200 from Ukraine to Russia group, expressed on Espreso TV, February 4, and on Facebook.
"Today I posted a video address from Elena Vasilyeva to Nadiya Savchenko…I have been involved in Russian protests for a long time now, and a hunger strike is an extreme form of protest. We all went through it. My last hunger strike in 2013 lasted 17 days and only my friends forced me to end it because they convinced me that Putin is not worthy of that sacrifice, not worth dying for," the Russian human rights activist said.
She stressed that now is a very difficult period in the hunger strike of the Ukrainian pilot Nadiya Savchenko since she probably no longer wants to recover.
"The problem is that things are very difficult now for Nadiya both psychologically and physiologically. She is now in a state where you no longer want to recover. This is the most difficult time; she absolutely most stop," Vasilyeva said.  In her view, Savchenko's hunger strike is suicide.
"For a long time we've been saying in social networks that Putin behaves as if he is the progeny from hell. If so, this means that if Nadia allows herself to die this will be simple suicide, she said.
"I think she is a strong woman. She has already embarrassed Putin by maintaining this most powerful, prolonged hunger strike. She will do even more if she ends it. Eventually we will be able to get her out and she will appear here, in Ukraine, and we will all embrace her and be proud of this woman," she said.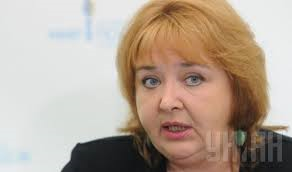 Vasilyeva said she has sent her video recording to Savchenko's  laywers,  Mark Feygin and Nikolai Polozov, so they could show it to her. "Because at this moment it is psychologically difficult for her to switch."
"It is not worth bringing this sacrifice to Putin's altar because he has no allergy to blood." she concluded.
As previously reported, Nadiya Savchenko, who is being charged in Russia with the death of Russian journalists, in on her 55th day of a hunger strike. As the pilot's  sister reported on Wednesday, February 4, Savchenko's blood count is changing and blood test results are worsening.
An interview with Savchenko was published on February 4, in which she declared that she did not intend to end her hunger strike even under threat of death.
Meanwhile, the European Deputy from Lithuania Petras Auštrevičius has announced a hunger strike to protest Russia's  illegal imprisonment of Savchenko.
Tags: hunger strike, Nadiya Savchenko, News, Putin