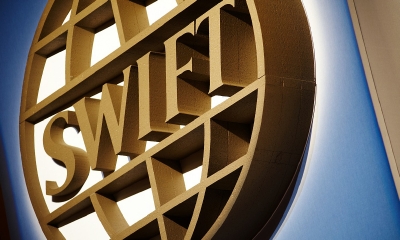 After the conflict in Donbas escalated, namely because of the recent shelling of civilians in Volnovakha, Mariupol and now Donetsk, a number of world leaders agreed to maintain sanctions against Russia, and also expressed the possible need to impose new sanctions should the situation further deteriorate.
The possible sanctions proposed in the EU Parliament resolution to be imposed on Russia in case it does not halt military actions on the territory of Ukraine, or stop supporting the terrorists include disconnecting Russia from the bank payment system, SWIFT.
Vice President of the EU Parliament, Ryszard Czarnecki, called these sanctions detrimental to the rouble and even drew an analogy with the nuclear deterrent: "There is a saying that the advantage of nuclear weaponry is not that it can be used, but that its use can be threatened."
TSN.ua asked economists whether disconnecting Russia from SWIFT would result in catastrophic consequences, and whether the EU would dare to do it.
Executive director of the Bleiser International Fund, economist Oleh Ustenko:
"SWIFT is a payment system in the banking system of the entire world. It is an old system which was created a long time ago, a basic platform used to make any sorts of payments between banks. Therefore, the disconnection of this system means it is impossible to make any international payments. They will be able to make payments only inside the country, but it will not be possible to make payments outside. There is no alternative. The alternative, as used by countries already subject to this sort of phase of uncontrollable default, is literally to transport money in suitcases to make external payments, but this is of course simply not practical.
I am not very sure just how possible this measure is, because it practically isolates all of Russia, and not just the Russian banking sector. This is equal to an economic collapse. This means that the economy will be unable to engage in either export or import. This is total isolation. This is equal to a trade embargo. So the country can't sell, can't buy, there is no movement of goods or services, no payments, no airlines can fly, because it is impossible to pay for it. This will likely result in the creation and growth of the black market, and goods and services will become expensive and unregulated.
But the execution of this scenario seems very unlikely because of a number of reasons. First, I am not sure as to how far Europe is ready to go in its measures. Second, Europe might also suffer from this. For example, how would it pay for its gas and sell its goods? I am not even talking about the fact that some Europeans are Russia's lobbyists, for example, the banking sector has very powerful lobbying groups (e.g. the UK, Austrian and Greek banking sectors). It seems to me that if [the Europeans] are ready for colossal sacrifices, then this scenario could be executed, but in reality I think that the chances are low. These are such extreme measures that it is most likely that they will be stalled for as long as possible. So it [the SWIFT sanction] can be a Damocles' sword, but I don't think it will be executed."
President of the Center for Economic Development, Ph.D. in Economic Sciences, Oleksandr Paskhaver:
"These payments must be made regularly so if you switch off the electronic payment system (and SWIFT has a monopoly on the system), then payments can be made only by obsolete methods, such as by mail and phone, which would set[Russia] back by decades. This dramatically increases the very processes of financial transactions, and the losses are great – tens of billions of operations per day, maybe. Everything will be able to function, but everything will slow down. The thing is that speed plays an important role in profitability. The expenses here will become greater and the profit will decrease. Therefore, this is quite a harsh punishment.
But besides purely economic consequences, it is an expression of condescension. This once happened in regard to Iran. Therefore, it is a very symbolic hostile act. And this has great significance for Russia; it would be considered an act of such disrespect, the act of excluding them from the contemporary world.
I cannot say whether Europe will resort to it. Russia warned very harshly that it will see it as a proclamation of war. The threat of alienation itself is an offense to Russia. While trade wars are viewed as a norm, such financial wars are extremely humiliating."
Leading partner at Capital Times, Eric Nighman:
"For Russia, this means that the rouble will no longer be convertible, so it will significantly make the lives of exporters, importers and banks more difficult. Getting profits from export will become more difficult. Import will be more problematic and expensive, as well as debt payments, the attraction of new loans will also become very difficult. A blockade of sorts.
But this isn't total isolation. Currently, all payments in foreign currencies (dollars, euros, etc) go through SWIFT, and it is like a toll road – whom and how to pay. When there is no such road, it is the same as switching from an ultrasound jet to a postal carriage. Post will travel, but much slower. They will use the classical Telex, Teletype – old Soviet means.
It is less of a threat for the European Union, because winter is coming to an end, Europe has record levels of gas in storage, because the winter is mild too. I think they will maintain all these sanctions, they won't hasten to increase them. Unless the Americans put pressure on Europe."
Tags: EU sanctions against Russia, Politics, Russian aggression, SWIFT