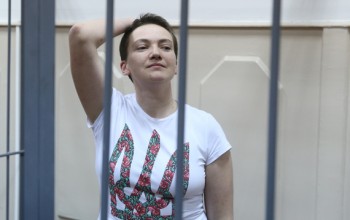 Imprisoned in Moscow, the Ukrainian pilot Nadiya Savchenko has written a letter to the Russian civic activist Mark Galperin who was jailed for 45 for demonstrating to release her. The letter was published by her lawyer Ilya Novikov in facebook, who also informed of bad news for Nadiya Savchenko, who has been on hunger strike starting from 14 December 2014. Due to severe weight loss, she is going to be transferred to the prison hospital Matrosskaya Tishina, infamous for being the death place of the Russian lawyer Sergei Magnitskiy. Apart from that, new criminal proceedings have been launched against her for an alleged illegal crossing of the Russian border. Savchenko herself claims that she was kidnapped to Russia "with a bag over her head."
Translation of the letter:
Hi, Mark Galperin!
I was greatly worried for the Russians who would rally in my support, as public rallies are pretty much outlawed in Russia! But at the same time I thank those who did, you are the true heroes of Russia, and not because this happens to have to do with me, but because you refused to be intimidated!
I am deeply sorry that you now have to share the same experience as I do – prison…
But in the end, we nevertheless will be victorious.
Russia and Ukraine together will prevail over the powers of the evil and malevolent!
We'll meet again some sunny day, I promise! I wish you luck and freedom from the bottom of my heart!
I don't know who told you that I am enfeebled [due to the hunger strike], but it is not so. I am on my feet and I'm feeling very lively.
But today the doctors are hospitalizing me in the "Matrosskaya Tishina," as they assume I'm reaching my borderline.
But I am still looking forward to my future battles. Till next time! Till victory!
29.01.2015
Savchenko
Mark was given 8 days of arrest for holding a solitary picked with a Je Suis Charlie sign on 10 January 2015; later, 30 days were added for participating in the protests on Manezhnaya ploschad in support of the opposition politician Navalny.
The day before the protest, Mark tweeted: "In the evening of January 15 I will come out to Manezhnaya to protest for the freedom of a hero of Russia. And that hero's name is Nadiya Savchenko. One for all!"
Вечером 15 января я выхожу на Манежку за свободу героя России. И зовут этого героя – Надежда Савченко. Одна за всех!

— Марк Гальперин (@MarkGalperin) January 14, 2015
Savchenko's accusations have undergone a remarkable evolution from the day she was illegally transferred to Russia. The latest charges of illegally crossing the Russian border come on top of charges of killing two Russian combat journalists. Savchenko, a member of Ukrainian parliament, has been elected to represent Ukraine in PACE, the latest session of which on January 26 adopted a resolution for Russia to immediately release Nadiya Savchenko, apart from a number of other hard proceeding against Russia. Following a stripping of voting rights, the Russian delegation withdrew its participation from PACE and has suspended all contacts with it, also withdrawing its previous invitation for a PACE delegation to visit Ms.Savchenko in Moscow.
A global day of support for Nadiya Savchenko was held under the hashtag #FreeSavchenko on 26 January. Despite the difficulties that Russians face for expressing their civic position, a number of activists held a demonstration to release her and were sentenced for up to 45 days in Moscow.
Tags: #FreeSavchenko, Galperin, News, PACE, Savchenko