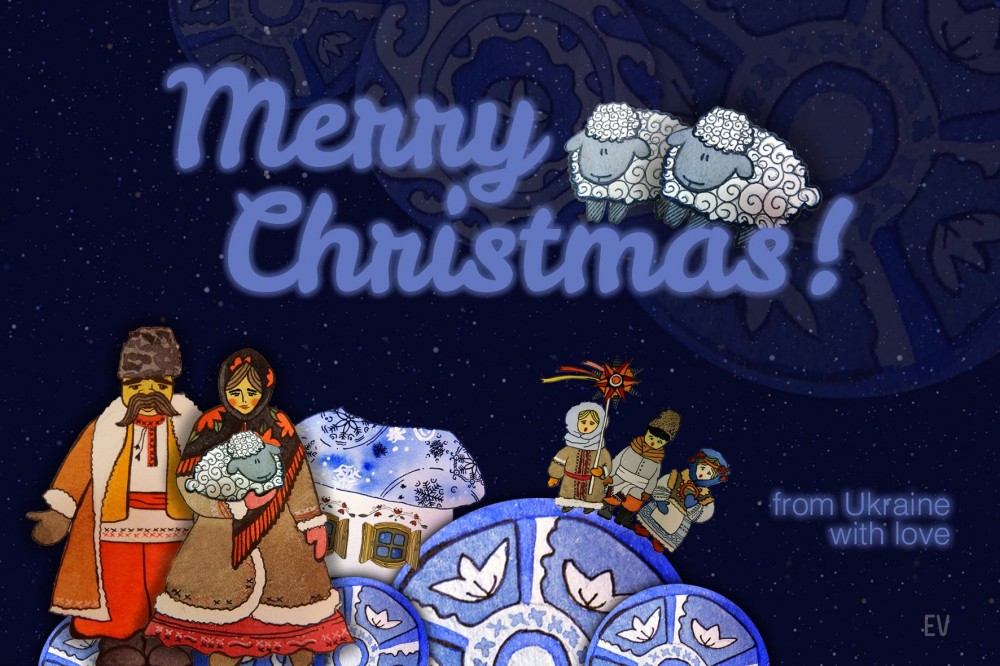 Imagine a time so filled with anticipation that as the family prepares the house for the evening Christmas meal, arguments among the children are forbidden, and the smallest detail is considered so that all may know that this is no ordinary day. Here is a glimpse of Ukrainian Christmas.
Imagine a winter's day when even farm animals are treated to the cleanest of stables, the best hay, and portions of their masters' festive meal. "They were the first to see God as a child, and they warmed the child when he was born," instructs the folklore, "so now on one night a year they are granted a time to speak as we do, to speak about the treatment they have received: are they warm enough; do their masters beat them?" Here is a glimpse of Ukrainian Christmas.
Hay is scattered on the dining room table, which is then covered with a cloth. The hay is a symbol of the manger where Jesus was born. The hay is also a symbol of the hope one has for an abundant harvest and for healthy livestock. The holiday season is a time to wish prosperity to everyone. Straw and hay are scattered under the table as well, with nuts and candies hidden there for the children to find after the meal. "May the innocence of the children's laughter bring good fortune to this home."
Imagine a moment in time when time itself is not what it seems. The food and song and customs of the day weave into one the recent and ancient past with the present and the future like the dough that is braided into the round ritual bread of the season. On such a night as this, parents and children who have died are remembered by the living. There are family members who have departed from this world, yet the banquet table is set with an extra plate and candle for their sake. "When you left me, dear, we sang 'Eternal Memory' for you, and on this night of faith I remember you still."
An extra plate for an unexpected guest remains set until the end of the meal, keeping in mind the words of St. Basil the Great, that "one never knows if this is God himself who enters." A sheaf of wheat saved from the last harvest has its place of honor in the corner of the dining room. In this way, family members one could never have met from generations back are acknowledged at this present moment. Here is a glimpse of Ukrainian Christmas.
Imagine a meal where a dish is chosen for its famous taste and for what it represents beyond itself. For example, what are the roots of that dish of cooked wheat, poppy seeds, nuts and even raisins? Here is a food which calls the attention of the living to those who have lived in the past. Here, too, is a food which becomes a wish for prosperity in the new year. And when the wheat is cleaned of wild oats and other seeds in the weeks of preparation before Christmas, it can become for the young girls who clean it a form of fortune telling, a wish for love to be returned. "He loves me, he loves me not. Two grains in a pair. Two grains again. O Lord, where is my beloved? He promised he'd return. I will wait until he does." Here is a glimpse of Ukrainian Christmas.
Twelve dishes are prepared for the Christmas meal. In addition, there are appetizers such as pickled mushrooms and pickled herring. Borshch, fish, holubtsi, beans, and varenky are among the other traditional foods. For dessert there is a dish of stewed dried fruit, and an assortment of pastries. The finest meal possible. Yet not without a silent reference to something beyond the moment, beyond the warm house and gathered celebrants. Twelve. Apostles of Jesus. This is after all a night of faith. Twelve. Months of the year. This is a night of unity of all time and of all creation. A meal that is a feast, and yet remains a Lenten meal. All meat is absent. A remembrance. A holy family's difficult journey. Fish is eaten, and it too is a remembrance. Blessed by Jesus after his resurrection, it was for the early Christians eaten as a remembrance of him. Here is a glimpse of Ukrainian Christmas.
Imagine a manger. It is in a cave. Within this rock a woman gives birth to a son. The mother is the main image in this picture. She rests and the child is wrapped in linen which resembles burial cloths as much as it does swaddling clothing. Jesus is still a child and he is depicted as being born in a place alarmingly similar to the tomb in which he is to be buried thirty three years later. A birth, a death already expected. A savior for a holy night of anticipation when life and death are so much on the minds of the family gathered for the Christmas meal. Here is a glimpse of Ukrainian Christmas.
Imagine food and drink, songs and toasts, items of everyday use and those reserved for special occasions, prepared for Christmas celebration. And from this day, the memories. On such an evening the old can fly to the days of their youth, to their parents and their childhood home, perhaps even to Ukraine itself. "So many years have gone by. And yet it is as if today I hear the sound of dad's boots on the snow outside. Here he comes into the house. My older brother is with him, carrying a sheaf of wheat. "Christ is born," they announce. From the kitchen we reply, "Let us glorify him." Here is a glimpse of Ukrainian Christmas.
Artwork by Ev Melekhovets
Tags: Christmas