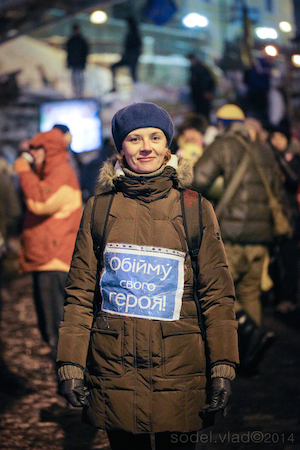 "The most important challenge is not Yanukovych's presidency but what will happen to Ukraine when Yanukovych leaves."
"The actions of the ruling team serve not as much to cement Yanukovych's government, as to increase the risk of extreme scenarios, which are equally dangerous for both Yanukovych and all of Ukraine."
"If an inept and hated ruler chains himself to his state, his deposition from power may provoke the destruction of the state."
These are quotes from the article, Is there life after Yanukovych?, published on UP in February, 2011.
A year after Viktor Yanukovych's inauguration, it became clear that it would be impossible to bid an amicable farewell to the fourth president. When Yanukovych started jailing political opponents, the chances of a happy end evaporated.
That was when irrevocable movement towards catastrophe began, and puffed-out 'stability' was just a prelude for future shocks.
Many people understood this. Other did not want to notice the obvious, and when the crash happened, they blamed rebellious Euromaidan for everything.
Their logic is understandable. There was no war in November 2013. Crimea was part of Ukraine. Donbas did not sit in ruins. People did not die by hundreds or thousands. The dollar cost eight Hryvnia. Ukrainian people lived in poverty but relative stability. If not for that blasted Maidan…
Really, what if Maidan had not happened? What would have happened then?
I dare propose that the same thing would have occurred, only later. Euromaidan de facto only served to speed up the inevitable, but its historical role has been overestimated since the beginning – some positively, some negatively.
Let us propose an easy scientific analogy. Everyone knows that hydrogen is very flammable, so it is easily oxidized. In the 19th century scientist Deberneier discovered that if he were to use a platinum catalyst, the reaction happens even at room temperature.
The savvy German immediately patented the ineffable chemical fuel. Of course, if willing, one can praise or hate platinum for oxygen's reaction with hydrogen. This is easier than making sense of how and why the reaction happens itself.
Euromaidan was a catalyst. Dozens of elements – political, economic, mental, – played the part of Ukraine's hydrogen and oxygen. Having united, they created this explosive mix a long time ago.
Let us list just some of them.
The Elite. Viktor Yanukovych's rule became an evolutionary dead end of sorts. The vices of the Ukrainian elite, such as authoritarianism, dishonesty, lack of reason, reached the peak and could no longer be compensated by internal competition.
This resulted in an incompetent and very unpopular president who gathered in his hands a huge amount of power, and who did not plan on going anywhere.
This made a bloodless change of government almost impossible. It is difficult to come up with a more stupid anti-Maidan claim that "we should have waited and peacefully reelected Yanukovych in 2015."
In 2012 the scheduled parliamentary elections were followed by obvious falsifications, fights at the polls and tear gas, when what was at stake were a few parliament membership mandates.
In 2015, everything would have been at stake. And this, unfortunately, promised us an inevitable violent end.
The Neighbor. It is difficult not to agree that the plans to annex Crimea had been developed in Moscow long before the events of March 2014. Only a very naive person can believe that the Crimean operation had been improvised put together in light of Maidan's victory.
The excuse Russia used for invasion is irrelevant – what is important is its readiness for action. Readiness to violate all thinkable and unthinkable international norms. Readiness to occupy foreign territory. Readiness to threaten the neighboring country with separatism and sending mercenaries there.
The Kremlin has been ready for this for a long time: the possible point of no return was back in 2008, during the victorious Russian-Georgian war. Starting that moment internal destabilization in Ukraine signified an immediate start to Russian aggression.
Obviously, this would have happened in 2015 without Maidan: if President Yanukovych did not go peacefully, President Putin would not be able to forego the chance of using Yanukovych's troublesome fall.
Development. Revolutions and interventions damage any country. However, Ukraine's losses – human, territorial, economic, – turned out to be especially grave due to the unpreparedness for real emergencies.
While rotten pipes may function until the first cold hits, in ineffective state apparatus lasts until it has to face the first challenges. All these Ukraine has not been developing practically, living on inertia and gradually exhausting the resources it had.
This sort of existence is possible only under very good conditions: when they manage to whine out some more money to top up the treasury, when the destroyed army has no real enemy, when life allows one to forego responsible decisions.
But 2014 led Ukraine out of this power-saving mode, having immediately exposed all the old problems. Today we are reaping not the socioeconomic victories of Maidan, but the fruit of Ukrainian long-lasting stagnation.
Division. Thanks to the Bible and Lincoln we know that a house divided within itself cannot stand. Throughout twenty-plus years we were divided not by language, nationality or culture, but the attitude towards Ukraine as a project.
While for some 1991 was logical historically, for others it was a mistake. Some were ready to accept independent Ukraine – nationalistic, liberal, or any other kind.
Others viewed Ukraine as a natural addition to Russia. The lack of action saved us from real hatred.
While the country stands, it is all right not to fight because of opposing views on development; while nobody is trying to build USSR 2.0, it is all right not to fight over the attitude towards this deed.
But this couldn't have gone on forever. Someday the opposition should have started moving and clashed. And this happened regardless of whether Mustafa Nayyem had called his compatriots for tea or not.
So, the big shocks of 2014 are only indirectly tied to Euromaidan. What are its direct results?
Because of Maidan we lost another year of illusion, self-placating and lying to our selves.
Throughout this year we could have believed in the best outcome and hoped for things to resolve themselves somehow.
That Yanukovych would go without blood. That the Kremlin would let Ukraine go without war. That in the 21st century international law means something. That the contradictions that had accumulated throughout the years would go away by themselves…
Maidan brought an early sobering. Which is why it is valuable. This is why it is hated by those who prefer to live in a comfortable illusory world.
In a world where inevitable catastrophe can be hidden under false decorations of 'stability.'
In a world where nobody thinks of whether there is life without Putin.
Tags: EuroMaidan, International, Maidan, Tweet