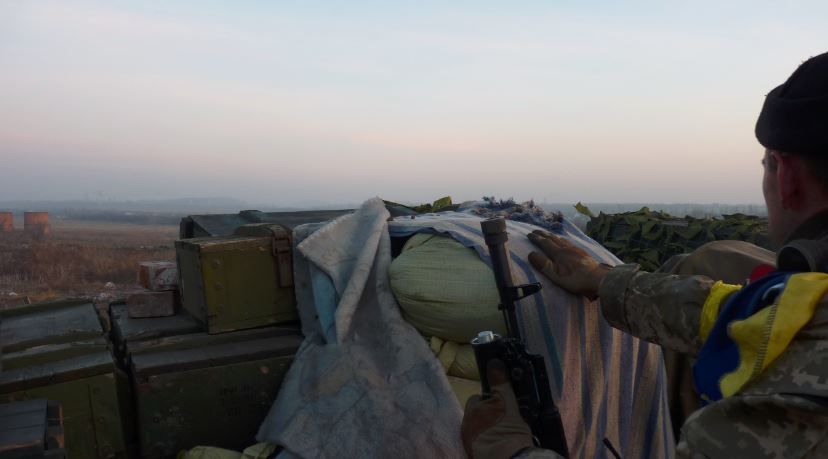 War came into my life on November 7, 2014. After eight months of wanting to be at the front, I finally was going there in a van heading to a Right Sector base near Donbas. We are a motley bunch: three journalists, four fighters, and a van of supplies that Ukraine's volunteer army of suppliers provides to Ukraine's volunteer battalions, one of which is the Right Sector.
"Why do we need these volunteer battalions? Isn't the regular army enough to defend Ukraine?" I ask a question that we often hear from our readers. "If you were a patriot, would you go to fight in a division where a traitor general would give you orders to retreat, or would prohibit you from shooting back? We came to fight and protect our land, and not to just give away territories as the Army command does," responds a fighter with the nom de guerre Solovei and an oseledets, the traditional Ukrainian Kozak hairstyle of a lock of hair on a shaved head. Solovei means nightingale in Ukrainian. Such an aptly placed call sign — he sings well, and sings of war. The van heads full speed into war as we listen to Haidamaky, a Ukrainian folk-rock group, and its new album created for Ukraine's battalions fighting the Russian-backed militants and Russian army in Donbas. But one song is about love, about a nightingale that sings for a girl.
The van speeds up, and I think that all these men should have been living from love to heartbreak, but instead they are going off to fight. And maybe to die. Russian and separatist forces don't spare Right Sector fighters' lives when they are captured. The Right Sector has been so demonized by Russia's media machine of lies that the fighters crack a joke: "A girl comes to her mother crying. – What happened, darling? – Mommy, I was raped! – Thank heavens, I thought the Right Sector came to town." Nevertheless, the Right Sector fighters claim to not retaliate and treat their prisoners well. "We are not like them," claims Bars, one of the commanders.
Around 4 AM we arrive at a base of the Voluntary Ukrainian Corps of the Right Sector, or DUK [Dobrovilchiy Ukrainskiy Korpus], and have some hours to attempt to sleep there before morning. Vehicles on missions to Right Sector divisions performing duties leave regularly for the hot spots, and we hope to leave with one of them for the front. The base is wallpapered with children's drawings with words of support for the fighters.
The DUK was formed on March 13 from the first 10 men that fought the first battle under Sloviansk, tells Friend Philosopher, a second-year philosophy PhD student of 26 that was designated to tell us the "politics of the party" by the base's information department. "Friend" plus call sign is the way you address anybody from the Right Sector corps. "We saw how easily our government surrendered Crimea, so the patriots from Right Sector that were at Maidan went to Donbas to prevent that." Right Sector fighters first train for a month at a polygon near Kyiv. Anybody that wants to protect their country can join, but you have to be positive towards nationalism. The military corps of the Right Sector boasts a developing structure  with their own security service,  reconnaissance, political leadership, etc. They coordinate their attacks with the Ukrainian army, but do not have any official weapons, ammunition, provision, clothes, or supplies from the government. All their funding and provisioning comes from Ukraine's army of volunteers and private donations.
There are good reasons for Ukraine's people wanting to crowdsource this alternative army. All the patriots that enroll are extremely motivated. Without heavy artillery, payment, and even small arms from the government, they managed to liberate many a town and are highly revered for their bravery. Right Sector fighters are among the legendary "Cyborgs" defending the Donetsk airport from enemy force for over five months in a row. Bars, a commander, tells me that when the regular army wanted to retreat, the Right Sector coerced them to stay and fight. That is why the Ukrainian forces still control Pisky and the Donetsk airport. The volunteer battalion gets its weapons in battle; they also trade with the Ukrainian army for the clothes and other provisions that are given to them by volunteers.
Belorus, a 21-year-old Belarusian Right Sector fighter from Minsk, came to Ukraine after his compatriot Mykhailo Zhiznevskyi was killed by the Berkut police in January 2014 during Kyiv's Euromaidan revolution. "I am fighting for the freedom of our nations, as they have a lot in common, and against the resurrection of the Soviet empire that Putin is attempting. I could not stand the life in Minsk. Our resistance was broken in 2010 after the fraud elections when Lukashenka won, and all the political and civic opposition was arrested. After that, we held protest demonstrations, but not even with signs, just by gathering together and clapping. Lukashenka banned that too. And now all freedom is crushed. The Belarusian language is driven out of existence. You can't even find people strolling the streets of Minsk; they just go to and from work, as they are too afraid." Belorus could face arrest or even death from his engagement in Ukraine's war as a Belarusian national. He is in no hurry to go back.
In Minsk, Belorus studied to be a tailor. Volunteers helped with bringing a sewing machine to the base, and part of Belorus's activities in Right Sector is to mend soldier uniforms. In Minsk, he worked at Milavitsa, a lingerie factory quite popular in Ukraine, one boy among all the girls. I am wearing it, and laugh at how our lives that should have been connected by silly civil things, are now connected by war.
Tags: Donbas, Right sector, Stories from the Front