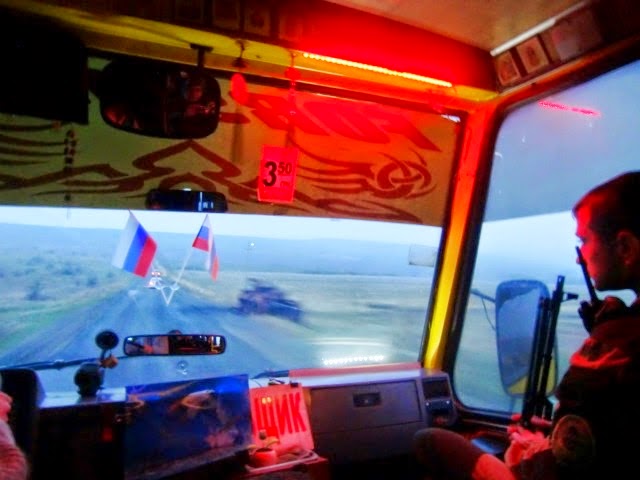 (Pro-)Russian extremists' armed escort on the way from Kuybyshevo to Donetsk 
International fake observers of the fake elections in the Donbas arrived in Moscow on the 31st of October and checked in to the 5-star Metropol Hotel. They had a late dinner at the hotel restaurant and some of them went for a walk to the Red Square:
Those "observers" who would go illegally to Eastern Ukraine, took a morning flight from Moscow to Rostov-on-Don on the 1st of November and then travelled by bus from there to the Russian town of Kuybyshevo, right on the Russia-Ukraine border.
At the border, (pro-)Russian extremists put armed escorts into the buses of "observers" and then they crossed the border. None of them passed any official Ukrainian border control.
They arrived in Donetsk and checked in to the Ramada Hotel.
On the same day, the "observers" were introduced to the leadership of the terrorist organisation "Donetsk People's Republic" and issued with "international observer" cards.
Some of them met with French/Serbian Eurasianist fighters. Below is Manuel Ochsenreiter, editor of the far right Zuerst! journal (far left), and Dragana Trifkovic, director of the Belgrade Centre of Strategic Research (far right), with French/Serbian Eurasianists fighting against Ukrainians in Eastern Ukraine.
On the 2nd of November, international "observers" began their work of "legitimising" illegal, fake elections held by (pro-)Russian extremists. Not all of them did their work in Ukraine, however. Adrienn Szaniszló of the extreme right Jobbik party, for example, stayed in the Rostov region to observe the "elections" there.
Tags: ASCE, Donbas elections, Featured, Observers