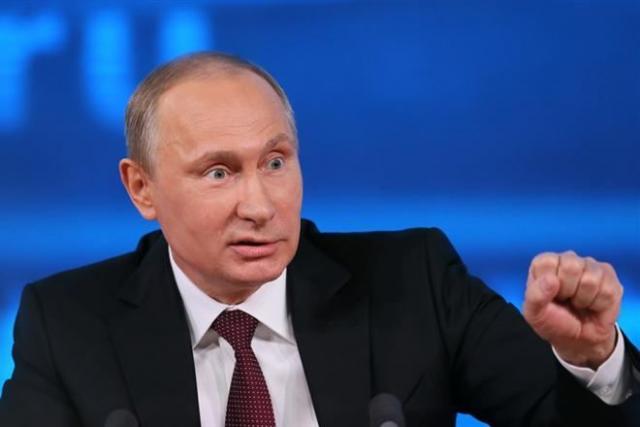 Russian President Vladimir Putin condemns the fact that in Ukraine, according to the decree of President Petro Poroshenko issued on October 14, a new state holiday was introduced on October 14: the Day of the Defender of Ukraine, and the Day of the Defender of the Motherland on February 23 was canceled.
He has accused the Ukrainian government of promoting the Ukrainian Insurgent Army (UPA), a nationalist paramilitary group active during and shortly after World War II, and conniving in the seizure of Russian churches in Ukraine.
He was speaking at a meeting of the presidential Council for the Development of Civil Society and Human Rights on 14 October, the 72nd anniversary of UPA's founding. His remarks were broadcast live by the Russian state television news channel Rossiya 24.
Putin said that the glorification of UPA, which he called a "pro-fascist organization", was taking place amid attacks on property belonging to the "Russian Orthodox Church of the Moscow Patriarchate", presumably referring to the Ukrainian Orthodox Church (Moscow Patriarchate, which has thousands of parishes in Ukraine).
"Today and yesterday, I have been watching media reports about festivities they are staging over UPA, the nationalist pro-fascist organization. Practically, this holiday is being staged officially in Ukraine.
"They have already seized 18 churches. Believers are being evicted from churches.
"What are human rights defenders doing about the performance of acts of worship and freedom of religion? There is just complete silence, by the way, in that area. Nothing at all is being said, as if this were not happening. But this is a serious thing. You see, people are being evicted. They are moving into churches, beating people up, subjecting them to all sorts of humiliation and seizing their property as well," Putin said.
As reported earlier, Ukrainian President Petro Poroshenko signed a decree to consider October 14 the Day of the Defender of Ukraine. This day is also an Orthodox Christian holiday, Intercession of the Mother of God, who is considered in Ukraine to be the saint protector of the army. On this day, Ukraine also celebrates the Day of Ukrainian Cossacks and the anniversary of the foundation of the UPA.
Tags: Politics, Russian propaganda, UPA