Russian journalists disclose life stories of top Ukrainian officials who fled the country.
After the February Revolution of Dignity in Kyiv, about two dozen officials and businessmen hastily left Ukraine. Many of them have been placed on the wanted list in Ukraine and Europe. Today, some of these internationally targeted Ukrainian fugitives can be seen in the elevators of elite skyscrapers in the Moscow-City business district. RosBuilding Consulting (RBC) has compiled a list of former Ukrainian officials, who have settled in Moscow and are building up their own business companies.
Oleksandr and Viktor Yanukovych
RBC confirms that Viktor Yanukovych arrived in Moscow on the night of February 25, spent a few hours at the Ukraina Hotel, and went to live temporarily in the Moscow suburb of Barvikha. Since then, no one has been able to pinpoint the exact whereabouts of Yanukovych Sr. We know more about his son, Oleksandr. He himself explained that he escaped from Kyiv, spent some time in Crimea, and then moved to Moscow, where he "does not work officially". However, according to the SPARK-Interfax database, Oleksandr Yanukovych registered a company called Arsenal-Invest LLC in St. Petersburg on May 7, 2014. Company activities include "management of financial and industrial groups and holding companies". Arsenal-Invest owns the subsidiary Arsenal Estate (real estate and consulting). However, Feliks Dovzhyn, Chairman of the Arsenal factory, where Yanukovych's companies are currently based, declined to comment on his new tenants.
Oleksiy and Mykola Azarov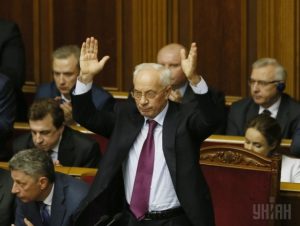 Reporters have learned that the family of fugitive ex-Prime Minister of Ukraine, Mykola Azarov, possesses a luxurious estate in the exclusive suburbs of Moscow. The Azarov estate is located in a private community area called Monolit, in the village of Voronino, Istrynskiy district, Moscow oblast. The community map shows that plot No.35 is marked as the property of Oleksiy Azarov, Mykola Azarov's son who is still a deputy of the Verkhovna Rada representing Sloviansk. Official documents show that the premises were taken over by a new owner as of March 21, 2014. The new owner is Eduard Fatkhulin, Oleksiy Azarov's father-in-law, and thus related by marriage to the ex-Prime Minister, Mykola Azarov. Currently, an estate similar to Azarov's townhouse in the Monolit community (plot area of 40 ares (approx. 4,000 square meters) can be purchased for $ 8.5 million.
Serhiy Arbuzov
The whereabouts of former Acting Prime Minister of Ukraine, Serhiy Arbuzov, surfaced in early summer. In an interview, ex-banker Arbuzov said that he was working in "a modest office in downtown Moscow" with Ukrainian flags on the tables and shelves. RBC has learned that Arbuzov now has an office in the Moscow-City business district. On June 26, 2014, the launch of the Center for the Study of the Economic, Social and Cultural Development of CIS, Central and Eastern European Countries was announced in the conference hall of the Hermitage Hotel in St. Petersburg. The expert council includes Arbuzov (elected Chairman of the Center), Ruslan Grinberg, Director of the Institute of Economics of the Russian Academy of Sciences, and others.
Viktor Pshonka

In an interview with RBC, the Minister of Internal Affairs of Ukraine, Anton Herashchenko, stated that the former Attorney General, Victor Pshonka, "had purchased a luxury property in the Moscow-City business district and "was granted Russian citizenship". However, there is no record of any property purchase by Pshonka in the Russian State Register. On the other hand, in the complaint filed on May 30, 2014 to the European Court of Justice (Claim No.T-381/14), there is mention of "Moscow, Russia" in the field required for the claimant's nationality and residence. The Directorate of the Federal Migration Service of Russia declined to comment on this information.
Serhiy Kurchenko

The oligarch's head office is now located on the 46th floor of the Naberezhnaya Tower in the Moscow-City business district. Kurchenko rarely speaks of his former holding company VETEK. Since October 2014, the businessman has been developing his own holding company – the Premier Oil Group. He is mostly interested in the oil trading business. In October, the Premier Oil Group announced that it had acquired 73 petrol stations and four petroleum depots in Crimea. It is known that Kurchenko lives in Moscow where he rents a mansion in the exclusive village of Sribny Bir. According to Moscow real estate agents, rental prices for such an estate can range from €10,000 to €30,000.
Andriy Portnov
In June, the former Deputy Chief of the Presidential Administration of Viktor Yanukovych, Andriy Portnov, claimed that, fearing for his life, he left Ukraine by car on February 22, and is now living in Moscow. Ukrainian media have reported that Portnov works as an advisor in one of the departments of Gazprom, but the Press Service of the company informed RBC that this information "was not true". Portnov has been charged with several criminal offences in Ukraine.