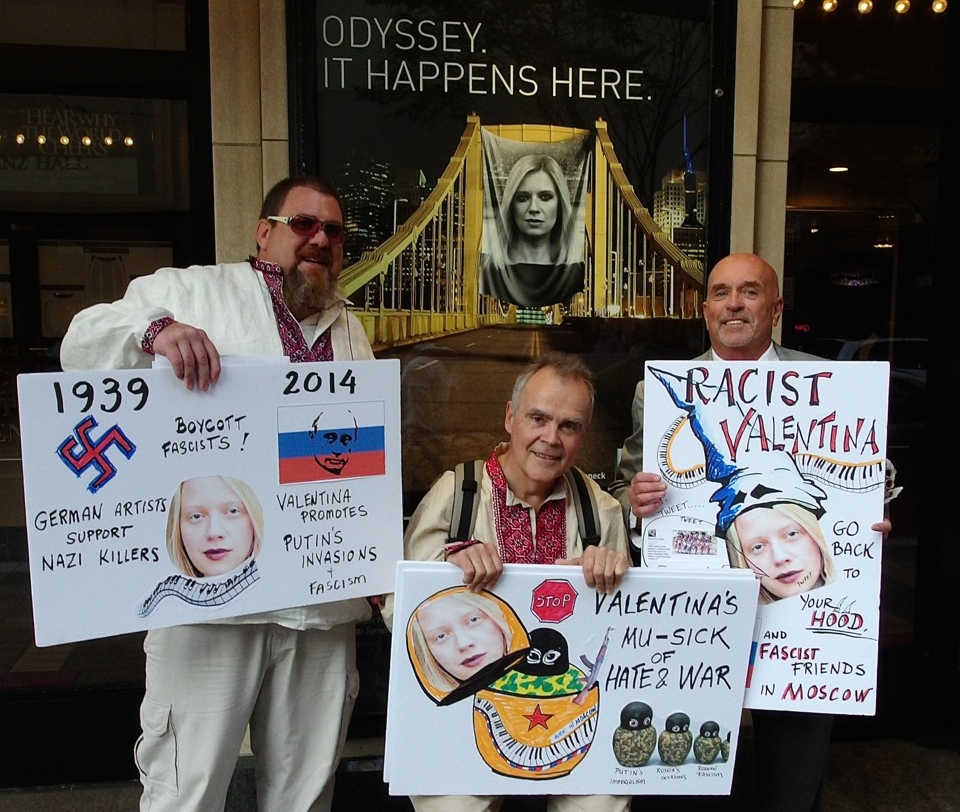 Incensed by the constant stream of  savage anti-Ukrainian Tweets of Ms. Lisitsa, outraged protestors picketed in front of Pittsburgh Symphony's Heinz Hall on the evening of the season opening concert on September 20. For several months, Ms. Lisitsa has been reviling Ukraine over the internet (https://twitter.com/ValLisitsa) in the most hateful and vulgar manner, while supporting Russian terrorists and Putin's invasions. Complaints about the hiring of Ms. Lisitsa had previously been emailed to the Pittsburgh Symphony management, principal donors and local media.
Protestors from Pennsylvania and New York carried placards and kept up a steady vocal chant, handing out information leaflets to Pittsburgh ticket holders, orchestra members, pedestrians and passing motorists. In an unusual move, the Symphony had a policeman stationed in front of the concert hall.
Ms. Lisitsa has an enormous international following owing to her hundreds of YouTube videos with over 72 million views, so it is especially troubling to see her social media pages spread her abhorrent racist and anti-Ukrainian convictions. On August 28, she Tweeted the following two photographs of African villagers juxtaposed with Ukrainians with the caption:
"New school year begins in Odesa with teachers forced to wear
Ukrainian tribal dress, a truly European custom" 
It is deplorable to see Ms. Lisitsa attempt to use her so-called European "high culture" to attempt to defame the patriotic feelings of Ukrainians, and at the same time to slander all Africans with the same brush. The stated mission of the Pittsburgh Symphony is to be "musical ambassadors" and to "represent their communities". To hire someone like Ms. Lisitsa is, therefore, not only unbecoming but highly improper.
Ms. Lisitsa praises the so-called Donetsk People's Republic ("Go Novorossiya"), and has taken multiple opportunities to smear Marko Paslawsky (the first American killed while serving with ATO forces). Her Tweets contain the following comments: "Kiev kills scores of civilians, NATO enables murderers… Russia sent 1,000 men to Ukraine?Does it make sense? Why not send 100 times more and finish it in 3 days?…"  Many of Ms. Lisitsa's hate-filled images are too vulgar to reproduce, but here are several of the 'less outrageous' posts:
This is what happens when media "gets" their news out of a..uh..sphincter. @nycjim @nytimes pic.twitter.com/K7TQEsffmc

— NedoUkraïnka (@ValLisitsa) August 27, 2014
Майдан-3 @oedzublo @koznani @vesti_news pic.twitter.com/O5OfQQKswk

— NedoUkraïnka (@ValLisitsa) August 28, 2014
If you want to talk about MENTAL state of Ukraine TODAY this photo kinda nails it! @OnderDumas_ @marcelsardo pic.twitter.com/YCCio5iYoY

— NedoUkraïnka (@ValLisitsa) August 18, 2014
@ValLisitsa/status/510685860254470144
Tags: Heinz Hall, Help Ukraine, Lisitsa, Pittsburgh Symphony, Protests, Russian propaganda, Ukraine, Ukrainian pianist