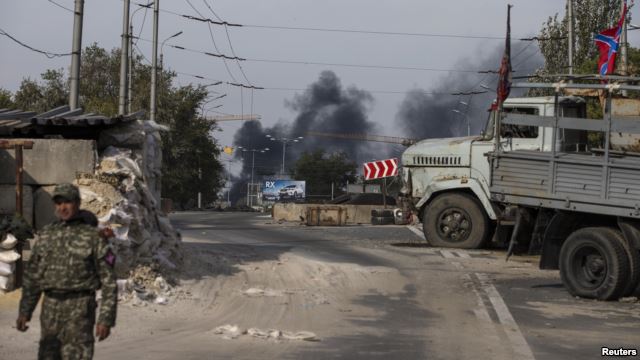 Kyiv – Near Donbas the Ukrainian and Russian military delegations, as well as OSCE representatives, started talks on determining the limits of the buffer zone, where the Ukrainian military and the mercenaries would have to retreat, reports Reuters. Meanwhile, despite the declared ceasefire, armed clashes and artillery attacks continue in many areas. 
As the ATO press center reports, the aim of the work group is limiting the sides and establishing a regime of total ceasefire, a regime of 'silence.' To do this, in particular, it is presumed to remove heavy weaponry of calibers over 100 mm to determined distances, and to create a 30-kilometer demarkation zone, which is determined by the Minsk memorandum. Minefields should also be dismantled in the outlined districts. The ceasefire zone is planned to be divided into four-five security sectors, in which OSCE monitoring groups and Ukrainian and Russian representatives will work together.
The Russian MFA denied the fact the meeting with the Russian servicemen happened, in contrast, the OSCE mission spokesman confirmed it.
Shchastya: seniors go to school despite the shelling
Meanwhile, the declared ceasefire has been violated in many areas at the confrontation line in Donbas. In particular, the town of Shchastya near Luhansk today underwent mine-launcher fire, as a result of which there are casualties and victims among the civilian population.
"Many injuries, mostly civilians who were doing their regular jobs. A woman died. At 10 a.m. they started a mine attack on the city. One mine fell on the hospital roof, but it did not explode," says journalist Nina Zharovska, who is currently in Shchastya.
According to her, the citizens of Shchastya are trying to avoid going out to the streets. Small stores work, however deficit is very palpable. Classes in local schools are irregular, and mostly seniors attend them.
Debaltsevo, Donetsk airport, Mariupol…
Attacks and armed clashes continue near Debaltsevo in Donetsk oblast.
"Active mine attacks, and not only mine attacks," says Radio Liberty correspondent on location Levko Stek. "On Thursday and Friday, in the morning, at one of the roadblocks near the village of Netyshino, there were armed clashes involving sniper weaponry."
Near Donetsk airport, the Ukrainian soldiers continued to rebuke mercenaries' attack this Friday night. The clash between Ukrainian border servicemen and mercenaries, as well as attacks on Ukrainian roadblocks occurred near Mariupol as well. According to Mariupol-based blogger Yaroslav Matiushyn, a volunteer center which helped Ukrainian servicemen was set on fire in the city itself.
"However, the streets are calm, in general. However, the outskirts of Mariupol are not: yesterday, two eastern roadblocks were attacked with mine launchers," he notes.
All of our informants note that people in Shchastya, Debaltsevo and Mariupol know about the demarkation talks. However, there are no signs of preparation to create the buffer zone.
Tags: demarkation, Donbas, Donbas war (2014-present), Minsk