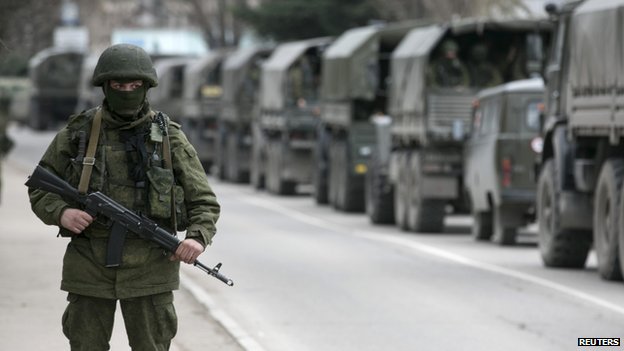 Unmarked trucks with Putin's so-called "little green men" - heavily-armed Russian cadres military troops hiding their identities and without insignia during the invasion into the Ukrainian peninsula of Crimea in February 2014. 
The Crimean Peninsula has been transformed into a potentially dangerous military threat.
Serhiy Kunitsyn, an adviser to the President of Ukraine, stated this on the air in "Shuster LIVE" program broadcast Monday evening.
"From the Crimea comes a military-strategic threat to Ukraine," – he said. According to him, the amount of fresh water remaining in Crimean water reservoirs would be sufficient for only 1.5 months of use, while the current weather conditions at the Kerch Strait do not allow to transport essential supplies in required quantities already now, and it soon will freeze completely.
He also reminded that the Crimea is dependent on the mainland Ukraine for the supply of electricity as well. "The present situation is such that Russia either has to return us the Crimea or invade the Kherson Oblast up to the town of Kahovka, because that's where the water locks are" – said Kunitsyn.
He informed that Russia brought a 5,000-strong military contingent, dozens of military aircraft and helicopters to the Crimea's border with the Kherson Oblast in the area of Perekop-Armyansk.
"Therefore, the General Staff and all other departments need to make every effort to strengthen our defense in this direction. This direction is paramount to us," – emphasized Kunitsyn.
Tags: Crimea, International, Russia