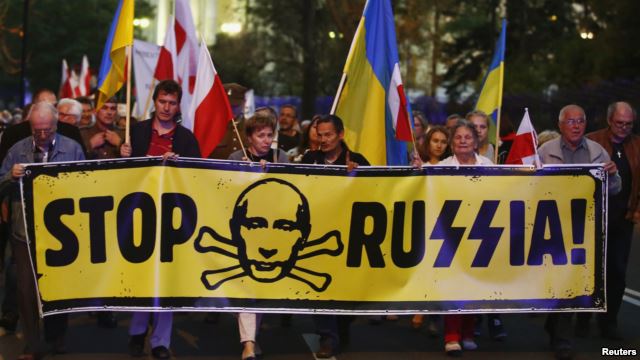 Russian border servicemen detained a Lithuanian fishing vessel, Juros Vilkas, and forcibly deposed the captain and the entire crew of the ship from doing their duty. According to the Russian side, the vessel had been arrested because it had been illegally fishing for crabs in Russia's exclusive economic zone. The Lithuanian side insists that the ship was in international waters; and it is absolutely unclear what Russian servicemen had been doing in these waters.
"Thanks to the satellite system, the location of every vessel is documented with perfect precision down to the hour, and their location is known, therefore we can claim that the vessel was in international waters. This incident began when the ship was approached by a vessel with a Russian flag, armed people wanted to go to the port of Murmansk, when the commandment of the vessel and the captain refused, they were take off-duty by force and the vessel is still being transported to the port of Murmansk," noted the Lithuanian Minister of Foreign Affairs Linas Linkevičius.
The situation is very reminiscent of the recent story with the arrest on Estonian territory of a servicemen of the local special services. FSB representatives illegal infiltrated foreign territory, kidnapped a person, who was carrying out a mission, and then claimed that Eston Kohver had been on Russian territory and had illegally crossed the border himself. Even earlier, there was an incident the Ukrainian pilot, Nadiya Savchenko, who was taken to Russian territory with the help of 'DNR' bandits and also accused of illegally crossing the border.
It is the Lithuanian ship's turn now. And it is not very important what Russian FSB representatives had in mind – and the border workers, as is known, are part of this infamous institution. The border workers may have been simply 'covering' the interests of Murmansk fishermen and scaring away the competition for a small fee. They could have received orders to 'punish' Lithuania as well. However, this is not important in the end, what is important is that Russia no longer gives a single damn about international law. After Crimea, this country has been dramatically losing characteristics of statehood and turning into an organized criminal group, which is only pretending to be a country.
"This is not how international relations issues should be solved, even if some problems to arise. This demonstrates certain anger, some sort of hatred. Or they want to demonstrate some sort of power, which is what is also happening now in other countries," said Lithuanian Prime Minister Algirdas Butkevičius after the incident. However, such demonstration of power and hatred is simply necessary to Vladimir Putin and the criminalized system he had replaced Russia with.
The Russian President may temporarily stop in Ukraine. However, it will not rid neither him nor his subordinates of the confidence that they can do whatever they want – and to whomever they want. At least when we are talking about neighboring countries. Russia's main goal is demonstrate that Europe is an Animal Farm of Orwell's, which has several levels of sovereignty. And while nobody can infringe on Russia's sovereignty due to its having access to nuclear weaponry and the fear in the face of the government's psychological instability, Russia itself, with the rascality of a street hooligan, can occupy foreign territories, kidnap people and ships; and nothing will be done to it.
This is the sense of the changes that occurred on our continent after Putin's Crimean machination and the West's demonstration of their unreadiness to punish the audacious aggressor. Now Putin is going fort her – he has enough cruelty, hatred and power.
Tags: International, Lithuania, Russia