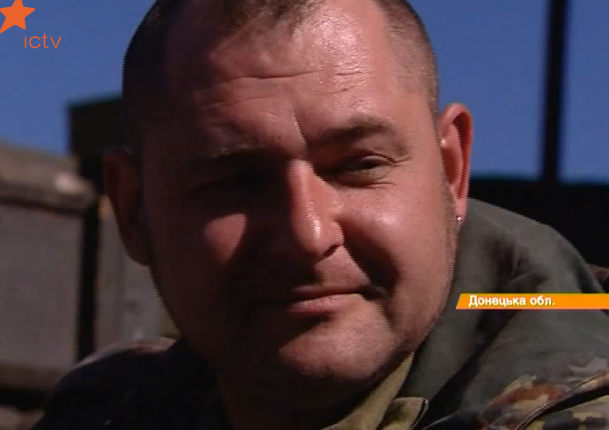 We are able to reach the village of Piska, located on the outskirts of Donetsk, by transport arranged by Battalion OUN. It is not recommended to attempt such a trip in one's own private vehicle. Our driver is Volodymyr, a battalion fighter.
He handles the off-road vehicle at reckless speeds in order to avoid making us a target for the separatists. "They were taking shots at us as we were driving," Volodymyr, "Dolyna", explains, "but thank God we made it."
The village of Piska is a suburb of Donetsk. The airport is only a few kilometers away. It is being shelled as we speak. It would be very dangerous to attempt to reach the airport. The enemy artillery is constantly firing at the positions of the Ukrainian army.
Ever since the announcement of the so-called "ceasefire", nothing has changed at the front, says Taras, the Chief of Staff with Battalion OUN. "Full-fledged battles are being waged. We return fire when they start up as a matter of self-defence," the Chief of Staff continues.
It is generally quiet during the daytime, and consequently it is possible to rest, according to soldiers from the army who have been bravely defending the Donetsk airport and surrounding area. It is the nights that are intense, when the terrorists open fire with the artillery.
Miron, who was born and raised in Donetsk, and who is now a fighter with Battalion Dnipro, doesn't flinch during an interview when the shelling begins.
He explains that the airport holds strategic significance for the terrorists. If they secure the airport, the Russians would be able to supply aircraft to the rebels. Naturally, such military airplanes would be provided by the neighbouring country under the pretense of being from the so-called DNR and LNR.
Many other Donbas natives joined Battalion Dnipro as well. They say that they experienced the real DNR back when all this began. They made the decision to take up arms against terrorism, not only to bring it to an end on their home territory, but also to defend Ukraine as a whole.
Patriots from many different professions now stand shoulder to shoulder at the front lines. Where they previously held pens, well known authors Borys Humeniuk and Serhii Pantiuk now hold automatic rifles. It is not only bullets that are being fired from out of the trenches, but words as well.
Tags: Donbas, Donbas war (2014-present), Donetsk