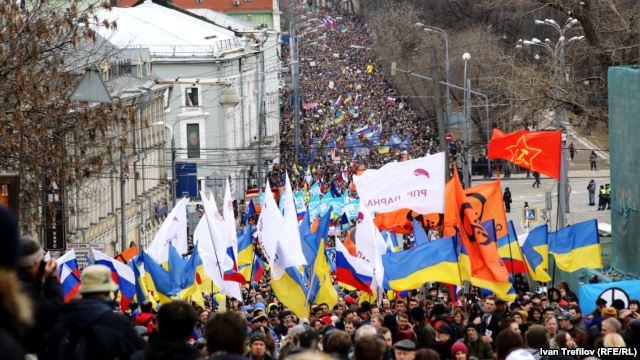 Moscow – A 'March for Peace' will take place on Sunday, September 21, in many cities of the world. Such a march will also be held in Moscow, as a sign of protest against Russian aggression in Ukraine, which should be the biggest within the past half-year. Organizers expect that tens of thousands of people will gather in the Moscow city center. 
On the eve of the 'March for Peace' the organizers of the protest in Moscow were sent a document which cautions them against violating the law when organizing assemblies and meetings. One of the organizers of the event, Sergey Davidis, thinks that this document has no special legal power, however to some extent it is a testament of social attention given to the protest. Davidis and his fellows hope that the protest will happen without any emergencies, however, taking into account the rift within the Russian society regarding the events in Ukraine, the organizers consider provocations to be possible.
"We cannot say it's improbable. Really, the division (of society) is very powerful, unfortunately. The side which does not share the values of the world and the demands our march will make, considers any other opinion unacceptable which is, of course, sad. And this in itself is evidence to the lesser value of such a position. Especially if someone decides to use force in response to the words, 'peace march,' which exercises a constitutional right," said Sergey Davidis.
Protest against Russian aggression
The organizers of the event are preparing several main mottos. It is known that the main one will be, "Putin, enough lying and fighting!", it was approved by the Protest Action Committee. Editor-in-chief of Yezhenedelniy Zhurnal and one of the organizers of the event, Alexandr Ryklin, thinks that for many Russian citizens the 'March for Peace' is perhaps the only opportunity to express their dissatisfaction with the government's behavior.
"Russia today positions itself in the world as an aggressor, not hiding it, in general, doing it quite openly. The group in power which is in charge of all this today has become absolutely shameless. We hope that there are enough people in our country still, who consider such policies detrimental to the country and the nation; people who disagree with it, who are ready to resist and who will come to the march in order to express their rejection of such policies," noted Ryklin.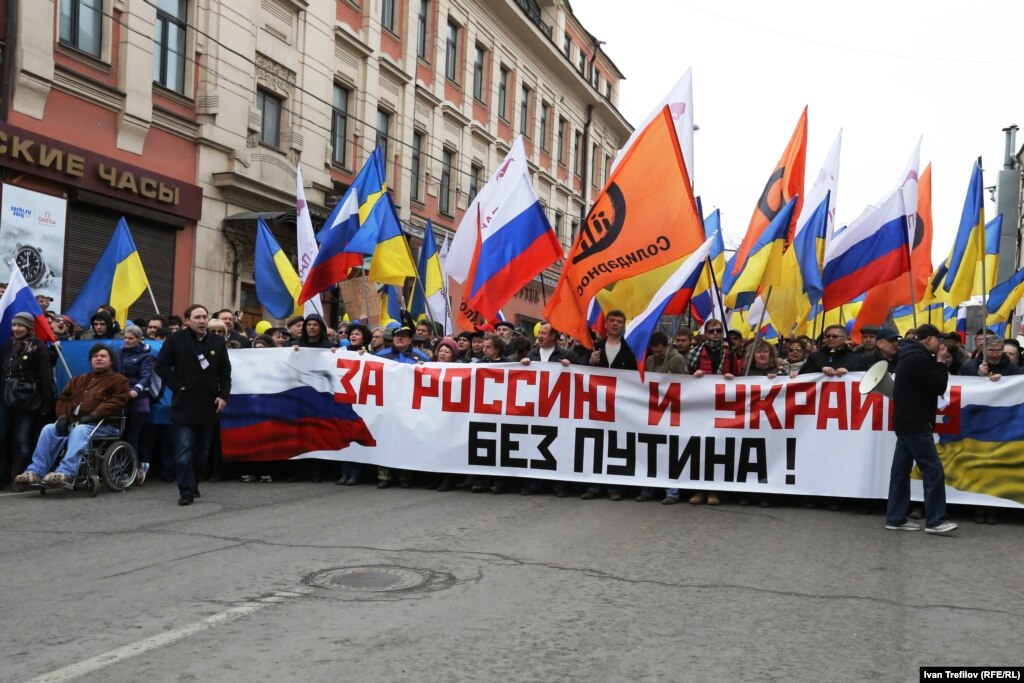 The last mass protest was held in Moscow on March 15 and had to do with the events in Crimea. Back then, a march with several thousand participants took place in the center of the Russian capital. Half a year ago they walked the same route that is planned for Sunday.
Tags: International, Moscow, Russia