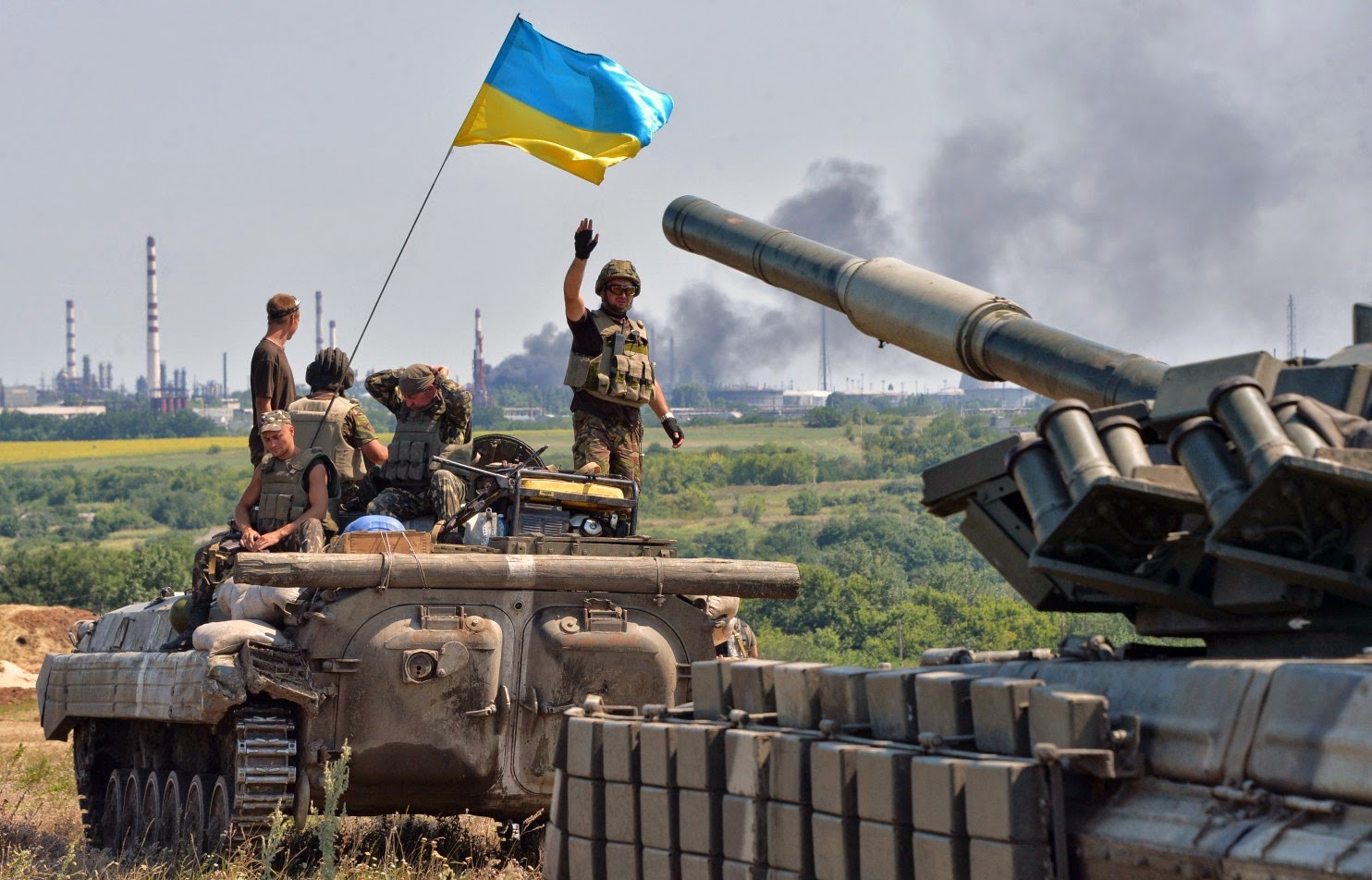 On September 5th,Ukrainian president Poroshenko capitulated to Putin. The rapid advance of regular Russian army forces in Eastern Ukraine, the Western betrayal by Obama and Merkel and a lack of valor, resolve and political ruthlessness on his part led Poroshenko to call Putin and ask for a ceasefire. Thus has ended the Battle of Donbas; but more battles are yet to come as the Minsk ceasefire is only the end of the beginning of this great war of our time.
The last two weeks have proven three facts:
1) Putin will not back down and won't accept anything but the complete submission of Ukraine under Russia's rule once again.
2) Putin desperately wants to keep up the pretense that no regular Russian army units are fighting in Ukraine.
3) Poroshenko isn't the man to lead Ukraine in this war.
In July 1991 the Serbian dominated Yugoslav People's Army invaded newly independent Croatia with the aim to force it back under Serbia's control. Within a month the vastly superior Serb forces had conquered a third of Croatia and had driven the lightly armed Croatian police and volunteer units back, while the West imposed an arms embargo on Croatia, preventing the young nation from arming itself against the brutal aggression. Yet Croatia's president, Word War II veteran and former major general Franjo Tuđman didn't call Slobodan Milošević to ask for a ceasefire, he didn't try to find favor with Western leaders hoping they would come to Croatia's aid, he did only one thing: he asked the Croatian people to fight. And FIGHT they did!
Soon Milošević had to abandon his original plan to conquer all of Croatia and focus on the defense of the areas his army had taken in the first few weeks of the conflict. Thousands of Croatians died, vast swaths of the nation were destroyed, but the Croatian people did not yield and the spirited resistance led to Serbia agreeing to a ceasefire by January 1992.
Over the next few years, while sanctions destroyed Serbia's economy and its army bled out in Bosnia, Croatia re-organized and re-armed and in 1995 overran all the Serbian occupied areas save one – Eastern Slavonia – which Serbia ultimately agreed to surrender voluntarily.
Yes- ultimately the conflict was settled by diplomacy, but diplomacy didn't end it. The Croatian War for Independence, as well as the Bosnian War, only ended when the costs in Serbian lives and economic pain, began to threaten the regime of Slobodan Milošević. Croatia's and Bosnia's resistance, Western economic sanctions and a looming NATO intervention forced Milošević to agree to an end to the wars he had begun, as the survival of his regime was – in the end – the only thing he truly cared about.
Putin doesn't differ from Milošević: ultimately Putin too will agree to a diplomatic solution to the war against Ukraine he began; but only when the costs in Russian lives and economic pain will begin to threaten his regime. A fact that none of the Western leaders wants to accept, as economic pain aimed at Russia also means economic pain for their own nations, and with their sole focus being reelection, avoiding to inflict economic pain upon their voters comes before human rights, international law, morals, ethics, dignity.
Putin is aware of this. The retaliatory sanctions by Russia so far were aimed at voter groups in the EU, who have strong political lobbies: banning the import of food and fish from the EU hit farmers and fishers – both well known for their strong lobbies; aggressive protest styles and block voting. Next Russia plans to ban used car imports, thus hitting Europe's industry with the most effective lobby.
At the same time Putin invests great effort into keeping up the pretense that no regular Russian forces are involved in the fighting in Ukraine, thus giving his lobby in the EU, as well as the lobbies affected by Russian sanctions, a chance to deny Russia's involvement and argue against sanctions.
But Russia is deeply involved in the war in Ukraine. Russia engineered it, stoked it, fights it. But as long as Poroshenko pretends it isn't so, the EU's weak reelection seekers can wiggle out of their nation's commitments to international law, human rights and Ukraine. Politicians with their self-centered view forget that it wasn't them – Obama, Cameron, Hollande – who signed the Budapest Memorandum on the territorial integrity of Ukraine, that it wasn't them, who signed the Helsinki accords; it was the United States of America, it was the United Kingdom, it was the French Republic, it was the Federal Republic of Germany, that signed these agreements, contracts and charters; and by ignoring them, Obama, Merkel, Hollande, Cameron, betray their nations – they commit treason!
It is not "Peace for our time" they seek; they only seek reelection, only seek to satisfy their egos. Putin is not mistaken in his belief that these are the weakest leaders yet in the history of mankind- for they truly are; and morally the worst.
Ukraine is fighting for its independence; Ukraine is fighting for human rights, Ukraine is fighting for democracy; while Russia fights to end freedom, democracy and human rights in Ukraine and to plunder Ukraine as a colony once again. European politicians ignore this reality as they fear acknowledging it will upset their reelection chances. Therefore it falls upon Ukraine's leaders to force this reality upon European leaders and thus force their hands.
Yet Poroshenko has agreed to not upset the reelection chances of European leaders by not publicly calling Putin's aggression the war it is. As long as Putin keeps a thin veil over the use of Russian Army units in Ukraine, as long as Poroshenko plays along and doesn't declare that Ukraine is at war with Russia, so long European politicians can pretend that there isn't a real war going on; a war that would force them to enact truly harsh sanctions on Russia, arm Ukraine and increase defense spending – three actions with real costs for their nation's economies and thus three actions that would reduce the politicians leeway to come up with election gifts for their electorate.
If Poroshenko wants to save Ukraine he has to upset both the EU's leaders and Putin's calculation: when Russia breaks the ceasefire Poroshenko must declare Ukraine to be at war with Russia and act accordingly. This means full mobilization, information of all international bodies that Ukraine has been invaded by Russia and a request in accordance with the UNO charter for help against the aggressor. Ukraine declaring war and notifying all nations about Russia's aggression would force Putin to either back down instantly or send most of the Russian army into Ukraine and thus force the world to enact massive sanctions on Russia, something Putin can't afford as the economic costs and the number of killed Russian troops would rapidly spiral out of control.
At the same time declaring to be at war with Russia would put all European leaders in the position to either side with Ukraine against the Russian aggression or come under pressure nationally for kowtowing to Putin. Almost no politician in Europe will dare side with Russia after Ukraine's declaration of Russia waging war against it and those who do dare will be marginalized quickly. For Ukraine there is nothing to lose: if Russia re-starts the war then Ukraine can either keep pretending that there isn't really a war and thus play into the hands of Putin, or Ukraine can finally decide to name things as they are, act accordingly and force the global community to ostracize Russia, while Russia's youth dies in scores on Ukraine's battlefields.
The big question is if Poroshenko is the man to lead Ukraine in this war. So far he hasn't shown any competence in the diplomatic arena, no political ruthlessness when dealing with the likes of Putin and Merkel, no resolve when rallying the nation and no vigor when fighting the war. Instead of joining battle with all of Ukraine's might and not yielding to aggression, Poroshenko has shied away from anything that could upset European leaders and raise the costs for Putin. If he continues on this path Ukraine will be dismembered and broken with no hope to regain its freedom and territory.
To hear that Poroshenko agreed to postpone the Ukraine–EU Association Agreement for 15 months is just the latest in fumbles and stumbles by him as this rewards Putin for his aggression and gives Russia a veto over Ukraine–EU relations. To postpone the agreement only benefits Russia and EU politicians, who do not wish to upset their reelection chances.
To win this war Poroshenko must focus on Ukraine's interests and only Ukraine's interests:
It is in Ukraine's interest to agree with Russia (for now) that Russia isn't a part of the conflict in Eastern Ukraine. If Russia isn't a party to the conflict then it has no right to demand concessions from Kyiv. If Russia insists on its demands for Kyiv to federalize the nation, then Russia must first publicly explain in what ways it is part of the conflict.
It is in Ukraine's interest to treat Donbas like Gaza – to completely strangle it. Build a fence around the territory occupied by Russia and let Russia rebuild what it destroyed. Ignore the fake republics Putin created and let the criminals he armed and put in charge rule there with their terror regime. Starve the territory economically and let Moscow subsidize its moribund economy. Most of the educated and middle class population fled the fighting- provide housing and work for them in Western and Central Ukraine. It is in Ukraine's interest to keep the remaining population in Russia's occupation area as destitute and desperate as possible.
It is in Ukraine's interest to reform the country rapidly and improve the economy at maximum speed. Radical reforms are key to overcome the current economic crisis. Only with a thriving economy Ukraine can finance the military forces it will need. Furthermore only a thriving, democratic Ukraine will be attractive to the oppressed and impoverished population imprisoned in Putin's Donbas republics.
It is in Ukraine's interest to combat corruption with a war-like ruthlessness and resolve.
It is in Ukraine's interest to sell the national gas pipeline network as soon as possible and use the proceeds to improve the nation's infrastructure, education system and military.
It is in Ukraine's interest to ally itself with the nations that fully support it and publicly shame the ones that put pressure on it to surrender in the face of brutal Russian aggression.
It is in Ukraine's interest to put as much economic distance between itself and the occupied Donbas and Crimea regions, even if that means to engage in economic subterfuge against the two regions. If Ukraine succeeds in improving its economy, while keeping the occupied areas economies blighted, both, in due course, will want to rejoin a prosperous, democratic Ukraine – just as East Germany rejoined West Germany after the fall of the Soviet Union.
It is in Ukraine's interest to draw Russia into open war with Ukraine. Putin can engage in open war with Ukraine but his regime won't survive it, therefore Ukraine's must ensure that when Russia breaks the current ceasefire Russia is forced into open war against Ukraine.
Ukraine cannot afford further halfhearted actions and measures. Reforms, the fight against corruption, the total strangulation of occupied areas, the improvement of the military, the improvement of economic conditions, focusing on its true allies and ignoring Russian demands are key for strengthening Ukrainians resolve to fight for and defend their nation. If Poroshenko is not capable of putting Ukraine's interests before anything else, then he isn't the man to lead the nation in these difficult times, as he will not be able to inspire the nation to fight.
Ukraine is in a much better position to fight and repel the invader than Croatia was in 1991. Ukraine has more people, more troops, more weapons, more strategic depth, more time to prepare and more friends than Croatia ever had, yet Ukraine's leaders haven't shown the same vigor and bravery as Croatia's leaders yet.
This must change! Either Poroshenko changes or Poroshenko must be changed.
The views expressed in this article are those of the author and do not necessarily represent the views of, and should not be attributed to, Euromaidan Press as an organization.