Top picture: Nikolai Kozlov with his father. On Nikolai's chest there's a medal "for returning Crimea."
Source: Russian social network Vkontakte
The 31st Independent Guards Airborne Assault Brigade went for exercises on August 3. From Ulyanovsk (the unit's location) they went on trucks to Chebarkul training grounds in Chelyabinsk. Nikolai Kozlov, who grew up in Ozersk near Chelyabinsk, looked around yet the familiar Ural mountains were nowhere to be seen. Steppes stretched along the road. Soon everyone understood: They were going to Ukraine.
"They probably sent him to Crimea the same way: They allegedly redeploy you for exercises, and bang, you are in Sevastopol. The tour of duty order has been signed, you can't refuse. The system works the way that the brass knows what to do and the soldiers have no voice," says Nikolai's uncle, Sergei Kozlov. "I asked Nikolai, 'Did you sign any papers?' He said, 'If I had to, everything was signed for me.'"
According to Ozersk draft center, before June 2013, 21-year old Nikolai Kozlov, vehicle mechanic by profession, was doing compulsory military service in military unit 73612, the 31st Independent Guards Airborne Assault Brigade; since August 2013 he had been serving as a contract soldier in the same unit.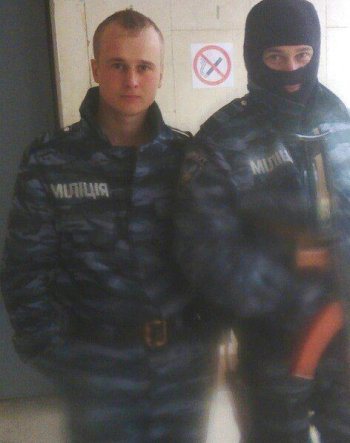 Nikolai's first military mission was in Crimea. According to photos the paratrooper's father posted to his Vkontakte page, at first Nikolai (as his father put it) "protected the new government in the uniform of young, unidentified polite people [Russian units in the covert invasion of Crimea] and then in a Berkut [former Ukrainian riot police unit] uniform." Now Nikolai's photo in a Ukrainian police uniform has been circulating on the Internet. Many have suggested that Russian paratroopers dressed as Berkut participated in dispersing the Maidan protests in February. Sergei believes the photo was taken in a corridor of the Supreme Council of Crimea that Nikolai probably guarded under the guise of a Berkut member. "The young are silly, they post photos everywhere: from Ukraine, from Crimea… no one saw any photos from Kiev. Our guys probably weren't there. And then Nikolai is an anti-sabotage specialist, they weren't taught to wave batons."
With a medal "for returning Crimea" Nikolai returned to Ulyanovsk. He married. In August, he ended up in Ukraine.
Nikolai fought there for two weeks. According to the combat mission (as he explained to his cousin Dmitry), he suppressed the enemy artillery positions.
"Nikolai says Ukrainians are very clever and cunning fighters," Sergei told us. "Their artillery is surprisingly accurate. Kolya's unit was lured into a trap. First the Ukrainians took two of them prisoner. On August 24, our guys went to take them back and were fired upon."
As Kozlov told his uncle, they were shot with some armor-piercing gun. The first shot tore Nikolai's leg off.
"Everyone thought him dead," Sergei Kozlov says. "One of the soldiers managed to carry him away from the line of fire. Nikolai himself tourniqueted what was left of his leg to stop the bleeding and injected the medicines."
Then for two days they drove Kolya, with sepsis, fever and a great loss of blood, back to the border. In the Rostov military hospital (full of wounded, according to Kolya) he was operated on and sent to Moscow.
The paratrooper first called home from the Central military clinical hospital named after Vishnevsky. The officers did not bother, so Kolya had to borrow someone's mobile phone. "He only named the hospital, and it has loads of branches all over Moscow region. Thank God I live in Moscow. I started looking for him, enlisted my friends and barely managed to find him," Sergei says.
According to doctors' predictions, Nikolai will stay in the hospital for more than four months. According to official figures from the military insurance company, soldiers who become Group 1 disabled get 1.5 million rubles. "That's about 15 months of German unemployment benefits," Sergei counts. "Not enough to become disabled in your youth." Sergei notes that as he spoke to his nephew he did not notice that the latter had any interest in the events in Ukraine or went to fight for his ideas.
"What politics, the guy's 20… An airborne assault brigade is the elite, the special forces," Sergei Kozlov says. "It's cool there, you have a good chance to get to the UN peacekeeping force and see the world. That's what Nikolai went there for. They do get brainwashed–'We are surrounded by imperialists'–and they take it in at some level. But he didn't want to go to war. They just sent him there, is all. He had orders."
Sergei doesn't know where exactly his nephew was wounded. Nikolai only said that the paratroopers remaining in Ukraine were sent to an assault. According to the news, it was Mariupol.
"Nikolai told me, 'It's a one way ticket.' Battalions and companies go in and don't come back. Tanks and APC's go in and don't come back. Only bodies and wounded are brought out. He says all the vehicles going into Ukraine are fueled for just a one-way drive. They won't find gas in Ukraine. Are they not expecting them to come back?"
Probably to maintain radio silence, men in Nikolai's brigade had their phones and any other means of communication taken away. The paratrooper told Dmitry (his cousin) that several times their unit saw other men in camouflage, opened fire, and then realized they were on their side. "They also have friendly fire casualties."
"I don't want to traumatize Nikolai, I don't ask him much," Sergei says. "I asked him only one question: did you kill anyone? He answered, 'I don't know.'"
* * *
Nikolai's injury received extremely different reactions from his family members. The paratrooper's uncle Sergei Kozlov, an IT worker from Moscow, wrote about his nephew's injury on his Facebook page: "He is now legless and disabled for the rest of his life. Well, at least Crimea's ours… fuck."
His father, Vsevolod Kozlov, a bus driver at Mayak radioactive material processing plant in Ozersk, was interviewed by Echo Moskvy on September 3.
"What can I tell?" he said. "He's (his son. — E. R.) is a soldier. He took his oath and honestly followed his orders. He did not run away, did not chicken out like your Banderites you always root for. Got it? <…> I'm proud of him. He's a real soldier. And whatever happens to him, I will raise him, support him and won't ever leave him. <…> The Urals only started getting back to life in Putin's times. And you in Moscow… it's a completely different country. You know why they call Russians "Moskals" [a derogatory term] in Ukraine? Just because of Moscow. Have you been at war? Do you have any idea what it's like? Can you imagine Grads firing from both sides? Our borders being shelled… I don't know where he was. Probably at the border. And whatever he did, he was right. Mark my words, he followed his orders. That's all there is to it."
"I think he learned that speech by heart," Sergei says without hatred, but rather with sadness. "We talked with my brother the next day, and he repeated it word for word. Our grandfather was a dissenter, our father was a dissenter, I'm a dissenter myself. Only our brother, fought in Afghanistan, has worked as a long-haul truck driver his entire life. He's raised a son in his image."
I reached Vsevolod Kozlov by phone on Sunday while he was traveling to Moscow to see his son. Three days after the interview to Echo, the paratrooper's father had a completely different tone: "Nikolai is o.k. I don't know whether he will stay disabled. I haven't seen him, I can't tell."
This "I don't know" was the essence of the talk. I asked if Nikolai really was injured in Ukraine.
"I don't know. Most likely not. Everything on Ukraine is just guesswork, I don't need that. I have no documentary evidence for now, there's no point in blabbering about it."
"Will you insist on an investigation of the circumstances of your son's injury?"
"I don't know. I don't think so. I have no time for that now."
Later I found out that on Friday Vsevolod Kozlov met journalists gathered by Ozersk's administration and told them his son was "serving in a peacekeeper brigade" at the Ukrainian border, "is being treated in the best hospital in Moscow," and even "is in a good mood."
In response, the Ozersk administration's official website posted a message that "the family of the soldier who met with a difficult life situation will have all possible support."
While Nikolai Kozlov was in the hospital, news came of two of his colleagues being killed "in the line of military duty:" Nikolai Bushin, deputy commander of the 4th platoon of the 4th company of the 31st Brigade, and Ilnur Kilchenbayev, senior rifleman of the Engineering Airborne Assault Battalion of the military unit 73612. Two more paratroopers from the 31st Brigade, Rusland Ahmedov and Arseny Ilmitov, were taken prisoner in Ukraine at Ilovaisk on August 28.
P.S. On Saturday the state channel NTV aired a news segment about Nikolai Kozlov (starting at the 11th minute). Nikolai was introduced as one who "recently was in the thick of battle and at last returned home."
Not a word was said on whether he fought as a rebel or a Russian army contract soldier. Only right at the end of the segment as a lead-in to the next one (about the photographer Andrei Stenin killed in Ukraine) the host, Vadim Tekmenev, said: "In the lists of injured and dead there are not only volunteers, but also those who went to war on duty." It is unclear whether he was referring to the photographer Stening or the paratrooper Kozlov, which was probably intentional.
[hr]Source:
Novaya Gazeta
Translated by Kirill Mikhailov
Edited by Melinda K. Busch