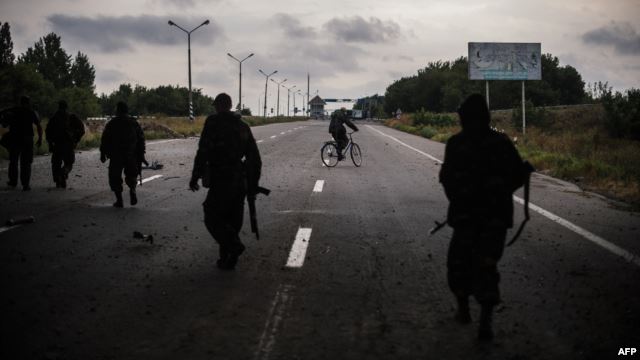 More and more reports appear that the frozen conflicts and former combat zones in the Caucasus are becoming a source of hundreds of mercenaries who are fighting on Ukrainian territory. They fight on both sides on the conflict; however, the majority of mercenaries were officially transported from Chechnya. 
18 years have passed since the peace treaty in Khasavyurt which put an end to the bloody First Chechen war in of 1994-1996 was signed, and a former Chechen field commander reminds us that the competition for the hearts and minds of the Chechens has not yet come to an end, Isa Munayev says.
In his appeal Isa Munayev calls for the United States and other Western countries "to give all possible military aid to the Ukrainian people," which "became a victim of Russian military aggression."
"As a representative of the Chechen people, who have been in conflict with Russian occupants for 20 years now and know the barbaric essence of the Russian state from our vast military experience, I call upon the global community to give strict political and legal evaluations to Russia's military invasion of Ukraine, and acknowledge the national liberation struggle of Northern Caucasus peoples against Russia as fair, according to the norms and principles of international legislation," is said in the appeal.
Munayev calls himself the commander of the Dzhokhar Dudayev international peace battalion of volunteers currently fighting in Ukraine, and the brigade general of the armed forces of the Chechen Republic of Ichkeria, whose president was Dzhokhar Dudayev. Before leaving for Ukraine he gave an interview to the Northern-Caucasus edition of Radio Liberty, in which he talked about his plans. There is no reliable information about the numbers, composition, and financing of the battalion. However its Facebook page was created on August 16, and it now has over 1,5 thousand likes.
Isa Munayev is a well-known person in Chechnya. He is currently about fifty years old, and in the times of the second Chechen War of 1999-2000 he was a young soldier who merited respect for his courage and tactical abilities, played a key role during the defense of Grozniy and then continued fighting with the troops that retreated to the mountains in the south.
Later, in 2007, he distanced himself from the Chechen President Doku Umarov after the latter refused to take up the issue of Chechen independence and announced a Caucasian emirate. Munayev left Chechnya; however, until 2008 he continued working as Prosecutor General of the Chechen Republic of Ichkeria.
Now Munayev is combats other Chechens in Ukraine who, according to various reports, are fighting on the side of the separatists. In an interview with Radio Liberty, the mother of a Russian contract soldier serving in the 18th motorized sniper division confirmed that her son and other Russian servicemen from Chechnya had been killed last week during battle near Donetsk. The are numerous reports about dozens and even hundreds of volunteers sent to Ukraine by head of the Chechen Republic Ramzan Kadyrov. He, however, denies his connection to the volunteers his subordinate forces sent to Ukraine. He denied the presence of Chechens among the separatists even after one of the mercenaries name Zelimkhan told the Financial Times newspaper in an interview that Kadyrov ordered him and other Chechens be sent to the east of Ukraine back in mid-May.
Kadyrov explains the presence of Chechens fighting in Ukraine by saying that they can be Chechens who do not live on Russian territory – there are about 2 million of them. These people, according to him, could have come to Ukraine on their own initiative, and some of them have already been killed.
At least 1000 Chechens were on the side of the separatists or are still fighting for them
In June, the President of the Republic of Ingushetiya Yunus-Bek Yevkurov said that about 25 citizens of his republic went to war in Ukraine as volunteers, and four of them were killed. Later Yevkurov, former Russian intelligence officer, stated that he would go to war in Ukraine himself in order to protect those "who are being tortured and killed."
Meanwhile the Defense Ministry and the presidential and government press offices of the unacknowledged Georgian separatist Republic of South Ossetia claimed they did not send their mercenaries to Ukraine.
It is difficult to say how many of Kadyrov's men ended up in Ukraine of their own volition or had been sent by Kadyrov. However, according to casualty reports, there were no less than 1000 people. The corpses of 35-45 Chechens returned to Chechnya at the end of May, and from 120 to 150 more – in August. According to Ukrainian military institutions, about 200 Chechens had been killed near Sloviansk alone at the end of June.
According to other reports, also unconfirmed, Kadyrov's men fought in Ukraine not as a separate unit but were under the commandment of Russian officers. It was reported that Chechen formations were disbanded and sent home because they were unwilling to fight. It was also reported that a group of Chechens surrendered to the Ukrainian servicemen and asked for an opportunity to return to Russian territory.
It is interesting that Kadyrov reacted to these messages by saying they are false. He claimed that "if a Chechen takes up arms, he does not surrender."
---
Source: Radio Liberty
Translated by Mariya Shcherbinina, edited by Alya Shandra
Tags: Donbas war (2014-present), Ichkeriya/Ichkeria/Chechnya