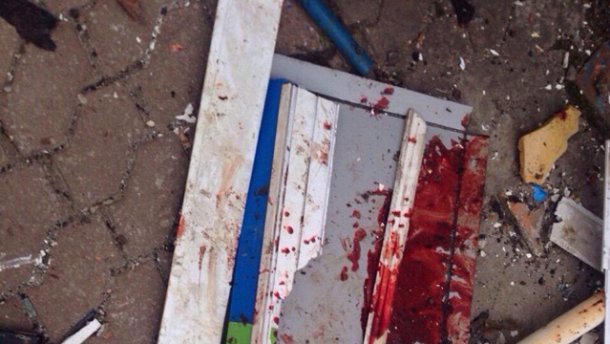 As of January 24, 2015, the terrorist forces in eastern Ukraine have bombarded the port city of Mariupol with a population over 400 000, targeting mostly living districts and suburbs, as well as several other prefrontal towns which remain under the protection of Ukrainian military. Up to date, 29 deaths among civilians in Mariupol only have been confirmed, children among them, yet till tomorrow this number is expected to be at least tripled; more than 102 people are wounded and are hospitalized. Seven underage children remain in extensive therapy and unconscious.
Photos by @SputnikATO: Mariupol 24 January 2015
Heavy shelling from the Russian side of the front, from the direction of Novoazovsk, occurred on the night of January 23, and seemed like a chain of organized artillery attacks on the Ukrainian side, usually carried from afar. All in all, the terrorist forces refrain from confronting Ukrainian army directly, and stick to attacking Ukraine from the distance – as usual, using civilian housing areas as a human shield. According to Ukraine's Minister of Defense Stepan Poltorak, the shelling was conducted from the village of Sakhanka on terrorist-held territory, with six Grad missile systems, four of which were subsequently destroyed by return fire of the Ukrainian armed forces.
Investigative journalists @DajeyPetros and @Conflict_Report have immediately taken to geolocating the impact craters from the rocket launch available from open-source imagery and videos. There is no doubt that the shelling came from the eastern direction.
Previous to this series of attacks, Vladimir Putin has directed a letter to president Poroshenko, in which Putin demanded de-facto recognition of the so-called People's Republic of Donetsk and Luhansk, referring to secret and unpublicized parts of the Minsk protocols. This threat Putin deemed his "peaceful plan." According to Ukraine's NSCD secretary Oleksandr Turchynov, the attacks on Mariupol are a direct implementation on the tasks Putin set forward: the January 23 meeting of Russia's National Security Council decided to activate offensive operations on all lines of the Ukrainian front; however, as they are not able to advance directly, they shell Ukrainian-held cities from distant positions.
Ukraine's Foreign Ministry is assigning the entire responsibility for these acts of international terrorism on Russian Federation, since all evidence point to the Russian-backed terrorists and their Russian commandment. Earlier this week, terrorist leaders had made multiple claims, threatening further violence and refusing to participate in further negotiations. The attacks themselves, as the warlords like the DNR leader Zakharchenko claimed, were supposed to influence politics of Ukrainian government. The  Ukrainian Prime Minister Arseniy Yatseniuk has called on gathering an emergency meeting of the UNSC. EU Vice President Federica Mogherini in a statement has acknowledged the attack to have been made from separatist-controlled territory and has called on Russia to "stop any form of military, political or financial support" to separatist leaders in Donbas. Meanwhile, a statement of the Lithuanian Foreign Ministry "strongly condemns increased Russia's aggression against Ukraine."
It is noteworthy that the Russian coverage of events in Mariupol follows the pattern observed during the shooting down of MH17 and the killing of civilians in a bus shelled by Russian-terrorist forces in Volnovaha: first boasting of attacks, then denial of involvement. The DNR warlord Alexander Zakharchenko first stated that"today the offensive on Mariupol has started. This is the best monument to all those killed," as per a 17:47 report of the Russian outlet LifeNews. At 20:21, the same outlet reported Zakharchenko saying that an offensive on Mariupol was never planned, as the DNR is "saving its strength."
As for now, 50 apartment buildings, four schools, and two kindergartens have been impacted by the shelling. Currently, residents of the eastern part of the city are being evacuated to its west and central parts. A call-to arms has been announced to defend the city. The Ukrainian National Guard medics are assisting the wounded, who lie on the streets of Mariupol bleeding. The bodies of those killed are laid on sidewalks, in front of burning businesses and housing projects, waiting for the pick-up team to deliver them to city morgues. Such is the price of Russian interests in Ukraine.
Despite the shelling, residents of Mariupol had gathered for a pro-Ukrainian rally. Mariupol became notorious for pro-Ukrainian rallies in September 2014, when it was under grave attack of an invasion during the occupation of the south-Eastern part of Ukraine by Russian forces. At that time, the residents of Mariupol wrote an appeal to EU citizens, in which they asked to "support Mariupol and show solidarity with us – as we stand against Putin's bloody campaign."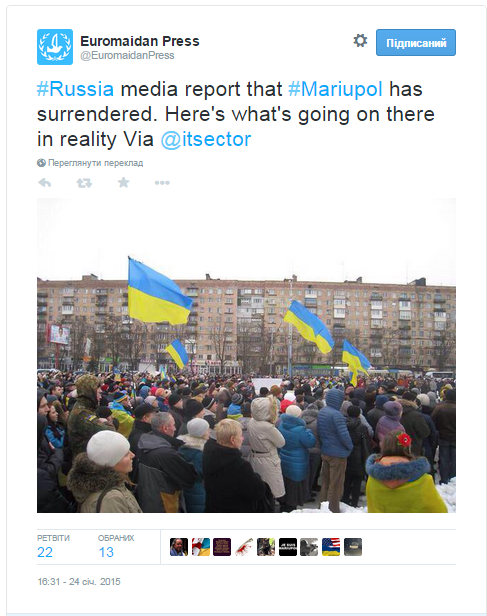 Tags: casualties, DNR ("Donetsk People's Republic"), Donbas war (2014-present), Mariupol, Russian invasion, Zakharchenko