107 soldiers who died in combat against the Nazis were honoured and re-buried in the village of Maiaky, Sloviansk Raion, Donetsk Oblast. The remains were found by a local volunteer organization, and honoured by soldiers of the Ukrainian Armed Forces and the National Guard.
"It's very important…. and it's very painful. These were our fathers and grandfathers. We should honour their memory and accompany them on this day. They defended us so that we could live." says resident of Maiaky, Oleksandra Savchenko.
Many families came to the funeral. People here know firsthand what war means, and they understand the value of human life and death*.
(*The Siege of Sloviansk was an operation by the Armed Forces of Ukraine to recapture the city of Sloviansk in Donetsk Oblast from Russian-backed insurgents who had seized the city on April 12, 2014. The city was returned on July 5, 2014 after heavy artillery shelling and combat. The fighting in Sloviansk marked the first major military engagement between Russian proxies and Ukrainian forces-Ed)
"We're here to pay tribute to the men who died for us; they defended us, our region, our Motherland. This is a memorial service. They died so that the world would be free." says the head of the local library, Nina Odemakh.
The search and re-burial of the deceased soldiers was carried out by volunteers. They say that every soldier has the right to be remembered, and the dead, even 75 years after the war, need to be honoured and re-buried.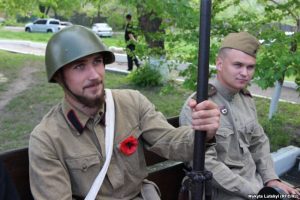 "Our search organization operates according to Red Cross standards. We locate a grave, dig it up, clean it, and take photos. Then, we remove all the personal things, take pictures of each object, write everything down, and have them examined by experts if documents are available. You get used to it after a while. But, you know that you're returning a person's identity. You're proud to participate in such an initiative – return a person's name, return him to his family." says volunteer, Mykyta Otchenash.
This time, the volunteers were not able to identify any of the 107 soldiers. They do not even know what units of the Red Army they were from. However, today's Ukrainian soldiers and members of the National Guard honoured and accompanied the men who perished in the Second World War to their final resting place.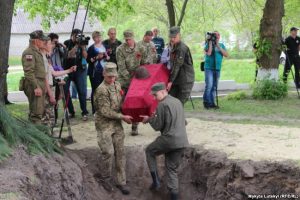 The soldiers explain that Ukraine is at war again… and after so many years, they again have to take up arms and fight for their country's freedom and independence.
"Our soldiers aren't just standing along the contact line… they're also standing on the line between good and evil, between dictatorship and democracy, between peace and war." says Deputy Commander of the Joint Forces Operation, Oleksandr Holodniuk.
The funeral and memorial ceremony ended with a minute of silence.
Remains of German soldiers were also found during the excavations. They were removed and transferred to Kharkiv where they will be buried in a special German cemetery.