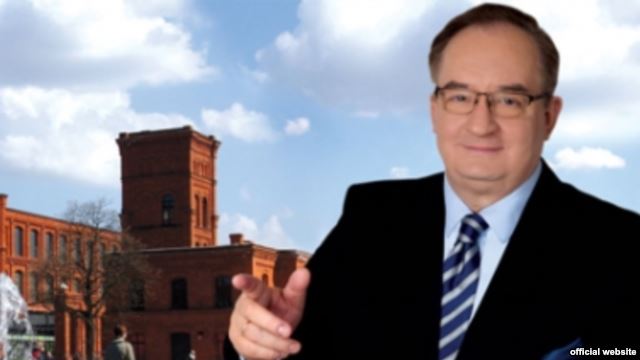 Yury Savitskiy
Warsaw – Throughout the next 5 years, the representative of Poland will have significant influence over EU policies regarding Ukraine. The EU Parliament decided that the Ukrainian issues will be coordinated by EU Parliament member Jacek Saryusz-Wolski. This is the third time this politician has been elected to the EU legislative body. Saryusz-Wolski is known for his active participation in the support for Ukraine's EU integration. Radio Liberty asked the politicians about his plans at the new post. 
I will be responsible for all EU Parliament statements and resolutions which will regard Ukraine in the next 5 years. Today, on Monday, at the emergency session of the Foreign Affairs committee I will present a document regarding the ratification of the association agreement between Ukraine and the EU.
On this post I will cooperate with the Ukrainian government and the Parliament, as well as many other areas which will influence Ukraine's European integration process. I hope that throughout the nearest weeks the EU Parliament in Strasbourg and the Verkhovna Rada in Kyiv simultaneously ratify the EU-Ukraine association.
How can the West influence the situation in Ukraine, which is currently subject to Russian military aggression? 
If you mean the European Union, such a trigger of influence are broader sanctions against Russia. If you mean the NATO, this instrument may be the decision of the group of NATO member states to supply Ukraine with weapons and the equipment it needs. The Ukrainian government, both the President Poroshenko, and Prime Minister Yatseniuk, made such a petition to the EU and the NATO, but no decisions have been approved yet, meanwhile the situation in Ukraine is becoming more dramatic and the uneven battle between Ukraine and the Russian aggressor requires a response to this issue.
Will western sanctions be able to alter the situation within Russia itself?
Not in the nearest future, however, in perspective very serious economic sanctions may influence Russia. By this I mean so-called third-level sanctions, which have been partially imposed already: on the energy, weapons and finance sectors. These sanctions are able to block the Russian economy's access to international finances, and they would block the opportunities for the development of the Russian energy sector and limit the opportunities for technological and military cooperation between Russia and the West.
Can the European Union quickly provide Ukraine with some sort of assistance, should the advance of the Russian army towards Mariupol resume? 
We cannot make any promises we cannot keep, as the European Union is not a military organization. However, back on July 16, the EU abolished the embargo on weapon supplies to Ukraine, so the decision should be approved by individual EU member states. Meanwhile the sanctions against Russia that had been approved already continue acting. We cannot pretend that Ukraine can count on military intervention on part of the European Union, which has not been created for this purpose and has no competence in this, therefore there is no agreement on this point.
---
Source: Radio Liberty
Translated by Mariya Shcherbinina
Tags: EU Parliament, European Union, Politics, Ukraine