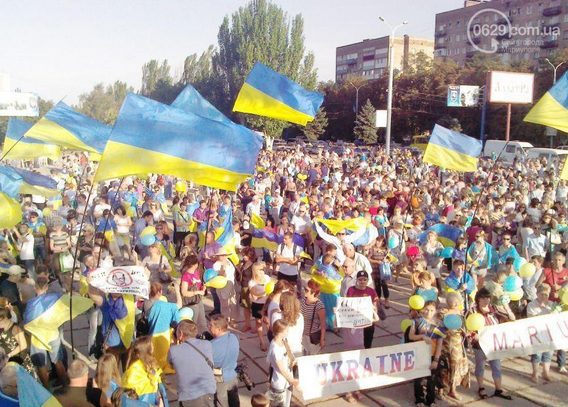 Demonstration to support Ukraine in the city of Mariupol after Grad rocket shelling by Russian forces, Jan-24-2015 
Gestern Morgen weckte das Geräusch schwerer Artillerie, die in unserem Vorort explodierte, die gesamte Stadt auf. Morgen könnte die Stadt aufwachen und entdecken, dass sie besetzt ist.
Seit dem Moment, in dem die russischen Streitkräfte vor sieben Tagen die ukrainische Stadt Nowoasowsk betraten, bereiten sich ungefähr eine halbe Million Menschen in der nahegelegenen Industriestadt Mariupol auf den Krieg vor.
Um genauer zu sein: sie bereiten den Widerstand gegen den russisch-geführten Krieg vor. Studenten haben ihr Studium verlassen und sind in die Reihen der Territorialverteidigung eingetreten um ihre Heimatstadt zu schützen.
Die Menschen von Mariupol bringen warme Kleider, Essen, Baumaterial, Schutzwesten und Helme in ihre selbstorganisierten Hauptquartiere. Mit ihren eigenen Schaufeln graben einfache Bürger Schützengräben, Gräben, die sie vor der eindringenden schweren Artillerie der eindringenden russischen Armee schützen sollen. Dieses ist nicht das Mittelalter, dies ist Europa im 21sten Jahrhundert!
Sicher, Russland wird seine machtvollen Informationskanäle nutzen, um Euch von der Kiewer Junta und der Befreiung der russischsprachigen Menschen des ukrainischen Südostens. Wären diese Behauptungen wahr, wie könnte man dann die Schützengräben, Tarnungen und Bombenschutzräume verstehen? Heißt man so Befreier willkommen? Nein, so begrüßt das Volk einen Angreifer! So bereiten sich die Menschen auf die Besetzung durch die russische Armee vor.
Wir sind Bürger unserer Stadt und wir nehmen unser Recht auf Selbstverteidigung in Anspruch! Man kann von dem kürzlich in Minsk ausgehandelten Waffenstillstand nicht zu viel erhoffen. Unglücklicherweise haben wir mit denen zu tun, deren Gewohnheit es ist, ihre eigenen Absprachen zu brechen.
Mit diesem Brief appellieren wir an die Bürger in den Städten der Europäischen Gemeinschaft. Bitte, schaut hin, wie verzweifelt das Volk von Mariupol für seine Freiheit kämpft, wie hingebungsvoll es auf die Aggression durch einen viel mächtigeren Angreifer reagiert? Würdet Ihr nicht dasselbe tun, wenn die russischen Panzer in Eurer Stadt erschienen?
Genau das ist der Grund, warum wir und an Euch wenden mit der Bitte, Mariupol zu unterstützen und mit uns solidarisch zu sein, mit uns, die wir gegen den blutigen Feldzug der Putinisten zusammenstehen und zeigen, dass wir uns verteidigen können. Wie Ihr uns Eure Solidarität zeigt, überlassen wir Euch. Macht, was Ihr für richtig haltet, schreibt uns oder schreibt einen offenen Brief an die russische Regierung, organisiert einen Twitter-Sturm, macht eine Pressekonferenz! Natürlich wird das Putin nicht aufhalten, doch zumindest wird es helfen, in diesem schrecklichen Krieg der Wahrheit Gehör zu verschaffen. Heute, wie zu Sowjetzeiten, befreit Russland das Volk mit seinen Panzern während die einfachen Menschen ihr Leben riskieren um ihre Freiheit zu schützen.
Man muss ehrlich zu sich selbst sein. Europa ist zu schwach, Russland aufzuhalten, doch es sollte zumindest seine Unterstützung zeigen und die Lage anerkennen, so, wie sie ist. Jeder, der keine Angst hat, die Grausamkeiten von Putins Krieg beim Namen zu nennen – macht das bitte! Sollte diese verzweifelte Bitte ignoriert werden und die russischen Panzer dann in Eurer Stadt stehen, werdet Ihr, als einstmals freie Bürger Europas auch zum Teil für diesen Krieg verantwortlich sein.
"Neues Mariupol", das Hauptquartier des Widerstands
Unsere Seiten in den Sozialen Netzwerken:
Facebook: https://www.facebook.com/groups/NoviyMariupol
Vkontakte  http://vk.com/new_mariupol 
Mariupol, Apatova-Straße 119
+38 (067) 732 00 38 Maria
Ihr könnt uns helfen und uns Geld schicken:
Kontoinhaber: Dmytro Chychera
Kontonummer: 2620 9 201700582
Geldinstitut: OTP Bank, 43 Zhylyanska Str., Kyiv, 01033
SWIFT code: OTPVUAUK
Quelle: Euromaidanpress – (Übersetzung von Euromaidan Press auf Deutsch)
Tags: Deutsch, Mariupol, russische Invasion, Waffenstillstand