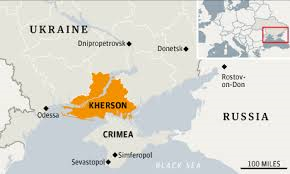 Kherson Oblast  
Russia is continuing to concentrate its armed forced in the northern part of Crimea and rotating troops and equipment, said National Security Council spokesman Andriy Lysenko, September 6.
According to Lysenko, Russia has redeployed units of mechanized infantry and artillery across the Kerch crossing to the mainland that will be sent to the border with Ukraine from the Rostov Oblast area. Units are also being moved near the Kherson Oblast.
"Units of the Armed Forces of the Russian Federation are being moved to the administrative border of the Autonomous Republic of Crimea with the Kherson Oblast. In the last two days, the rotation of personnel and equipment that are deployed at border checkpoints at the administrative border with Crimea has been noted," Lysenko said.
Additionally, the activity of Russian troops in the  Tahanroh-Mariupol direction has been observed. Mostly these are Ural tilt vehicles and KaMaz military trucks (including communication and radio-electronic combat vehicles) and tanks. The units that are being deployed belong to the Western Military District of the Armed Forces of the Russian Federation, Lysenko said.
When asked if the number of Russian troops near the border with the Kherson Oblast is steady or increasing, Lysenko said:"There are so many (in Crimea) that there is no room for further increases. According to our data, there are 15,000 troops."
Tags: Crimea, News, Russian invasion