Lviv has seen the return of an century-old tradition to fend off Russian invaders. In 1916, the Lviv sculptor Jan Juliusz Nalborczyk carved a statue of a Knight out of wood to raise donations for the needs of troops in Lviv. At the time Lviv, being part of the Austro-Hungarian empire, was facing a threat of a Russian invasion. Everyone that made a donation to strengthening the army had the right to beat a nail in the knight and reinforce his wooden armor with metal.
"Today, one hundred years later, we again have to resist Russian aggression. The Knight returned to our city in the image of To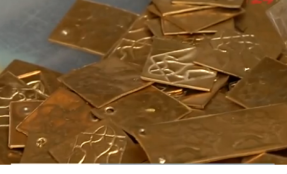 strengthen our army returned to Lviv Lviv Knight in the image of St. George the Victorious," noted the organizers of the initiative.
In less than a month, the Knight managed to gather UAH 380 346 ($27 955) for the needs of the ATO. Namely, they are infrared and night vision devices. Anybody that made a donation larger than UAH 100 had the right to reinforce St. George's shield with a symbolic metal plate with the Ukrainian state symbol, a trident. The donor received a plate as a gift in memory of the event, a third was sent to the ATO zone to support troops.
Donor from abroad are also providing significant assistance to the Ukrainian army combating regular Russian troops. On August 29, an ambulance for removing wounded soldiers from the ATO was presented, purchased with the assistance of the Ukrainian Canadian Congress.
[hr]Source:
vgolos.com.ua
, translated by Tetyana Stadnyk, edited by Alya Shandra