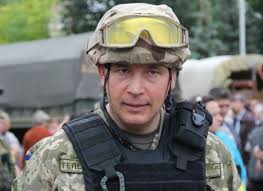 After losing the hybrid war in Ukraine, which it conducted through mercenaries and terrorists, Russia has now moved to a full-scale invasion using regular troops, writes Defense Minister Valeriy Heletey on Facebook, September 1:
Russia has lost the hybrid war in Ukraine. Our Armed Forces have boldly crushed the bands of Russian mercenaries and destroyed the terrorists and secret agents. That is exactly why the Kremlin was forced to move to a full-scale invasion, using its regular troop on Donbas territory. Today we are dealing with divisions and regiments. Tomorrow it may be corps.
The operation to free East Ukraine from terrorists is over. We must now urgently build a defense against Russia, which is trying not only to consolidate the territories previously occupied by the terrorists, but to advance on other areas of Ukraine. A major war has entered our home, a war that Europe has not seen since the Second World War. Unfortunately, the losses in such a war will no longer be calculated in the hundreds, the thousands, or even the tens of thousands. In unofficial channels, the Russian side has already repeatedly threatened to use tactical nuclear weapons against us if our resistance continues.
In order to survive, we need to fully consolidate all existing forces. Calls for the removal from office of the Chief of the General Staff General Muzhenko is a Russian provocation. It was Muzhenko who was the architect of Ukrainian victories in the East. If not for the Russian invasion, we definitely would have completed the active phase of ATO (anti-terrorist operation) by early October, liberating the entire territory. Personnel changes must be made to strengthen not weaken the army. Last week, six senior officers were suspended. Young commanders who have proven their ability in battle were put in their place.
Today, we must maintain our ranks and demonstrate our willingness to resist the aggressor. Russia has already paid a heavy price for the invasion. Hundreds of Russian soldiers and officers have found their final rest in the black earth of Ukraine.  A high number of casualties  inevitably will bring Russia back to its senses. But for this to happen, we have to avoid alarmism and demonstrate that Ukrainians are not going to give up. This is our Great Patriotic War (reference to Soviet and Russian term for WWII — Ed.) and we will win it without fail.
Facebook, translated by Anna Mostovych
Tags: News, Russian invasion, Russo-Ukrainian War (2014-present), Ukraine