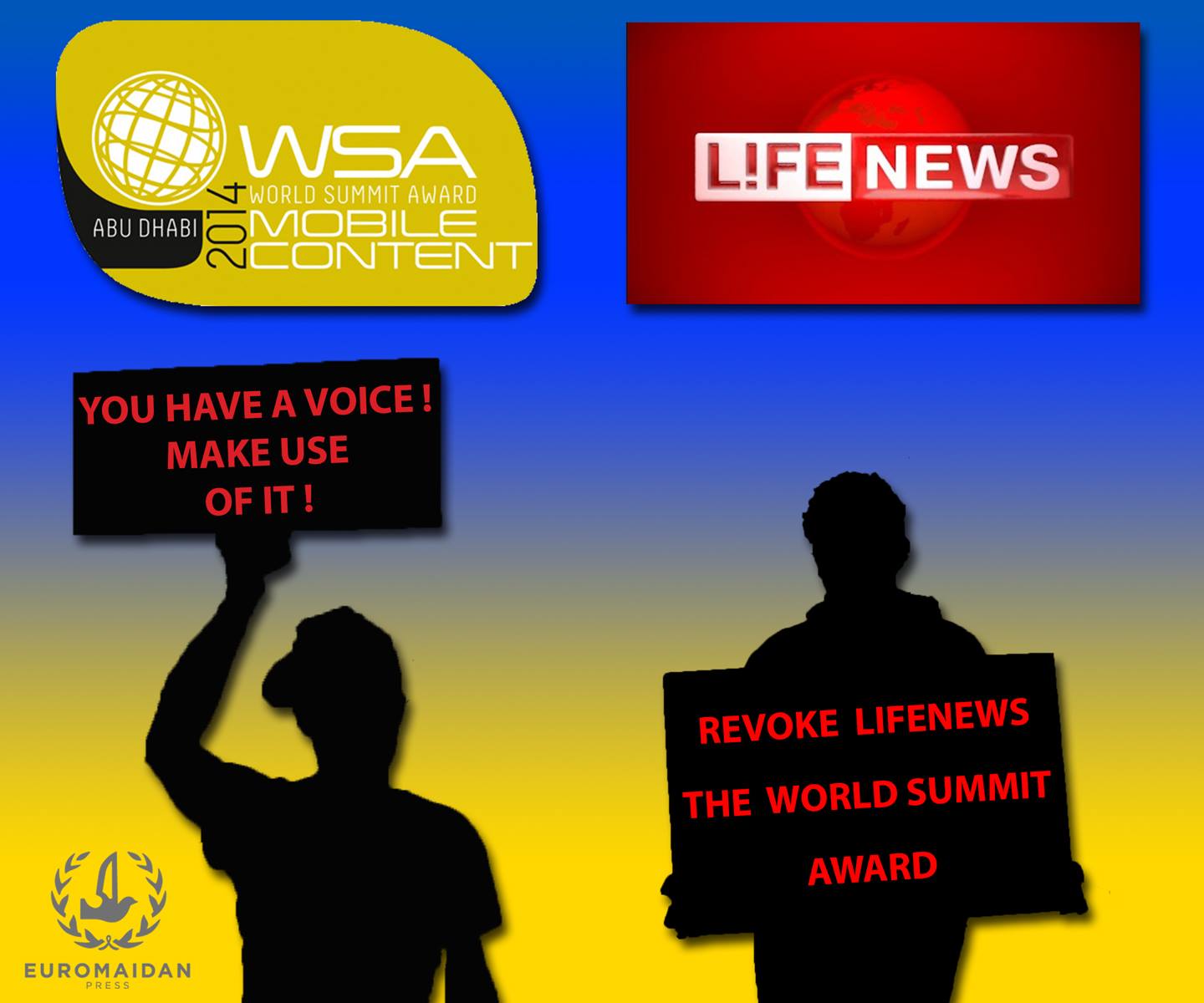 Ukrainian journalists have launched a campaign urging the jury of the prestigious World Summit Award Mobile to revoke the award given to the Russian TV channel LifeNews, notorious for its false coverage of events in Ukraine.
The International prize World Summit Award Mobile is awarded for mobile content and innovative applications. The award ceremony took place on 3 February 2014 in Abu-Dhabi (OAE). 40 mobile applications were chosen as the winners – five in each of the eight categories of awards. The award ceremony took place on 3 February in Abu Dhabi (United Arab Emirates). The winners were 40 mobile development – five in each of the eight categories of awards. The Russian TV channel TV LifeNews received the award in the Media and News category for a mobile application that enables any witness of events to record videos and photos, send them to LifeNews through a mobile phone, and get paid for it.
An initiative group of Ukrainian journalists expressed their protest against the decision of the jury and calls on WSA calls to withdraw its award to LifeNews. The initiators invite journalists, activists, and other citizens from all over the world to join the appeal. The full text of the appeal is provided below. The Ukrainian text is available on the website telekritika.ua.
Statement
We, representatives of the Ukrainian and international media community, are appalled by the decision of the World Summit Award Mobile jury to award Russian TV channel LifeNews for one of its mobile applications.
We would like to remind everyone that, in recent years, especially after Ukraine's Euromaidan events and Russia's subsequent annexation of the Crimea and military aggression in eastern Ukraine, LifeNews has become an obvious instrument of the Russian government's propaganda and information war with little evidence of independent and unbiased journalism.
Its notoriously infamous "reporting" on the downing of Malaysian Airlines MH-17, which the channel first presented as a rebel attack on a Ukrainian military airplane, and later "corrected" into the story of Ukraine's "attack" on a Malaysian passenger airline, is an illustration of the channel's practice of disinformation. LifeNews, like many other Russian media outlets, ran multiple fake stories on the alleged use of phosphorous bombs by the Ukrainian army in Sloviansk, a claim refuted by Human Rights Watch.
Other examples range from spreading untrue and discrediting information, to deliberate video editing of original footage for propaganda purposes, and provocations intending to sow interethnic and interreligious hatred among Ukrainians and Russians. Moreover, LifeNews has been noticed "reporting" news before it actually happened, suggesting close connections of the outlet and the militants in Donbas.
The channel's reports on the torture of Ukrainian soldiers captured by pro-Russian separatists (for example, this report was made based on these horrifying tortures where you can see LifeNews microphones on many occasions) is an example of how certain Russian media outlets collaborate in war crimes. LifeNews journalists have regularly been filmed armed when reporting in Ukraine.
(See more proofs of LifeNews involvement into propaganda actions and misinformation in the "Additional information" after this statement)
We welcome the WSA's commitment to support new technologies and citizen journalism; however, we strongly believe that no technological "innovations" proposed by channels like LifeNews can be rewarded by a respectful international organization. We find it intolerable that the WSA should present itself as an initiative emphasizing "cultural diversity and identity" yet award an instrument of war aimed at destroying Ukraine's identity and challenging Europe's cultural diversity.
We would like to point out that in today's Russia, information is considered as a weapon, an intrinsic element of a new type of war against Ukraine which has already cost more than 5,000 lives and forced over 1,6 million people to leave their homes and become refugees.
We therefore call on the WSA to revoke its award to LifeNews. We also call on journalists, activists, and other citizens around the world to join our statement.
You can sign the statement here:
Additional information: proofs of LifeNews involvement into Russian information war and misinformation
Tags: International, LifeNews, News, Russian propaganda, WSA