A Kremlin consultant Close to the ruling party Yedinaya Rossiya, Dmitriy Orlov, is urgently looking for agents for counter-propaganda and organizing mass rallies in Ukraine. He wrote this on his Facebook page.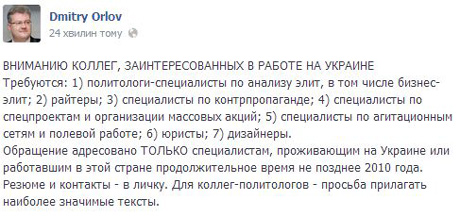 "Kremlin adviser needs professionals in analysis of elites, writers, specialists in counter-propaganda and organization of mass events."
Orlov is also looking for specialists in propaganda networks and field work, lawyers and designers.
Meanwhile, the Kremlin specialist is interested only in those who lived in Ukraine and worked there for a long time, and no later than 2010. Orlov is an expert on PR, politicians and political strategy close to the Kremlin. He became famous for his work for "Yedinaya Rossiya" and Putin in particular; he is the author of the concept of Putin's "new majority," in 2005, the term "energy superpower" and the report "Oil for Democracy".
Source: Ukrainska Pravda