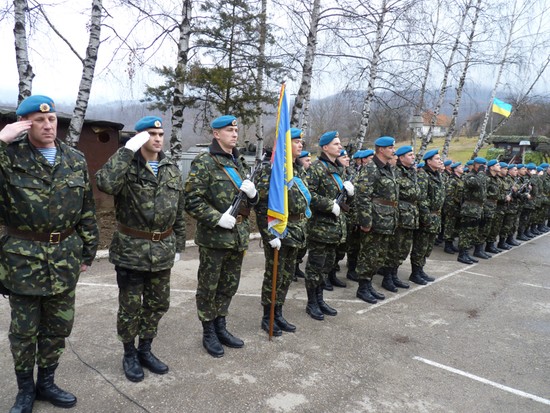 More than 100 Ukrainian peacekeepers who are currently maintaining peace and stability in Kosovo will return to Ukraine by the end of the month, a Ministry of Defense spokesman announced at a press briefing Friday, August 15, as reported on the ministry's website.
Colonel Andriy Ordynovych, deputy chief of Military Cooperation and Peacekeeping Operations of the General Staff of the Armed Forces of Ukraine, said the peacekeepers will be reassigned to ATO (anti-terrorist operation) units in eastern Ukraine.
"The issue of reducing the presence of Ukrainian troops in military missions and their return to Ukraine is being addressed. By the end of the month, 103 military personnel will be returning from Kosovo," he said. According to Ordynovych, members of a maneuver unit are returning and after leave will be used to reinforce ATO divisions.
Ordynovych stated that 65 peacekeepers have already returned to Ukraine from Kosovo. By the end of the month, the returned peacekeepers will total 168. He added that the withdrawals were arranged with NATO headquarters. (As a NATO partner country, Ukraine has provided troops and equipment for NATO's peacekeeping missions in Kosovo and other locations. — Ed.)
Ordynovych also reported that 16 helicopters that had been leased to the private company "Ukrainian Helicopters" have been returned to the Ministry of Defense of Ukraine.
Translation: Anna Mostovych