Well-known dissident, human rights activist, and psychiatrist, Semyon Gluzman, gives a diagnosis for Ukrainian society
Semyon Gluzman is one of those active people whose opinion is highly valued in Ukraine. What sets him apart from all the other domestic commentators is his truthful objectivity, sincerity, and depth of judgment.
Nowadays, Gluzman holds some honorary titles*, such as distinguished memberships in the American Psychiatric Association and the Royal College of Psychiatrists in the UK. However, in Soviet times, he spent more than ten years in the [labor] camps [and Siberian exile].
Gluzman was imprisoned for publishing in a samizdat [Trans: self-published articles censored by the Soviet Union] the true diagnosis of General Petro Grigorenko, who advocated against the deportation of the Crimean Tatars and then immediately found himself in a mental institution. According to the findings of young psychiatrist Gluzman, despite being considered insane, Grigorenko was in fact absolutely healthy.
These years of imprisonment served as a sort of university of life for Gluzman: he came away with a deep understanding of the Soviet system, the reasons for its inevitable collapse, and the future transformations for society.
At present, the 67 year old human rights activist is very politically active and has responded in a positive manner when ever asked to give an interview. The only request he made was that our interview take place at an inexpensive establishment, since his pension allows only a modest life. "I am not familiar with your journal yet, but know this – I am not scared of you," Gluzman jokes in a preliminary conversation.
In the subsequent discussion, he is far from optimistic and says that Ukraine has yet to face quite a few tests to its statehood. He also reflects on how the military resistance has already changed Ukrainian society and warns about new social risks.
The main problem we are facing right now is with the people in the liberated territories. [Ukraine] gained independence too easily. Without war, without bloodshed. Only a few thousand dissidents fought the system, while the majority of Ukrainians remained passive. Now, 23 years later, they are living the struggle for independence, which didn't touch them in the 90's.
The easiest explanation for what's happening in eastern Ukraine is Putin's actions. People generally try to make sense of complicated issues by finding simple causes while denying the obvious. For instance, Germans, many of whom supported Hitler, said after the fall of the Reich that they were not aware of the existence of concentration camps. The Soviet people have convinced themselves that they didn't know the NKVD [Ed: Stalin's law enforcement agency] were taking away their neighbors in the night.
In the same way, residents of Donbas will explain to their children that Putin is to blame for the war. Only a few of them realize that, for years, they have been indoctrinated against the other part of Ukraine. The blind anger was ignited and then skillfully directed against Kyiv.
I am afraid that Kyiv will distance itself from solving the problems. In the autumn, when the hot phase of the struggle ends, the men will return home from the front lines, incensed by the war. Then the third Maidan might be awaiting us. Abandoning people who have seen death and know the smell of blood is dangerous.
On the other hand, there is hope that those who still do not love Ukraine, for various reasons, will now find reasons to love it. This happened in the US after the Civil War. It was in a situation exactly like this, when people from the same country were killing one another, that American dignity and patriotism were born. We will have to live through this as well.
There is a real humanitarian catastrophe happening in the east of the country. I met recently with one of the leading experts on combating drugs, in a law enforcement context. According to his data, the oblasts which are experiencing war – the Donetsk and Luhansk Oblasts – are hit by alcoholism and drug addictions to a greater degree than any other area.
In 2004, we carried out similar research, together with specialists from America, and got frightening results – these oblasts rate the highest for increases in mental illnesses. Suicide, depression, drugs, and alcoholism. When compared to western Ukraine, the wages in the east are actually higher and there are more people with higher education. However, the family and religious values are weaker.
Already back then we saw signs of a humanitarian catastrophe. We passed this data on to President Victor Yushchenko three times, however he ignored it. So, it is not Victor Yanukovych's reign that I look back on with deep sorrow, but rather the presidency of his predecessor, since it lead to these consequences. Yushchenko was president for a European nation – people trusted him, but he did nothing.
Now these people [the Donbas residents supporting terrorists] have nothing to lose. They are prepared to give up their lives for $500. It's an illness which must be treated – you can't keep pushing the pus back inside; it has to come out.
Psychologists and psychiatrists will be addressing the same problems that Georgia faced after the war. We are preparing for this – our specialists recently returned from Gori, where, after the war, they worked in a rehabilitation center.
The problem is that our people don't like going to these kind of professionals. This is a tradition. In totalitarian societies, people try not to let strangers into their inner world. Anger or rage may be taken out on a wife or child, but an individual would never visit a psychologist.
Furthermore, in the past we didn't have an anonymous psychological service. Any visit to a psychologist or a psychiatrist was recorded and the appropriate agencies were informed. But those days are gone; even during Yanukovych's rule, the authorities didn't try to use psychiatry for their own purposes.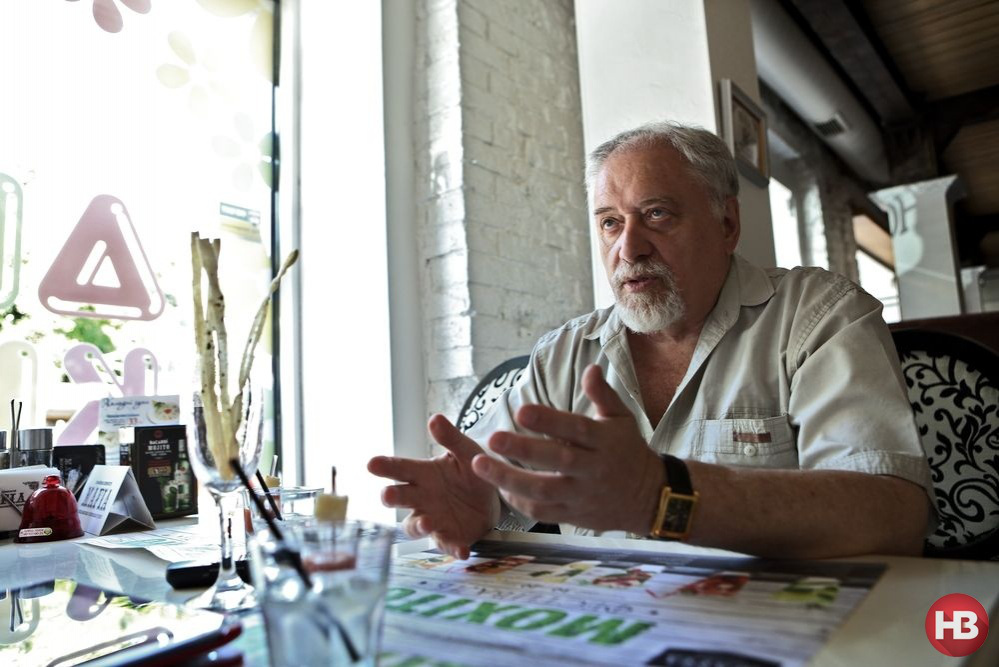 There was actually one amusing incident after the president fled. One high-ranking official met with me and asked, could we present the escaped president as mentally ill? This idea horrified me, but it seems I managed to explain what would happen to the country if we did that.
There is no need to pursue a singular Ukrainian identity in order to form a nation. There are no homogenous states in contemporary Europe and tendency toward regionalism is very strong. For this reason, Ukraine's entry into Europe is a very crucial process for the assimilation of our divided society.
We have to use the implementation of European values to turn Ukraine into a comfortable state in which to live. This is what sets us apart from Russia, that we are striving for a better quality of life.
At the same time, I am hoping that Russophobia in Ukraine will come to nothing. I think most people understand that living with hatred is counterproductive. You know, while in camps, I even came across the so-called twenty-fivers [members of the Ukrainian Insurgent Army sentenced to 25 years at a camp].
None of these old men ever asked me why I, a Ukrainian national, speak in a "Moskal language" [Trans: "moskal" is a Ukrainian slur for a Russian national]. Similarly, the Russian nationals within the camps had a very tolerant attitude toward me – a Jew and a political prisoner.
Back then most people listened to the Voice of America and quietly criticized the Soviet government. Nowadays, however, Russians don't have alternative sources of information and the propaganda is offering simple solutions. It clearly indicates those who are to blame. Moreover, fear of the authorities is strong in Russia. And fear makes you easily believe what would usually be debatable or what is not even based on real facts.
A lot of Putin's actions indicate an inferiority complex. All his flights on fighter jets, dives in submarines, and rescuing the white cranes – this is a desire to show off his achievements. Considering this, it seems Putin has invaded Crimea for the very same reason and now he won't give it back until the end. I don't think that it has anything to do with his small height or any other physical attributes.
According to stories told by acquaintances of mine who know Putin personally, this is some sort of a psycho-emotional component. Perhaps this is related to his childhood anxiety. It is no secret that he had a very strict father who would often scold his son about his grades in school.
Five questions for Semyon Gluzman:
— What is your favorite city?
— I once visited Bergen, in Norway. It is built upon a fiord, which is impressive.
— What is the most important event of your life?
— The feeling of death and the moment of coming back to life. In prison, I was on a four month long hunger strike while being force-fed. One day, I opened the toilet seat and saw a piece of bread floating there. And I found myself thinking – should I take it or not? My squeamishness was long gone. But it was at that moment I realized that my stomach wouldn't be able to digest it anymore, that I would simply die. This had never happened to me before and I stopped starving myself.
—  How do you get around?
— By metro. I don't have a driver's license or a car, nor can I afford one.
— What is your personal monthly income?
— Since I am a dissident, my pension is higher than normal – 1,860 UAH. But even living alone, without a wife, I need 5,000-6,000 UAH to sustain myself. I don't have extravagant demands, such as going somewhere for vacation. But I would like go to Puzata Hata [Ed: Ukrainian restaurant chain] for lunch and have something that I want and not something that I can afford. Also, I need books.
—  What are your aspirations?
—  I would like to publish a book, including my collection of psychiatric publications. When I had finished collecting these articles, I realized this collection was for future Ukrainian psychiatrists. This is the history of psychiatry's development within the country and serves as a memory of what went on in the Soviet and post-Soviet times.
* Ed note: Semyon Gluzman's Professional and Honorary Titles: Geneva Prize for Human Rights in Psychiatry (2008), Distinguished Fellow of the American Psychiatry Association (1980), Honorary Member of the Royal College of Psychiatrists (1980), President and founder of the Ukrainian Psychiatric Association, Founder of the American-Ukrainian Bureau for Human Rights, Director of the International Medical Rehabilitation Center for the Victims of War and Totalitarian Regimes, a member of the Council of Experts under Ukraine's Ministry of Labor and Social Policy, and Co-Chairperson of the Babi Yar Committee.
[hr]Source:
nvua.net
Translated by Dasha Darchuk, edited by Elizabeth Martin and Lisa Spencer