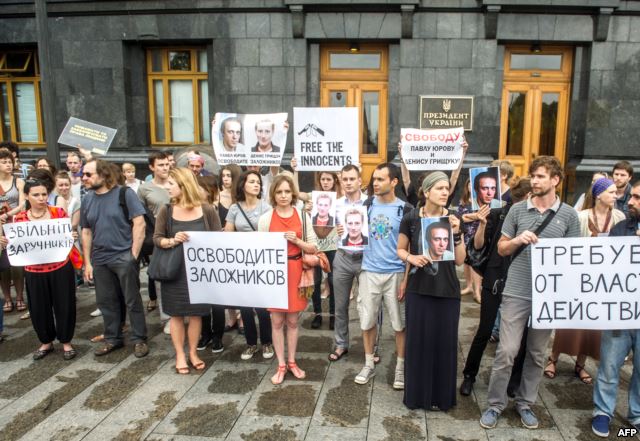 May 28 protest to support Yurov and Grishchuk 
Kyiv theater director Pavel Yurov and artist Denis Grishchuk spent 70 days as hostages of the separatists led by Igor Girkin (aka Strelkov) in Sloviansk.
Pavel was born in Antratsyt (Luhansk Oblast) and Denis in Donetsk. On April 25 they decided to stop and visit Sloviansk on their way from Donetsk to Kyiv. They wanted to take a look at what was happening in the city after it was captured by separatists. One carelessly spoken word later and they were taken by friends of Ponomarev [the "people's mayor" later arrested by Strelkov], dragged to the seized SBU building, and beaten. Pavel and Denis were held in the local SBU basement for some time before Ukrainian forces freed Sloviansk [on July 5th]. During that whole time there was no information regarding their condition. A petition demanding their release was signed by well-known Russian actors and directors – Evgeniy Mironov, Ksenia Rappoport, Alexander Kalyagin, Valeriy Fokin, Mikhail Porechenkov, and Kirill Serebrennikov – but their appeal was left unanswered, like many others. Now Pavel and Denis are undergoing psychological and medical treatment in Kyiv. Pavel is waiting for an operation on his broken nose.
Pavel Yurov and Denis Grishchuk told Radio Svoboda how their short journey to Sloviansk turned into a nightmare lasting more than two months.
Denis Grishchuk
DG: Everything started when we went to eat in a café. Some journalists and locals were there. We were watching news on a tablet and a woman asked what was on the news. We answered. Maybe there was something in the reply that revealed we supported Ukraine, I don't remember now. They started shouting 'banderovtsy' [banderas] at us. We showed them our passports and said we were local citizens. They accused us of having bought the documents and continued shouting things. We packed our bags and left. Soon, about 300 meters from the place, people with weapons came up to us, said we were detained on the mayor's order, and drove us to SBU. We were kept in the SBU cellar until May 9th, when we were moved to the local temporary detention center.
Were you accused of being Right Sector fighters or spies from Kyiv? How often were you interrogated?
DG: They changed what they called it: Right Sector or Maidan co-ordinator. They found a video from early in Maidan, probably November or December. They found a contact from Kharkiv Euromaidan in my phone and got mad about it. Everyone who did not express open support [for the militants] was a spy to them. Well, they suspected even those who were with them. Enemies, 'Right Sectors', maidaners are all around; soon 'banderas' will come and kill us, that's what they thought. One day, April 26th, they interrogated me and I told everything I knew. They checked information and probably didn't find anything so they did not ask me more.
Was contact with relatives forbidden? Why? Was it plain sadism or was there some purpose to it?
Pavel Yurov
DG: No, they were strongly against any contact. We asked them many times to let us send a message outside but they told us we were forbidden from doing that. Somebody else could do it, they said, but we couldn't.
PY: On the third or fourth day of our imprisonment we decided to pass a note to our relatives. There was a guy going to be let out. We gave him a phone number so that our friends could be told we were all right and being kept at the SBU. The guards figured things out and for the next 12 hours we were being beaten all over again. They made up many spy stories. Some of them were really afraid we could have serious connections and might pass information out.
Was your nose broken on that day?
PY: No, it was after the first hit at the SBU building. We were taken there and they started making an inventory and, suddenly, I was hit in the nose. I started bleeding and was in shock. Then we were dragged to the garage and beaten and kicked: in the head and body blows. Denis's hand was cut – don't know whether they did it intentionally or not. They called some male nurse and he started putting peroxide on the hand while Denis was still receiving hits in the ribs from the other side. Same with me: tampons into nostrils to stop bleeding and keep kicking me in my back. We were also bluffed many times, you know, all those taunts about cutting our ears off. They said some Gogi would come and rape us, pretended they were going to strip our pants off. That was the evening when we were arrested there and taken down to the cellar. The second beating was on the day we wanted to pass a note. It was some sadist guy's turn on guard duty; he just came up about every 15 minutes and bludgeoned us in the shoulders, sides, ribs, and knees. The rest of time I was receiving, let us say, 'prophylactic' hits about once or twice a week. Some of the people detaining us would just  come down to the cellar, look around, recognize our faces, and then it usually went on like this: "Ha, you still here –get some!" On May 4th, when there were battles near Sloviansk, one of their buddies rushed in shouting his commander had been killed and started thrashing everyone around. A guy from the Dnipro battalion was lying there and he was beaten terribly; he couldn't get up to go to the toilet for several days after that and soiled himself. I was lying on the floor and the militant just hit me when he noticed I moved. But still, only on two occasions did they beat us intentionally.
Could you talk with your guards and did they talk to you?
DG: Yes, we sometimes talked with the people who were guarding us. They made us do some work. We were carrying food, cleaning the SBU property and then we painted windows and washed floors and rooms in the city police station. Some of the people even told us, "We know you're not guilty, but you'll have to stay here anyway."
PY: You know, the whole story sounds like some kind of theater to me. Just think about Strelkov who made up reenactments of previous wars. Guys who were in the penal battalion told us they had been digging trenches and making fortifications or something like that to make everything look like there was some preparation for battle, although neither trenches nor fortifications could help them protect somebody or win the war. From the inside, we saw another side of the story regarding the hostages. We called them 'Donbas non-freely convertible currency' – people who could be traded, used as a smear, or just used to get some cash. The majority of the active militants were criminal riffraff, the underworld, ex-police and military, heavy drug users. I believe Russians were coordinating everything from the beginning, both officially and not, although we didn't have any direct contact: I didn't notice a Russian accent and most of the people were locals. Many women sympathized with them at the beginning. The main things they used for their manipulations were the local people's ignorance and the inability to take information critically and analyze it.
Slaviansk SBU basement where prisoners were held.
You said they used heavy drugs. Did you witness them doing injections?
PY: Well, I saw people being really inadequate. Some guys also saw syringes of methamphetamine and the raw material needed for making 'vint' [a methamphetamine type home-made synthetic drug]. I suppose the rear militants used drugs because they had nothing else to do, while for those in the ranks it was a kind of 'counterstrike' game in real time, like imagining you've got multiple lives.
Who were the people imprisoned with you?
PY: There were people caught while just passing by in a car, even people who had come to support the militants but were missing some of their documents or somebody was drunk and thus  they were detained as 'suspicious'. There was a mafia boss from Artemovsk to the right of us and local businessman-oligarch to the left. There was also a priest kept there for three days after being caught drunk at the barricade with 2,000 hryvnas in cash, probably stolen. There was a Hare Krishna follower from the USA kept there for two days, which he spent chanting mantras. There were militants. Two weeks after we had been taken by convey from SBU, one of the guards escorting us was arrested and kept imprisoned until we got free. There were local people. They captured a woman who was just travelling by car and taking some photos. They hated this the most and thus detained her. She had two passports: Russian and Ukrainian. She had hysterics every day – shouting and beating her plate against walls and door. Finally they said she was taken to Donetsk to the psychiatric hospital.
There were Ukrainian soldiers captured in the combat zone. There were journalists from RIA Novosti, Russia Today, and Ukrainian journalists as well. Journalist Serhiy Lefter was also at the SBU cellar.
DG: There was also Igor Oprya, a student from Krasnyi Lyman. He was going to his parents' for the vacation and, unfortunately, passed by the SBU building. He was detained on May 2nd and was freed with us. Vyacheslav Malanchuk of the Svoboda party was being kept there for a long time too. There was Valentin Rybachuk, who had been Sloviansk mayor before Nelly Shtepa. He was sitting opposite to us; they demanded a ransom for letting him out.
Was 'people's mayor' Ponomarev put into the same cellar after being arrested?
DG: No, he was put in the local police station across the street.
Where was Nelly Shtepa (ex-mayor of Sloviansk) kept?
DG: They said she was kept in the city council building. So, it was like the 'Mayor triangle' – an ex-mayor in every building.
So it was like in Stalin's times when the executioner could become a victim at any moment…
PY: Yes. Everybody had his own motives: some were just robbing and some were playing Robin Hood and paying off old scores.
Did you see any changes when Ponomarev was overthrown?
DG: We did not know much about what was happening beyond the walls of our basement and the police station. We received very little information, so we didn't know there were any changes. We just knew who was elected president and we were also told about the ceasefire.
PY: I noticed a major shift in their attitude after the pro-Russian referendum failed and Russia betrayed them; they lost confidence in their power and started making up even more unbelievable stories. The guard was telling us Ukraine was no more and that they would go into Kyiv and Lviv on tanks. One of the 'top guns' (what they called officers that had duty numbers) said he would spend three days ransacking Kyiv. However, they were much more nervous than before. Though, they were acting more along the lines of 'nothing to lose'. They were stealing as much and for as long as they could and then, on the night of July 4th, they just fled. The generator ran until the fuel was gone, then the lights went out and it was all silence and darkness. That was when I understood that Yanukovych's flight was no surprise for them, because they would act the same in his place. They were looting as long as they could while retaining power and when they were finally surrounded by Ukrainian forces, they just fled. Funny, they also opposed Yanukovych and said they wished to remove him, but in a democratic way. It must be a certain mentality, when the mob boss is always in charge even though we may not like him. Kill him and become the boss yourself or… well, I don't know much about their prison morals. There was much of the underworld codes in their internal politics.
Former DNR headquarters in Slaviansk
Did they treat Putin like a mob boss too?
PY: After the referendum failed, the guard responsible for all those detained in the SBU building and police precinct spoke out against Putin as well. There was a moment when he started saying there were no Russians or Ukrainians or Belarussians, but only one people – the Slavs – and there should be a Slavic World. He said there was a neo-Nazi junta in Kyiv and traitors in Moscow but "we shall rebuild Novorussia from pole to pole." I was trying hard to understand his political and economic vision of this historical renovation, but it was quite difficult to discuss with a man holding a gun and keys to your cell. There were also people forced to work there, like the women who cooked food for us or the men peeling potatoes and carrying saucepans; they were also kind of hostages. And don't forget the penal battalion with people being sent to dig trenches around Sloviansk and to make fortifications for the mortar launchers. Three days before they left I washed blood from one man's legs, washed his blood away from the floor. Just a 25-year old guy from Sloviansk, he was at home when militants came and said he should go join the militia. He answered that he would not. Then they shot him in the leg and took him to jail. When there were no more volunteers to die for them under shell fire, they just started doing things like that.
How did they split prisoners from the ones sent to the penal battalion?
DG: All of the people were detained first and put into the cell. After that they investigated who they were and where they come from and determined the 'degree of guilt', as the militants called it. And then those people were sent to the penal battalion for 10, 20, 30 days or even permanently. They could go outside, they were not locked in the cell, but they were still prisoners with almost no rights.
Many people were released within a few days. You spent much longer there than others: 70 days. Why did they refuse to let you go?
PY: There were too many appeals from all sides. Ukrainian authorities along with the SBU had made their own arrangements, local Donetsk authorities tried to do the same and arrange something through the Russians, there was a letter from Russian cultural workers, and my actor friends talked to their Moscow colleagues also trying to solve the problem. So, the people keeping us hostages could not figure out how much we were worth and thus kept us as long as they could. They wanted to exchange us for humanitarian aid in June but something went wrong. The paramilitary groups are autonomous and everything is done according to their leader's orders. This is why the situation was so complicated – there is no united movement, no united army, but some chaotic flames instead.
What was the most frightening experience of these 70 days?
DG: The hardest part of it was knowing how much suffering I had caused for my friends and relatives
PY: The most terrible moment was when I came out of the initial shock and started observing the things around me. I realized it was a unique experience, both personally and professional. I was observing everything, trying to memorize dialogues, scenes, and conflicts. And the most frightening moment was when it struck me that I might never be able to tell this or show this to anyone. Logically I understood nobody was intending to shoot us even though they were threatening it all the time, but they were still not very sane people holding weapons and anything was possible. Likewise, when they were beating us I believed they could beat us to death. Although the last two weeks before our release were spent at the police precinct and there was a nurse who came every morning and checked our health.
Girkin/Strelkov kisses an icon, July 10
How did you pass your final days as hostages and how did you get free?
DG: They did not let us go to the penal battalion, said we were meant only for exchange and were to do nothing under gunfire. Igor and Yaroslav were taken there from our cell, they were digging trenches under mortar fire. On July 4th they said the ATO forces were about to enter the city. In about 6 hours our wardens packed their things hastily. They locked all the cells, all the window and it was very hot. In 20 minutes we heard cars driving away. Then, about 1 am, a local oligarch (they called him an 'oligarch' because he had his own business, he was also a prisoner for two months) opened our cell and told us they had fled and that we should leave the building because it could be attacked. We had the keys because it was our duty to give food to other prisoners. We unlocked all the prisoners, let out 40 people from the penal battalion, and left the building. We called Kyiv and were connected with the ATO center. They told us where we should go and where we would be taken. In the morning, Ukrainian forces arrived and took us to the army checkpoint, then to Izium, then Kharkiv, and finally to Kyiv.
Is there an investigation going on? Were you interrogated at the SBU?
DG: We gave our statements while in Izium, right after our escape. We have not been called to appear at SBU yet. We are now working with human rights activists involved with a claim against Russia in the European human rights court. We are adjusting to normal life, recovering, and trying to get used to the world around us again. Strange, but it is harder to adapt here than there.
PY: I haven't had a look at the claim text yet, but I am glad it will pass through international courts. In my opinion, it will have a positive influence on European integration. The more law procedures we implement together with the EU, the further we move away from Russia.
Do you think it's mostly Russia's fault?
DG: I think it's everybody's fault. You can't blame one for all that. Russia, oligarchs, 'banderovtsy', and eastern Ukraine – everybody's guilty. We are guilty of letting this split, this breakup, which made people take up weapons, happen.
What would you like to say to the people who kept you prisoner?
DG: Leave us alone, go home, and never do such things again.
Have you experienced the notorious 'Stockholm syndrome' where a prisoner starts to sympathize with the terrorists?
DG: No. Definitely not. We have discussed this topic both there and at home after our return. No, we did not get this syndrome, don't know whether that is good or not.
Are you ready to forgive them?
DG: I have forgiven them, a long time ago. We have been thinking a lot, talking about God and praying, and have been doing a lot of psychoanalysis just trying to find out why we were there and to what purpose. It has helped us to cope with the situation somehow and to redefine ourselves.
PY: The first month, I only wanted to fire napalm at them all. That was the degree of rage, anger, and helplessness I experienced. Since then I've changed my opinions a bit and finally read the New Testament from cover to cover, seriously considering it. Recently I've been thinking a lot that these people, under the influence of drugs and in their strange struggle for justice, created an unconscious irrational sphere. And we, like victims afraid of death and expecting the end, were also trapped inside it. There was some kind of connection within it and somehow the guards adapted individually to each prisoner. So everybody had his share, not for being Right Sector or such, but for his own attitude toward life and his own, let us say, sins. I saw it it this way and found an opportunity for searching out some higher purpose so as not to go nuts or panic and to stay sane. So I think there shouldn't be equal punishment for all the guilty, everyone should be treated individually. But there are also many people requiring therapy and treatment for drug addiction as well.
Slaviansk welcomes the Ukrainian army, July 15
How do you think this war is going to end?
DG: I believe Ukraine is going to win this fight, we shall stay a united country, and cope with everything. They are not going to hold on long without Russia's open support.
In your opinion, what is the future for eastern Ukraine?
PY: The main problem is that this region is overly pro-Russian – mainly because of the industry depending on the Russian market and because of the fears of local people. I haven't been living there for 17 years so, for me, it's a bit easier, although I still take some of the problems there as my own. And there are those afraid of free choice, afraid of not having a 'boss' to tell them what to do. These are the most dramatic aspects of the region. Take away their false pride and narcissism; take away their motto 'Donbas feeds the country'; their Russian flag, anthem and all the pathos; and they'll have to admit that they are living in poverty, that they are not using their mental abilities at all. They think simplistically: either stability once and for all, or total instability. So they don't believe that they could learn something and change their lives. Furthermore, they have very little interest in things happening outside their region.
In March, I visited a round table discussion dedicated to the problems of coal miners and one of the trade union speakers said the region was totally technocentric. Since this industry was the most important, five-year-plans and production rates have become more important than human lives. People have accepted this. So, a ton of coal is more important than human life. This is wrong. Plus, historically, the region has always been some kind of 'Wild West' (or, Wild East, in our case), a region where many convicts were deported to work in the coal mines and there was no pity for their deaths. We need to have effective social and cultural policies in Ukraine, especially in this region. I would like to remove all monuments of Lenin, all those streets named things like '50 years of the USSR', and create a local cultural foundation. I've been thinking about a play or film about the coal miners. You see, people work there and sometimes die there, but still feel like they are nothing when they should feel like heroes. All their heroism results only in getting paid a little more money than others to get by on. But I believe this can be changed.
You said that you observed your guards like a theater director. Are you going to make any stage project based on your experience?
PY: Sure, there are many ideas. Right now I'm not in a hurry, I am coming back to normal life and getting used to walking free, talking free, and not expecting any punishment for that. But there is plenty of material for theater, cinema, and literature – for contemporary art as well. So, God willing, I'll try to make something out of that.
Source:
http://www.radiosvoboda.org/content/article/25473116.html
Translated by Irina Kostyshina, edited by Elizabeth Martin
Tags: Hostages, Igor Girkin "Strelkov", Sloviansk, Strelkov