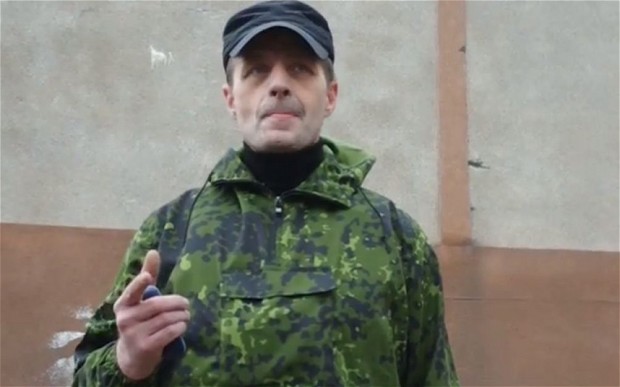 Igor Bezler, professional Russian military intelligence officer and alleged war criminal. His armed group is alleged to have tortured and killed hundreds of Ukraine's soldiers and civilians (Image: Wikipedia) 
The pro-Russian terrorists under the command of Igor Bezler (Bes) have issued an ultimatum to the ATO forces (antiterrorist operation) in Ukraine to stop their advance on Horlivka or else the terrorists will kill all hostages and blow up the chemical plants in the region, reports Ukrainska Pravda, July 27, citing Russian journalist Tymur Olevskiy.
Olevskyi described the threat on his Facebook page, citing information received from one of the hostages of Bez.
"The hostage phoned from the headquarters of Bez. He said that a certain 'Botsman' is now in command. He said that if there is another shelling of Horkivka or if there is any storming of the city the militants will blow up chemical plants and shoot all the prisoners," he wrote.
"They need time. Perhaps this is the way they're protecting the local population from the Grads (rocket launchers — Ed.)  — by poisoning it with chemicals" he concluded.
As previously reported, on July 27, around 14:00, there were rocket and mortar attacks on Horlivka from the outskirts of the city. Some 20-30 civilians were killed.
Earlier, National Security Council spokesman Andriy Lysenko stated that ATO forces are currently in the vicinity of Horlivka. The situation is Donetsk and Horlivka is said to be particularly tense. Local media in Horlivka have reported shelling of the city.
Translation: Anna Mostovych
Source: Pravda