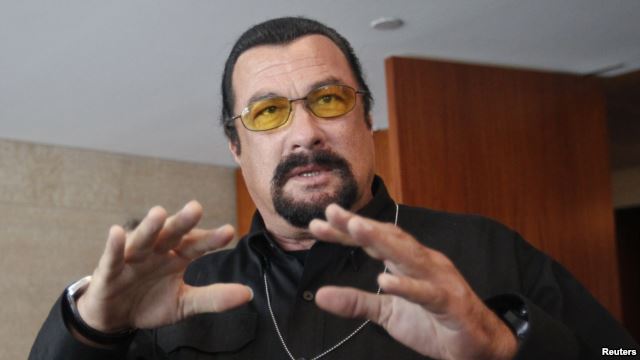 Hollywood actor and musician Steven Seagal performed this weekend in Crimea and supported the separatists in Ukraine.
On Saturday Seagal and his blues band performed at the biker show in Sevastopol, where the Russian Black Sea Fleet is based.
According to international media, the stage was decorated with the pro-Russian separatists' flag during his performance. Reports claim that the blue-black-and-red Donetsk Republic flag was hanging in the corner of the stage, and his fans waved Russian tri-colors and separatist flags during the concert.
According to the Russian RIA Novosti news agency, Seagal claimed he came to Crimea because music unites people.
Steven Seagal was subject to a hailstorm of criticism after supporting the annexation of Crimea in March, and for this reason he was kicked off the Estonian blues festival set list this summer.
In March Seagal told the Russian media that Russian President Vladimir Putin's desire to defend Russians in Crimea was absolutely reasonable.
Source:
Radio Liberty

Translated by Mariya Shcherbinina, edited by Mat Babiak
Tags: Crimea, Steven Seagal