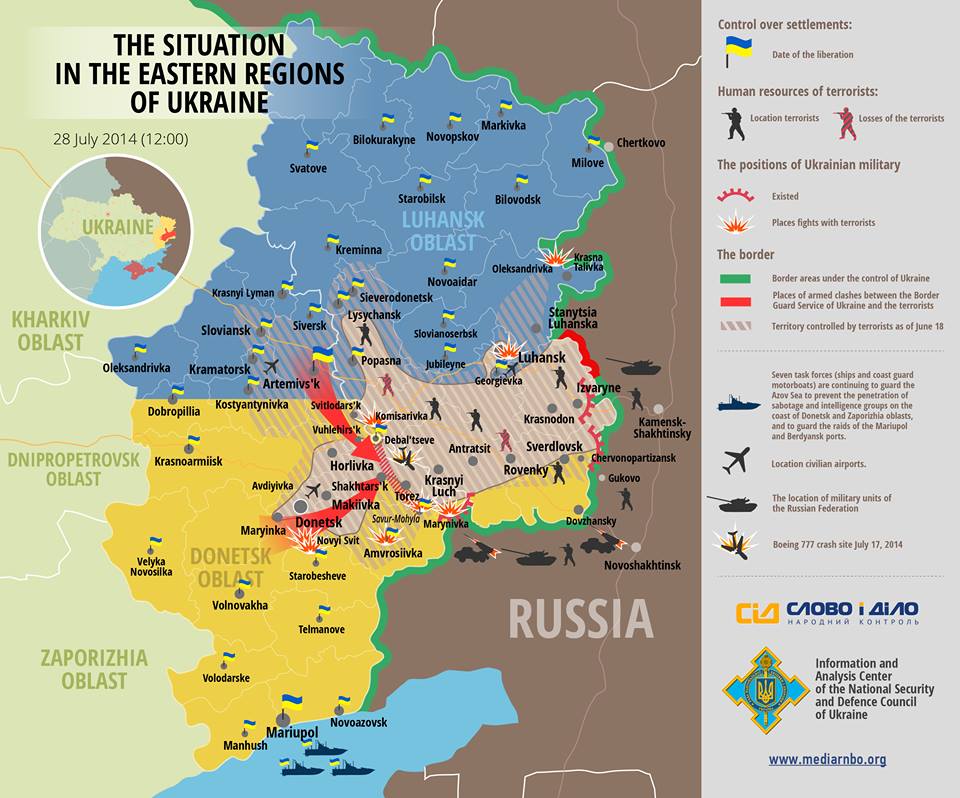 July 28 marked another victory of the Anti-Terrorist Force over the Russian mercenaries. In a heated battle Ukrainian military has taken the critical high point Saur Mohyla. This victory opened a supply corridor for the units at the border that had been holding the enemy back for a long time, preventing new weapons and mercenaries from Russia from crossing our border. It should be noted that our heroes fought in almost complete encirclement.
The paratroopers holding positions near the Russian border were practically cut off from the rest of the anti-terrorist force. Their positions were under constant heavy fire both from Russia and the gangs armed and paid by the Russian regime. The enemy's atrocity knew no bounds. The shelling broke all the international warfare ethics, forbidden weapons and ammo were used. The Russians shelled our troops with Grad multi-rocket launchers, mortars of different caliber, grenade launchers and other weapons. The glorious Ukrainian soldiers and officers held off this onslaught. Not a single shell or bullet hit Russia in response to these shameful provocations. Our servicemen held to their positions despite losing their brothers in arms, even the heavily wounded asked not to send the to the rear but to let them stay there to protect the territorial integrity of Ukraine. They were lacking in food and water, ammunition was running out, but no one yielded a step of their land. The soldiers also had to hold through a propaganda onslaught in the rear to discredit both the ATO commanders and our heroes.
Each of the paratroopers fighting near the Russian border is a hero! – noted Viktor Muzhenko, the Anti-Terrorist Operation commander. – They performed all their tasks with courage and in full. Due to their unbreakable spirit and the unique character of the paratroopers ten cities in Donetsk and Luhansk regions have been freed. Today the Ukrainian people watch as their new national heroes are born. These ate the heroes the future generation will be proud of, sing songs and make movies about. These heroes truly symbolize Ukrainian unity, since Ukrainians from all regions are currently fighting in the ATO zone.
We don't know all the names of these heroes yet. Due to many circumstances we still can't reveal them. But very soon we'll witness these new Ukrainian knights get the honor they deserve. Glory to the paratroopers! Glory to the Ukrainian army!
Translated by Kirill Mikhailov