Aleksandr Zakharchenko, the self-proclaimed leader of the Russian-backed "Donetsk People's Republic" in eastern Ukraine, has been reportedly killed in an explosion in central Donetsk. The news was reported by local Donetsk separatist media and confirmed by the administration of the self-proclaimed republic.
The explosion happened near the "Separ" restaurant (shortened from "separatist"), owned by Zakharchenko's bodyguard. Three more people are reported to have been injured, including "Economy Minister" Aleksandr Timofeev. Zakharchenko died in the hospital. It is currently unclear where the explosion actually happened: separatist figurehead Oleg Tsaryov said that the explosive detonated inside Zakharchenko's car. But Zakharchenko's advisor Aleksandr Kazakov claimed that the explosion happened inside the restaurant.
According to local media, security services have surrounded the site of the incident and additional security measures have been introduced, exits to the city have been blocked, and APCs are on the streets.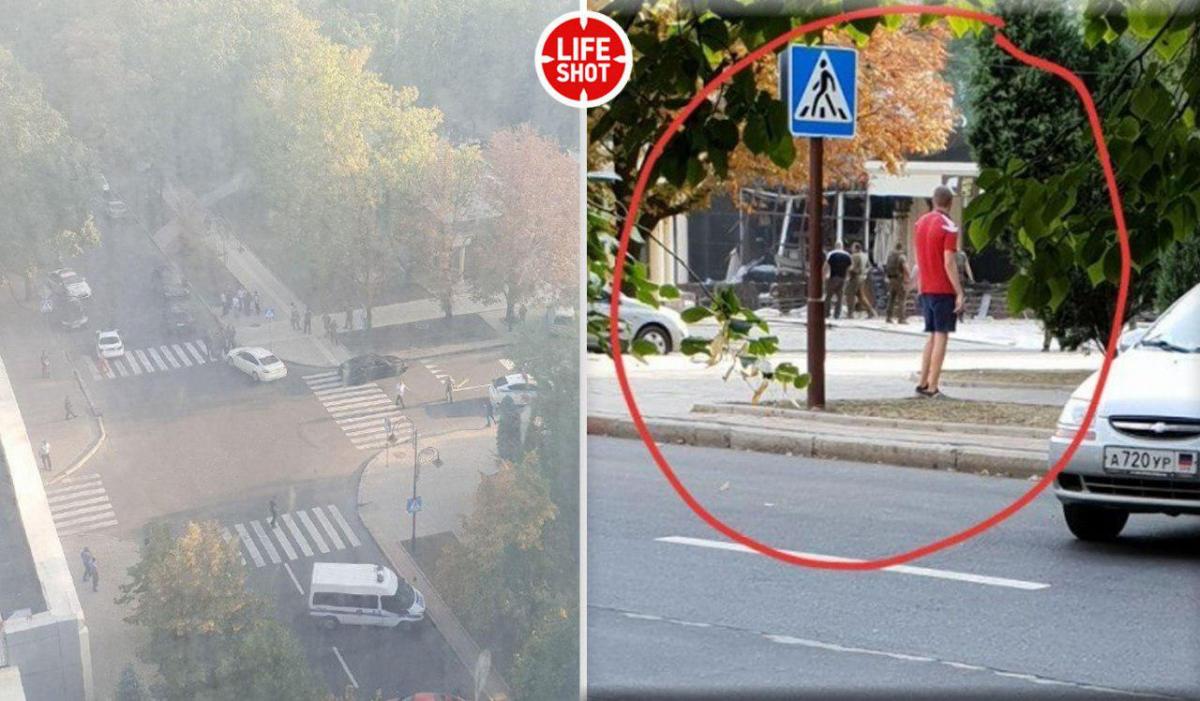 Wanted for terrorism in Ukraine, Aleksandr Zakharchenko is a Donetsk local who managed the Donetsk division of the Kharkiv fighting club "Oplot" during the pro-Russian protests in southeastern Ukraine in the spring of 2014, following the Euromaidan revolution. On 16 April 2014, he led a group of militants who captured the building of the Donetsk city administration. In May 2014, he was appointed as "military commandant" of Donetsk, which was by then captured by pro-Russian militants, and later – as "DNR deputy Minister of Interior."
In August, he replaced muscovite Aleksandr Borodai as "DNR Prime Minister." As revealed by the dump of emails from the office of Vladislav Surkov, advisor to Russian president Vladimir Putin, Zakharchenko's appointment, along with that of other DNR figureheads, was vetted by Russian oligarch Malofeev: on 13 May 2014, Surkov received a list of recommendations for posts in the DNR government from an employee of Malofeev's company.
Then it was rumoured that Moscow sought to replace the Russian "founding fathers" of the "Donetsk Republic," ex-FSB colonel Igor Girkin and Aleksandr Borodai, with local figures which would give the separatist entity an air of legitimacy.
In November 2014, after the illegitimate elections in "DNR," the central elections committee of the unrecognized republic announced Zakharchenko's victory. In 2017, Aleksandr Zakharchenko concentrated most of the political power in Donetsk in his hands, being directly supervised by Vladislav Surkov. His main political rival was head of separatist government Denis Pushilin, who also represents Russia's DNR in the Trilateral (Ukraine, Russia, OSCE) Contact Group on Ukraine, which was created to settle the military conflict in the Donbas.
Read more: Who is who in the Kremlin proxy "Donetsk People's Republic"
Dangerous to be a separatist leader in Donbas
Zakharchenko's murder is the latest in a string of assassinations in the Russian-backed "DNR" and its sister "Luhansk People's Republic" ("LNR"). These included cossack warlords Mozgovoy and Dryomov, head of Oplot gang Yevgeny Zhilin, Head of the "cabinet of ministers of LNR" Gennady Tsypkalov, Sparta gang leader Arsen "Motorola" Pavlov, "LNR Minister of agriculture" Sergey Litvin, "First head of LNR" Valery Bolotov, Military chief of "LNR" Oleg Anashchenko, Somali gang commander Mikhail "Givi" Tolstykh, and "DNR founder" Vladimir Makovich.
Regarding Zhylin, an ex-DNR militant told he was killed upon an order of Zakharchenko because of a business conflict between the two.
Four main observations have been offered about the string of assassinations:
(1) As a rule, "LDNR authorities" blame Ukrainian DRGs (military subversive groups) or SBU agents for assassinations. This version is voiced on the Russian TV channels as only possible every time a warlord is killed. Ukrainian officials usually deny responsibility.
(2) Donbas pro-Ukrainian guerrillas taking revenge can be behind the killings.
(3) Infighting among the "elite" of "republics" may be the reason for murders as they seek to augment their power.
(4) Russian security services may dispose of the leaders going out of their control, who may become unwanted witnesses for Russia in future.
Read more: Mysterious deaths of chieftains in Russian-backed "republics" since 2015 in a nutshell – #Infographic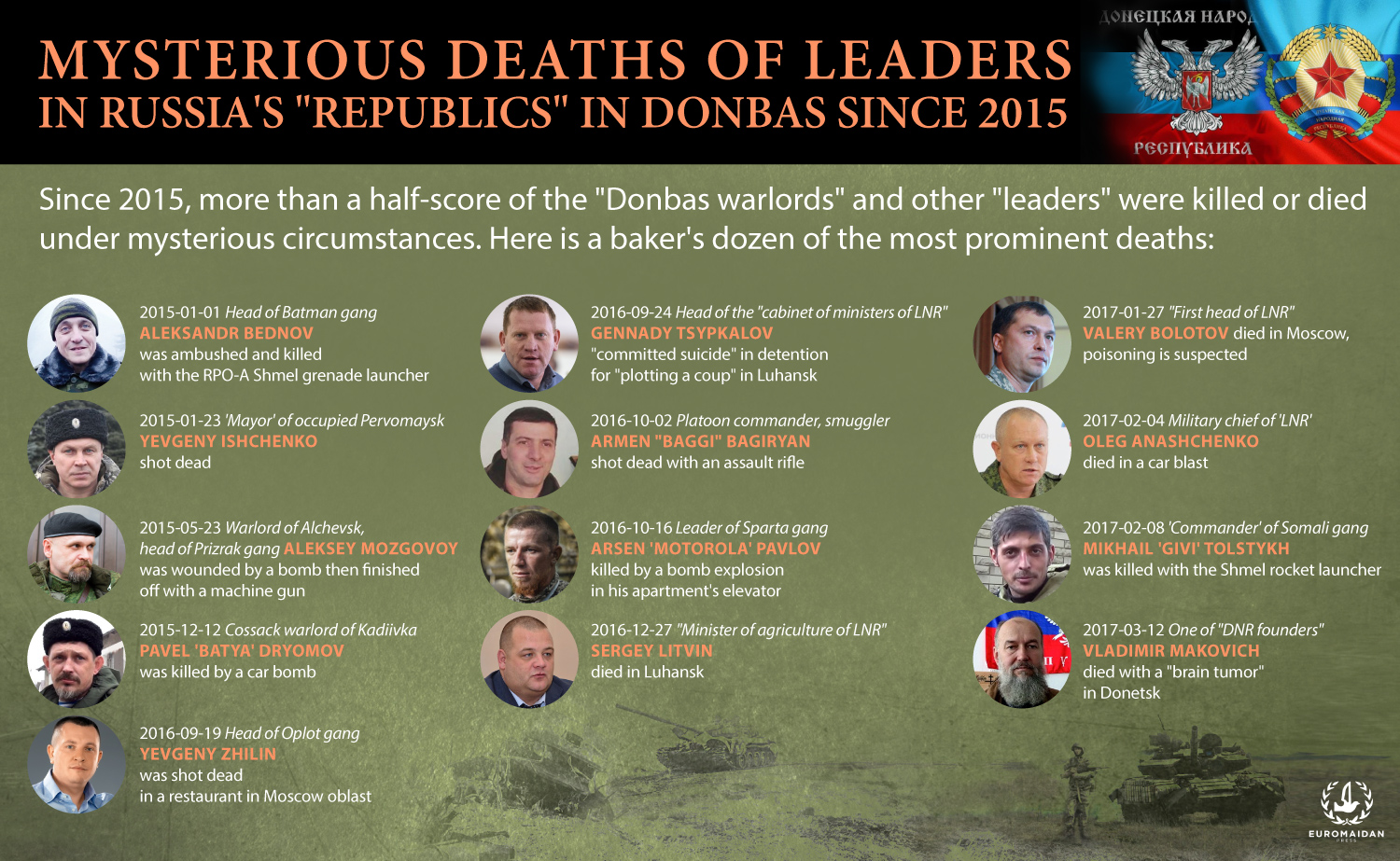 Notavbly, in November 2017, the leadership of the "LNR" was deposed in a coup assisted by the military of the "DNR." In this case, "LNR" head Igor Plotnitsky was not assassinated; he fled to Moscow.
Who did it?
Russia's Interfax agency reported, citing its sources, that "DNR law enforcers" detained a Ukrainian sabotage group suspected in carrying out the attack. Such accusations have become customary in the assassinations in occupied Donbas. Alleged former GRU officer and former Malofeyev employee Denis Pushilin already vowed to avenge the death of Zakharchenko, which he called "yet another act of Ukrainian aggression" and Russian President Vladimir Putin himself sent condolences.
Despite Russia's insistence that the "DNR" is an independent, separate entity, Russia's investigative commission has opened a criminal probe into Zakharchenko's death.
Putting predictable stabs at Ukraine aside, events in the months preceding Zakharchenko's assassination may offer hints at who is standing behind it.
Rumors about Zakharchenko's possible resignation started circulating in June 2018. On 7 June, the Russian media outlet Primechaniya wrote, citing its sources in Donetsk, that a decision to replace Zakharchenko with Pushilin has been made. Shortly before that, Pushilin paid a visit to occupied Crimea instead of Zakharchenko, as well as made some unusually loud statements regarding the war in Donbas.
In June 2018, Zakharchenko disappeared from the media field of the "DNR." This led to rumors that changes in the leadership of the "DNR" were not far away, and that Denis Pushilin was a likely candidate. However, Zakharchenko reappeared after 10 days.
In July 2018, Zakharchenko was reportedly wounded in a shootout with "DNR" militants. Around that time, the Telegram account "Nezygar," which is said to be dumping insider's information from Kremlin circles, reportedly published a memo that the "DNR" leader was in an open conflict with the Russian government because of his desire to monopolize the industry and agriculture of the Russian-backed "republic." Particularly, it noted that Zakharchenko and his entourage use "state" resources for raiding and squashing comptetition, and that there was an open conflict between the "DNR Ministry" (Zakharchenko and Timofeev) and Russian ministers Kozak and Nazarov, that in March 2018 the work of Russian coal traders working with the "DNR" was blocked, and that the Kremlin had decreased its financing for the "DNR," leading to unstable social and budget payments. As well, it said that Zakharchenko's team was getting increasingly isolated and faced internal conflicts which were provoked by the unfair distribution of resources.
In August, Ukrainian military analyst Yuriy Karin suggested that the Kremlin was preparing to replace Zakharchenko with somebody less odious and more pliable, in order to facilitate future netogiations about the future of the "DNR" with the future pro-Russian president of Ukraine, on whom Russia is betting in the upcoming 2018 presidential elections.
Read also: