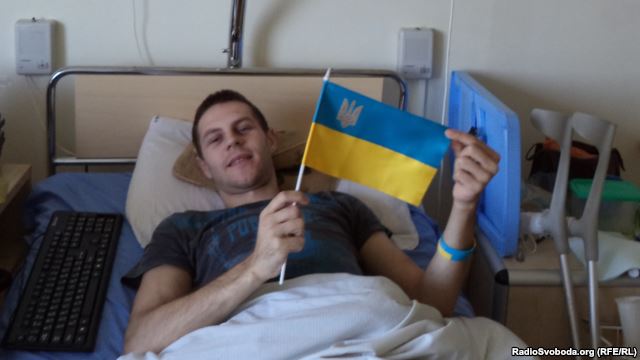 23-year-old Artem Tchaikovksy, a puppet actor and native of Donetsk, is undergoing treatment in Latvia within the framework of medical assistance to victims in the conflict zone in Ukraine. For the "crime" of singing patriotic songs and saluting his friend with the slogan "Glory to Ukraine", militants kidnapped and tortured him – he was shot in both legs, slashed and burned.
Artem Tchaikovsky was born into a large family of five children. Before the war in Eastern Ukraine, almost all male members of the family were involved in a mobile puppet theater called "Ovation", whose performances were loved by Donetsk children.
Artem's father Ihor Tchaikovsky, the founder of and writer for the theater, volunteered to serve in the "Donbas" military battalion, where he became deputy commander of the platoon. He chose an appropriate nickname – The Artist – for himself.
"My mother's father resisted for long, but after fighting started in Karlivka on May 23, and there were first victims amongst the volunteers, my father said that he could not sit at home when 19-year old guys were getting killed. According to him, this is "not their war, people who have experience and skills of warfare have to fight", says Artem about his father.
Torture for Ukrainian patriotism
However, Artem was captured and tortured, but not because his father was fighting as a volunteer in Ukraine. Local residents, supporters of the separatists, did not like the patriotic spirit of the actor.
"I was walking with a friend, singing the Anthem of Ukraine, songs from Maidan. Near Lenin Square I said to someone: "Glory to Ukraine", he replied: "Glory to the Heroes". 15-16-year old guys ran to us and started to tell us what we can say and what not. I replied to them that their is no discussion about Donetsk People's Republic, Donbas is, was and will be part of Ukraine. I'm at home, I have the right to shout, I want to sing what I want. In the end, I live in a free country", says Artem.
After these words a "GAZelle" approached and masked men, with machine guns took them with their friend and threw them in the basement of the Donetsk Regional Administration building.
"There I wasn't asked any questions, just they tried to convince, but rather come up with stories. In half an hour they came up with three stories – first I was a "Right Sector" fighter, and on the square we were not two, but thirty people. The second story, I was a drug addict, then a Banderist who eats children. They came up with these stories to justify their actions. Actions? They shot me, I still have real wounds. I do not know, probably a miracle saved me, but I was even burned "- Artem continues the story.
The executioners didn't hide their faces
Psychological pressure, according to Artem, was applied by militants from the Caucasus. But a Slav tortured the actor.
"He was a man of Slavic appearance. He is either a Russian, or Ukrainian, resident of Donetsk or not – I do not know. Where we were captured, he was wearing a mask, and then when torturing – without a mask, I knew him from his uniform", says Artem.
Thanks to the care of people close to them, Artem and his friends were released, although the militants did not want to give up Tchaikovsky, arguing that he had only a few hours to live because he had lost a lot of blood. Then he underwent surgery for which relatives had to collect 10,000 hryvnias, because the hospital in Donetsk did not want to do it for free.
Later, he was transported to the Mechnikov Hospital in Dnipropetrovsk. Artem ended up in Latvia, where he underwent two complex operations which he says saved his leg. This was made possible thanks to a program of medical treatment abroad provided for Ukrainian military victims of fighting in the area of the ​​Anti Terrorist Operation.
"Leave Donetsk, so as not to interfere with Ukrainian troops"
Artem believes that residents who have remained in Donetsk either support the militias or are quite reckless. "One resident who left Donetsk on time was very fair in saying that they had left Donetsk so as not to interfere with the Ukrainian troops destroying this evil from our land."
Artem's father, Ihor Tchaikovsky, survived the Battle of Ilovaisk and almost two weeks of captivity. Now he is in Dnipropetrovsk, where the whole family has moved to. While he has to undergo further treatment, his dad, The Artist, has revived the puppet theater. The first show has already been performed.
The family won't be returning to Donetsk. They will start a new life in Dnipropetrovsk, which now Artem Tchaikovsky considers to be the most patriotic Ukrainian city. He is sure that very soon he will be there to play on stage for children, because he is sincere to his audience.
Latvia is providing treatment for dozens of victims of the separatists in Ukraine. Eight of them have already left home. Funds for treatment and rehabilitation are provided out of the Latvian budget.
Now the Latvian charity "Ziedot.lv" with the Foundation of support for the victims in the conflict zone in Ukraine has organized a joint project, and is collecting donations for the treatment and rehabilitation of Ukrainian victims . The Ukrainian community in Latvia is also contributing with help.
Tags: atrocities, Donbas, Donbas war (2014-present), Donetsk, Russian mercenaries, Russian military crimes, Torture, Ukraine